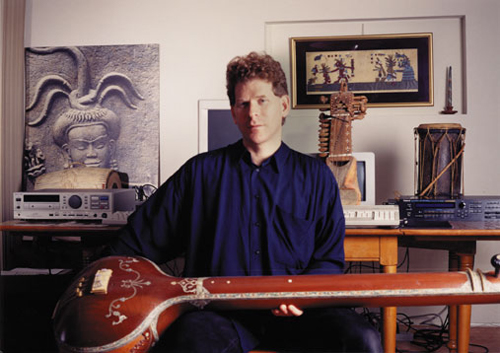 Anahata nada
Michael Eric Robinson (born 11th March 1956) is an American composer and musicologist. Influenced by jazz, Indian classical music, Western classical music, rock and pop, he has composed over 400 works, releasing over 100 albums over the course of his life to date. He has been a lecturer at UCLA, Bard College and California State University. His Spirit Lady album was included in the multi-genre, "The Best 100 Recordings of 2019", curated by author and jazz historian, Ted Gioia.
In this week's guest post for The Culturium, Michael recalls the way in which his unique musical style has developed throughout his career, being a fusion between the intellectual abstractionism of the West and the spiritual aestheticism of the East. Drawing inspiration from the personal tutelage of fellow artists such as George Harrison, Harihar Rao, Steve Reich, Lee Konitz, Ray Manzarek and Don Shirley, to name but a few, Michael takes us on a fascinating journey into the mysterious and magical realm of acoustics and the sacred power of sound.
o0o
"To transmit the spirit there must be form.
When the form, the mind and the hand are in total accord,
each forgetting the other's separate existence,
then the spirit will reside in your work."
—Tung Ch'i-Ch'ang (1553-1636),
writing about brush painting, translator unknown
"In art, the hand can never execute
anything higher than
the heart can inspire"
—Ralph Waldo Emerson (1803-1882)
EMERSON'S INCLUSION OF the heart, something Tung Ch'i-Ch'ang perhaps considered so central as to be inferred, resonates with me, agreeing the only truth resides in our heart.
Coincidentally, an early review of my music also mentioned brush painting: "Robinson's sense of timing, phrasing, form and flow guide listeners toward his alternative vision. His music has the clarity and ingenuousness of Chinese brush painting, some of the hard geometric edginess of Kandinsky and a detached, ethereal and abstract quality that nonetheless seems bound to the tight forms found in some abstract Expressionist paintings." (Keyboard)
John Cage told me early on that I had already won the main battle by managing to spend my time with music. Subsequently, Morton Feldman was impressed by how it was not enough for me to have this time but also wished for others to hear what I was doing, the eventual reason being I feel this improves the world, stimulating new thoughts and ideas in other realms. It was Feldman's String Quartet together with Brian Eno's Thursday Afternoon that readied me to comprehend the procedural enigmas of the opening alap— "Touch A Colour" —form of Indian ragas [an alap is the opening section of a raga].
Indian ragas originated as prayers to divinities, these being musical entreaties for gods and goddesses to descend from their divine dwelling place unto earth and bless the devotee with their actual presence. Particular times of day or night, and seasons within the year, were believed to be most conducive to gain the attention of the divinities using carefully composed, distinctive melodic creations.
Raga, "that which colours the mind", is the musical form of Indian classical music used as a basis for improvisation and composition. Ragas are timeless, melodic jewels possessing spiritual resonance and unlimited developmental potential. They have developed over thousands of years, originating in chants for myriad deities and manifestations of the five elements: water, fire, air, earth and ether. Ragas embody the organic laws that create interaction between the elements. They offer a vision of immortality and union with the perfection of nature.
I have gradually found ragas to be a perfect, limitless pathway for the musical distillation of spiritual and intellectual energies. They lend themselves to new manifestations in terms of both content and instrumentation. This allows me to compose original music using a Meruvina, which consists of a computer, software and sound module. The sound module, with myriad programmable features of its own, includes sound samples of acoustic instruments and synthesized sounds. My great preference is for the sounds of acoustic instruments over abstract electronic sounds, the former being central glories of myriad world cultures developed over hundreds of years. In addition to traditional usage, I view these timbres as found objects from our sonic environment that are most advantageous for voicing my compositions.
I named my tools collectively the Meruvina because I felt they were deserving of a poetic name as opposed to technical names like computer music, electronic music, MIDI, etc. Seeking a name using my initials, Michael Eric Robinson, I found Mount Meru, the mythological mountain where the Hindu gods reside, while Vina is Sanskrit for musical instrument. For instance, the human voice is the Gatra Vina, with gatra referring to the human body. And the only musical instrument created by God or nature is the Gatra Vina, with all others, including the Meruvina, invented by humans.
Ragas are based upon universal laws that are available to anyone who can absorb those laws and then develop a new way of filtering them through one's individual temperament. In other words, ragas are not only for Indians, just as chess and yoga have transcended their South Asian origins. After a number of years working with this miraculous musical form, I have discovered that each raga becomes a unique reflection of my inner and outer perceptions manifesting through the simultaneous prisms of rasa (expression and nectar), swara (melody and shakti) and tala (rhythm and shiva).
The earliest known human progenitor of raga was Haridas, living alone in the forest singing only for God. The way I make music, sitting alone with a pencil and music paper, composing a new work, feels much the same. When I've finished the composition phase, then my attention turns towards enabling the score to take tangible flight by programming the Meruvina, bringing to life what musicologist Alain Danielou termed "the mysterious spirits that inhabit electronic machines", himself referring to early synthesizers. Numinosity, the concept of spirits inhabiting inanimate objects such as a drum made from a rainforest tree, is part of both African and South Asian culture going back to antiquity.
But is music a form of warfare like chess? Feldman believed it was a battle of vision and will between strong opposing forces, using Johannes Brahms and Richard Wagner as a past example. Morton found strong, diverse approaches to be a reality of music in any era, including the present time, admitting to sometimes being worried he might be following the wrong path. Looking back, there is little difficulty appreciating a range of styles but in one's present time that may be less realistic related to your particular discipline because rejecting certain aesthetic characteristics is part of the totality of what one embraces ultimately.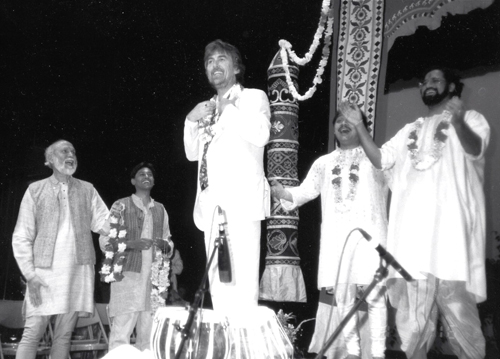 American minimalism provided a refreshing, restorative tonic following European-spawned serialism. Interestingly, Arnold Schoenberg, credited with inventing atonal music, the forebear of serialism, derived his musical concepts from the painting concepts of Wassily Kandinsky, so one might use that historical genesis as an argument against the aesthetic stance of Schoenberg and his followers by stating how the art method didn't translate effectively to music. It occurs to me that Schoenberg might well have preferred Indian ragas if he had known about that profound form as an alternative to atonal music given how ragas are largely based upon a particular set and sequence of pitches detached from traditional Western harmony.
When my attention turned to how to proceed in the realm of composition, my heart and mind found minimalism generally went too far in the opposite direction from serialism by placing repetitive patterns too much in the forefront, and these "quickly lose their charm", as musicologist Leonard Altman concurred. Turning from the opposite extreme cliffs of minimalism and serialism, I began focusing on entirely notated through-composed melody and rhythm together with appealingly advantageous elements of melodic drone and rhythmic ostinato.
My content was originally drawn from jazz, rock and Western classical, later adding Indian classical, while my form often anticipated Indian classical until actually studying that great tradition beginning in late 1994, and subsequently finding ways of shaping raga to my personal specifications, an ongoing process. I deliberately did not endeavour to study a particular instrument like sitar or tabla because the Meruvina was already my instrument, and I had never heard a Westerner whose interpretation of ragas moved me, so that plan seemed erroneous for my purposes. Rather, my course was to study principles of raga, tala and rasa, and then as touched upon, distil those teachings through the prism of my personal temperament into new forms of composition and performance.
Form is content as deployed. Content is form as imagined.
—Helen Vendler
Corresponding with the writer Vendler about her published work on William Butler Yeats, she added some perceptive comments about my music. I've found that people outside of music often have the most important insights being free of convention and politics. "Thank you for the notes and the music, with its shimmering version of the music of the spheres … Your intriguing set of instruments suggests that you are doing something quite new in American music."
While composing, if sometimes forgetting in the spell of inventive appetite how Pandit Jasraj advised me, like Haridas, to offer my music to God, I endeavour to enter anahata nada, the invisible animating presence of existence; the unstruck sound in union with the gestureless performances of the Meruvina. Tokafi, a German publication, wrote: "While many artists have tried to attain the state of anahata nada through their music, none has taken it quite as far as Robinson."
Composer John Cage's writings and music encourage individual freedom from convention and Eastern perceptions of experience. Make no mistake: John's heart, if sometimes masked by design, was absolutely in the centre of everything he did, being most passionate about his various negations of past practices, some of these having the benefit of helping free us from unwarranted conventions. Perhaps one central reason for John's seemingly "anti-music" perspective at times was owing to how he recognized the power of African American music initially expressed in jazz, and later in rock and various forms of pop, but was unable to relate to or understand these forms, so he conveniently preferred to erase the entire canvas of human-made music from his personal consciousness. He was such an eloquent, persuasive speaker and writer many who perhaps shared the deeper implications or were unaware of them were glad to go along with Cage.
John Cage's most famous work, 4′33″, was originally envisioned to be performed in an outdoor rustic theatre where the exquisite sounds of nature would take sway, following the pathway of his hero, Henry David Thoreau, who heard music in the elemental aural art of nature, this being another term for God, also echoed by Ravi Shankar: "I hear music in the waves, the breeze, the rain and even in the rustle of the leaves."
One day, quick on my feet, I was standing at the reception desk of a music venue and when the receptionist left for a moment, I noticed Cage's home address on the desk upside down. Without missing a beat, I immediately grabbed a pen and paper, copying the address before she returned. In that instant, I had recalled how John had written that he always opened himself to aspiring composers because Arnold Schoenberg has given him this same supportive consideration. A decade later, the Gardena Valley News noted connections between these two and myself: "Robinson clearly has musical skills and is following an iconoclastic path much like Schoenberg and Cage before him."
Back home, I sent a letter to Cage and he wrote back asking me to telephone him so we could arrange a meeting at his home. It was a bitterly cold winter afternoon when I arrived at his Chelsea apartment shared with Merce Cunningham, though the choreographer wasn't there at the time. John looked alarmed when he opened the door because I was holding an enormous red suitcase necessary for the oversized scores of that time and he mistakenly felt I might be expecting to move in! In contrast to the stormy weather, Cage beamed with giant friendly smiles like the sun that afternoon, showing much enthusiasm during our meeting that lasted around three hours. Paintings on the wall by Jasper Johns and Robert Rauschenberg were also dazzling, as were the freshly polyurethaned wood floors.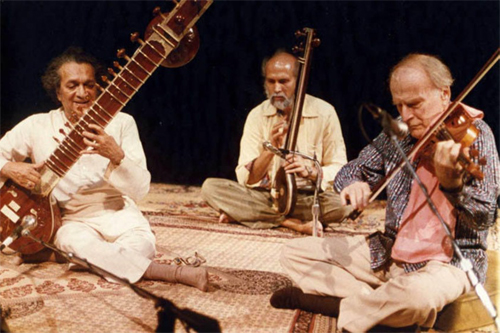 Cage compared and contrasted the melodic movement of my scores with Stravinsky and Schoenberg, noting my overall preference for scalar motion as opposed to their fondness for wide intervallic leaps. He asked me to arrange a concert of my music with dance so he might experience the collaborative effect. A choreographer-dancer from Denmark subsequently came to my studio to consider such a programme, her visit inspiring a favourite early composition, "A Danish Princess", because she truly had a regal presence.
Similarly, when I spotted Ray Manzarek, keyboardist of The Doors, at the Beverly Hills Library, I instantly dashed back to my car for a flyer advertising an upcoming concert so that I might invite Ray. Saying hello while handing Ray the flyer, at first he said he would be away on that date and handed the flyer back to me, which was disappointing. Modulating quickly himself, Ray then asked to see what CDs I was carrying to checkout. Impressed by my Indian classical music and Milton Babbitt selections, among others I don't recall, Ray took back my flyer, writing down his home address after asking his wife, Dorothy, for a pen, then asking me to mail one of my own CDs, stating he would contact me if he connected with the music. There was only one CD at that time, my first album, Trembling Flowers, and I mailed it to Ray that very same day. Around 9:30 am on a Tuesday morning several weeks later, I was thrilled when Ray telephoned with much praise for my album, inviting me to an Italian restaurant for lunch on South Beverly Drive in Beverly Hills. Excited to be meeting with one of my teenage idols, I wore my favourite purple silk shirt for the occasion.
Ray was sitting at the bar garbed in khaki, like desert camouflage when I entered the restaurant. An article about my music had appeared in the Los Angeles Times after we met at the library and Ray mentioned discussing this with his trainer at the gym. Our lunch lasted over three hours including three glasses of white wine each. After that, we got together on a regular basis at Ray's house, including working on several projects together. With similar if varied circumstances, following both planned opportunities and momentary spontaneous openings, I have been blessed to learn personally from George Harrison, Leonard Bernstein, Lee Konitz, Harihar Rao, Nazir Ali Jairazbhoy, Pandit Jasraj, Shivkumar Sharma, Anindo Chatterjee, Zakir Hussain, Steve Reich, Salvatore Martirano, David Lewin, Don Shirley, David Amram and Charles Colin, among many other inspiring artists.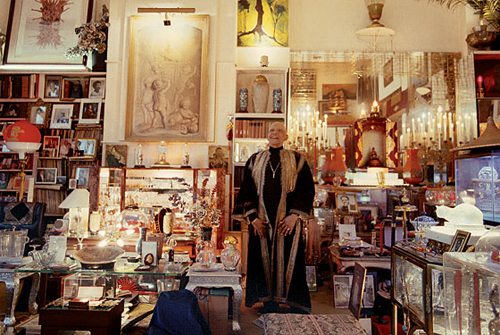 Our personal compass is everything. What we spend our time listening to is as essential as what we eat and drink, nourishing ourselves with inspiring music from a variety of cultures and genres, noticing new connections between seemingly disparate entities. There is no substitute for acclimating to the musical language and milieu one is attracted to through countless hours of listening both to recordings and live performances. This accompanies finding the time to develop personal seeds of musical invention; something there is also no substitute for. It's best to give it one's all without holding anything back; imperative to be persistent, believing and honouring messages of our heart. As Lee Konitz once wrote to me, "Keep wailin'!"
Hamoa was my first album made under the influence of Harihar Rao, senior disciple of Ravi Shankar. Shankar's music guru was Allauddhin Khan, whose lineage traces back to Haridas. About Hamoa, Konitz wrote: "Very nice—swings good! It's great doing the whole thing yourself. I just go in and play, and the rest is out of my hands." Konitz clearly admired the way I made music and even Igor Stravinsky was thrilled by an early precursor of the same Meruvina concept.
One fond memory of Harihar Rao, who was effortlessly and unselfconsciously majestic, forthright and elegant in manner and appearance, is how he kept my Hamoa album on the carpet in front of him during all the lessons he gave for weeks after it was released, periodically holding the jewel case or disc itself in his hand, enjoying both the art design and how his influence had awakened in me original musical designs from concepts he originally imbibed from Ravi Shankar, Allauddhin Khan and other masters. Perhaps the most elusive element of Indian classical music is the expression and this is something I pursued relentlessly with my Indian teachers because I sensed how fundamentally central it was for true and deep understanding.
Raga is based upon transcendental, divine moods, sentiments and psychological temperaments known as rasa, chief among these being shringara, representing romanticism, eroticism and the creative force of life itself. Next comes hasya, containing the humorous and playful. Other primary rasas include veera, the heroic and brave; shanta, the tranquil and peaceful; and adbhuta, portraying wonder and amazement. Adbhuta is the rasa Harihar Rao told me he found most prevalent in my own music.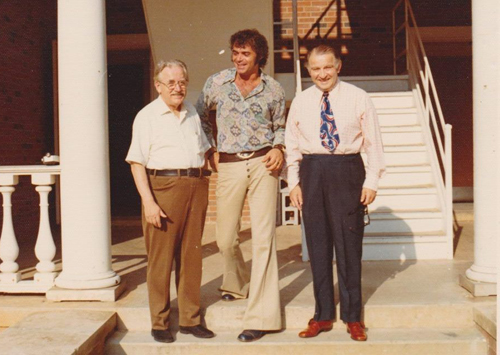 There is certainly a dreamy quality to Indian classical music perhaps more so than in any other genre. Here is a passage from my liner notes for the monsoon raga, Miyan Ki Malhar, which is believed to have mystical and magical properties:
Many of the Indian classical musicians I have met have stories related to their personal experiences with the magical and mysterious effects of ragas and I have had some similar experiences myself. During the four months I spent composing and programming Miyan Ki Malhar, I joked several times to friends that they had better watch out because a rainstorm might occur when I finished the composition. You can imagine the disbelief and exhilaration I felt when a heavy rainstorm hit Los Angeles as I was putting the finishing touches on my new composition. I do not pay attention to weather reports, as it had not rained much here in recent years, even during the winter months.

The morning of 16th December was overcast but the sun was coming out after breakfast when I retreated to my studio where the blinds were drawn. Several hours later, I was just feeling the satisfaction of completing a composition I had spent two to eight hours a day or more on every day for the past four months when the storm hit. I opened the blinds to see the downpour and then rushed out into the living room and opened the front door. The rain was coming down in sheets with a loud roar! I knew this was only a coincidence but nonetheless, I was thrilled and excitedly told Gabrielle Longhi who was with me in another room of the apartment and a few others what had transpired. Even though I had joked about the possibility in a half-serious vein, it was beyond belief that a rainstorm had actually struck the moment I finished Miyan Ki Malhar.
Raga and jazz are two monumental forms of improvisation, superseding Western classical music of the time intellectually, spiritually, technically and expressively, jazz doing so roughly between the time of early Charlie Parker and late John Coltrane, with raga coming to the consciousness of the West beginning with Shankar and some others in the late fifties and sixties, awareness of which largely spread by Coltrane, George Harrison and The Doors.
One step beyond is finding ways to instil improvisational essences into notated compositions revealing anahata nada through the light prisms of Meruvina entering unexplored musical regions within and outside our being from tiger eye to angel eyes.
In painting bamboo the spirit must be transmitted;
whoever said it's a matter of being realistic?
—Yang Chi (1334-1383), translated by Jonathan Chaves
Post Notes