The alchemical art of depicting mystical states of the mind
"The distinction between an external scene perceived in the usual way and the scene perceived with the inner eye is very slight to me."
IS IT POSSIBLE to represent cinematically the nature of consciousness? Jordan Belson (6th June 1926–6th September 2011), arguably one of the most influential artists and Experimental filmmakers of his generation, was able to accomplish such a feat, his films focussing on the abstract depiction of mystical and meditative states of the mind.
Produced predominantly in a time before the advent of digital film and computer editing software, Belson found inspiration, like many of his artistic contemporaries, from Eastern philosophy and Buddhism, experimentation with hallucinogenic drugs and the works of the Swiss psychotherapist, Carl Jung.
Indeed, watching his work—a symphony of psychedelic imagery and music—seemingly bypasses all thought processes, touching directly our intuitive and unconscious faculties, tantalizingly evoking latent emotions and repressed desires, rarely explored by more conventional cinema.
The light fantastic
Born in Chicago, Illinois, Belson studied painting at the University of California, Berkeley, before discovering the work of Maya Deren, Oskar Fischinger and the Whitney brothers, John and James, at the San Francisco Museum's 1946 Art in Cinema festival.
Inspired by their avant-garde approach to filmmaking but having no expertise with using a camera, he subsequently started painting onto long scrolls of paper, calling his first abstract moving images "cinematic paintings".
In the late 1950s, Belson collaborated with composer, Henry Jacobs, to produce the spectacular historic light show events called the Vortex Concerts, which synthesized experimental and electronic music with moving visual abstractions projected onto the dome of Morrison Planetarium. The experience was the genesis of 33 films over the course of his lifetime, including the visually stunning, Allures (1961).
It was his increasing connection with spiritual mysticism and Indian philosophy, however, that spawned the most important phase of Belson's artistic work, manifesting through his attempts to represent the visual and auditory phenomena that he experienced in trancelike states, producing masterpieces such as: Phenomena (1965); Samadhi (1967); World (1970); Meditation (1971); Chakra (1972); Light (1973); and Music of the Spheres (1977).
Time bears away all things
Working on his own, using modest, low-tech equipment, Belson created an entire psychedelic universe through his alchemical artistry. Unfortunately, owing to the delicacy and subtlety of his work, there were many problems conserving his corpus of achievement.
Moreover, Belson specifically stated before his death that he didn't want any of his work to be uploaded onto the web, owing to the low-resolution quality of the footage and the fact that it wouldn't do his films any justice.
The only means until recently, therefore, was to watch his work by either going to a rare screening event or ordering, as I did, Jordan Belson: 5 Essential Films (2007), which showcases Allures, Samadhi, Light, Fountain of Dreams and Epilogue.
Each short film is an intense spiritual soliloquy, an exquisite stream of consciousness, provocatively orchestrating, through sophisticated manipulation of visual and audile aesthetics, the nature of life and death and the meaning of existence:
Allures (1961)
… xylophone, spiraling, pulsing, vortex, geometric, mandala, birds, piano, Star Trek, echo, flash, sun, throbbing, pink, red, sex, bleeding, Samurai sword, Tibetan bell, headache, Mandelbrot Set, gyroscope, NASA, explosion, iris, harp, Big Bang …
Samadhi (1967)
… om, clouds, coffee, clouds in my coffee, fire, water, blue, womb, sun, HAL, Space Odyssey, donut, icing, breath, green, planet, red, sun, pulse, anger, pain, train, tunnel, All Seeing Eye, Tolkien, clouds in my coffee, you're so vain, sun, desire …
Light (1973)
… black, blue, bruise, rain, cloud, orchestra, piano, sea, Monet, rocket, sun, rising, egg, melting, eye, lover, jelly strings, Japanese fan, sand, grains, caress, fairy dust, blue, eaux, heaven, magic, harp, Bewitched, Tabitha, candle …
Fountain of Dreams (1984)
… ouroboros, dance, piano, kaleidoscope, beauty, rhapsody, gossamer, rainbow, palette, seductive, sheets, bed, ephemeral, apophenia, pareidolia, osculation, such stuff as dreams are made on, J. M. Barrie, The Fountain, William Blake, solitary bird …
Epilogue (2005)
… painterly, ambient, lush, textured, surreal, tapestry, angel, Beatific Vision, meditation, collective unconscious, baptismal, lotus lands, birth of creation, crescendo, quantum field, Intrinsic Mind, artificial sentience, sun, ocean of consciousness …
Jordan Belson's legacy
Thankfully, it is now possible to view a selection of excerpts of Jordan Belson's work online hosted by Vimeo, courtesy of the Center For Visual Music, who have been involved in restoring his analogue films and converting them into digital format with High Definition quality.
Watching these beautiful renditions, there is no doubt that the contemporary electronic era has helped many people to have access to Belson's exquisite films and the creative product of his "inner eye".
And yet, paradoxically, through the proliferation of the pixel and a film industry built on computer-generated graphics, the artisanal and avant-garde techniques of the filmmaker's optical bench and paintbrush have sadly been forfeited, possibly forever. The work of the Center For Visual Music couldn't be more timely.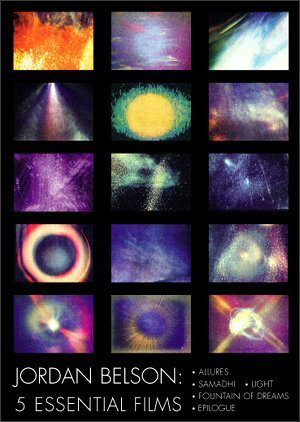 Post Notes