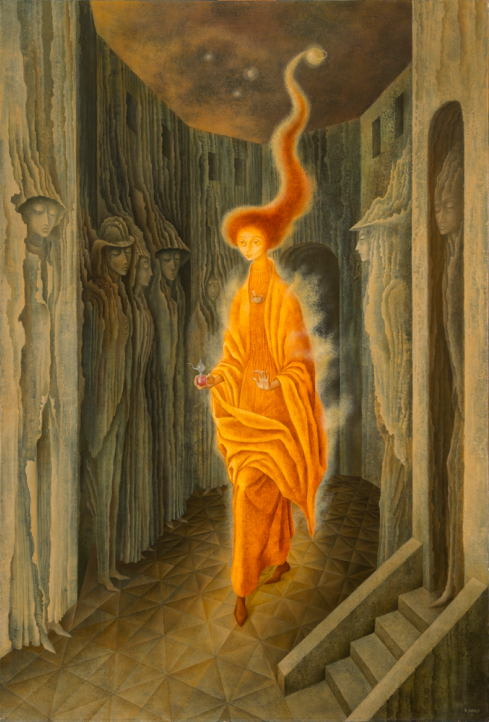 Isolation of the self
"Love helped me to know myself."
"IN THE MIDST of winter," wrote French Existential philosopher, Albert Camus, "I found there was, within me, an invincible summer. And that makes me happy. For it says that no matter how hard the world pushes against me, within me, there's something stronger—something better, pushing right back." And thus, The Culturium will recommence weekly postings hereafter, taken from the world's artistic and spiritual heritage, offering stimulation and reflection during a time period of unprecedented turbulence.
***
Muhammad Anwar el-Sadat (25th December 1918–6th October 1981) served as President of Egypt from 1970 until his death. He was awarded the Nobel Peace Prize in 1978 for fostering the first peace treaty between Israel and the Arab nations. In the following extract taken from his autobiography, In Search of Identity, Sadat recalls his experience as a prisoner of the British when he was a military officer during World War II, a time he recognized would be the turning point of his life:
In Cell 54, I could only be my own companion, day and night, and it was only natural that I should come to know that 'self' of mine. I had never had such a chance before, preoccupied as I had been with work in the army and with politics, and hurried along by the constant stream of life.

Now in the complete solitude of Cell 54, when I had no links at all with the outside world—not even newspapers or a radio—the only way in which I could break my loneliness was, paradoxically, to seek the companionship of that inner entity I call 'self' …

Through that feeling which came to be an indivisible part of my very being (and which, though unconsciously, remained with me all my life), I was able to transcend the confines of time and place. Spatially, I did not live in a four-walled cell but in the entire universe …

Inside Cell 54, as my material needs grew increasingly less, the ties which had bound me to the natural world began to be severed, one after another. My soul, having jettisoned its earthly freight, was freed and took off like a bird soaring into space, into the furthest regions of existence, into infinity …

Once released from the narrow confines of the 'self', with its mundane suffering and petty emotions, a man will have stepped into a new, undiscovered world which is vaster and richer. His soul would enjoy absolute freedom, uniting with existence in its entirety, transcending time and space. Through this process of liberation, the human will develop into a love-force and all earthly forces (even those that might perturb a man's mind) come to contribute to the achievement of perfect inner peace and so provide a man with absolute happiness.

This is why I regard my last eight months in prison as the happiest period in my life … This could never have happened if I had not had such solitude as enabled me to recognize my real self …

Now that I had discovered and actually begun to live in that 'new world', things began to change. My narrow self ceased to exist and the only recognizable entity was the totality of existence, which aspired to a higher, transcendental reality …

For now, I felt I had stepped into a vaster and more beautiful world and my capacity for endurance redoubled. I felt I could stand the pressure, whatever the magnitude of a given problem. My paramount objective was to make people happy. To see someone smile, to feel that another man's heart beat for joy, was to me a source of immeasurable happiness. I identified with people's joys. Such despicable emotions as hate and vengeance were banished as the faith that 'right' ultimately triumphs came to be ineradicably implanted in my consciousness. I came to feel more deeply than ever the beauty of love …

Love helped me to know myself. When my individual entity merged into the vaster entity of all existence, my point of departure became love of home (Egypt), love of all being, love of God. And so I have proceeded from love in discharging my duty (my responsibility), whether it was during my last few months in prison … or now that I am President of Egypt.
—Anwar el-Sadat, In Search of Identity
Extract taken from The Supreme Awakening: Experiences of Enlightenment Throughout Time and How You Can Cultivate Them by Craig Pearson.