A singular gentleman
We leave it to grace, to grant us release.
God will do this through the gaze of his Sage,
He sends down His messenger for every age,
To those who yearn and pray for great peace.
The Realized Sage lives on here and now,
Without confusing the Self with the mind.
Humble, compassionate, loving and kind,
Wisely profound, as his way clearly shows.
He steers the vessel of firm devotees,
Fulfilling everyone's spiritual need.
In deep silence, he sits, with perfect ease,
To awaken those, whom his teaching well heed.
Graciously, his great glance of initiation,
Drives the mind inwards, to Self Realization!
—Alan Jacobs, "We Leave it to Grace"
IN SPITE OF everything, the only question we need to concern ourselves with, according to Bhagavan Sri Ramana Maharshi, is Who Am I? This is the question to which Alan Jacobs (9th September 1929–25th July 2020) committed his entire life. A devotee of the perennial wisdom of Advaita Vedanta, Alan's existence was an expression of the non-dual philosophy he held dear to his heart, through his published writings and poetry, acting as a facilitator of Sri Ramana's teachings and simply being who he was. In 2010, Alan gave an illuminating interview on his life and an insightful interpretation of Bhagavan's seminal work, Nan Yar? (Who am I?)
I first met Alan in my mid-twenties at the Ramana Maharshi Foundation in London, of which he later became its exemplary president. Over the years, Alan was a mentor to me, owing to his profound integrity and inexhaustible knowledge, as well as being the kindest and most compassionate of friends. An accomplished writer and poet, he published nearly thirty books, including biographies and collected works on Sri Ramana, Henry David Thoreau, Plato, Gandhi, Marcus Aurelius and the Dalai Lama, as well as transcreations of the Gnostic Gospels, the Bhavagad Gita and the Principal Upanishads.
In 2014, Alan and I, together with the film director, Jean R. Dedieu, all stayed together for a month in the Ramanasramam, India, in order to make the documentary, Jnani, based on the life of Sri Ramana, with Alan being instrumental in writing the script and giving guidance on the overall production. The film was very well received and is an excellent introductory resource for the teachings of the great Indian guru.
Concurrently, I also made a black and white "moving image" feature, A Singular Man, with Alan as its subject. He gave an impeccable performance of a Renaissance man, steeped in learning and the contemplative life. In many scenes, he exudes such a deep sense of stillness, I was humbled and honoured to be able to capture the fundamental essence of silence in human form directly onto celluloid.
Alan was the quintessential English man of letters and a perfect gentleman. I shall always have an enduring image of him sporting a Panama hat, cravat and cane, with a cup of tea near to hand. He had an aura of wise humility and was someone with whom you could speak honestly and freely about life and issues pertaining to the spiritual path. Everyone respected and loved him wherever he went; he was always surrounded by companions, be it at the Ramanasramam in Tiruvannamalai or the Sri Ramana meetings in London.
Alan will be deeply missed by all his friends and family and yet his artistic and spiritual legacy will remain forever in our hearts.
Know you're Self not body, know that is certain!
In this Realization, there's no cause to leave home,
You can strive in the city, there's no need to roam.
To change style of life would all be in vain,
For mind remains with you, until it is slain.
Demonic ghost ego, source and fabric of thought,
Create body and world, whereby we are caught.
Change of place, never changed the way we behave,
Whether living at home, in a forest or cave.
There are two ways by which our bonds may be freed:
Either ask "to whom is this strange fate decreed?"
Or surrender false "me" to be then stricken down,
So praying intensely for "my will" to cease,
We leave it to grace, to grant us release.
—Alan Jacobs, "Know You're Self"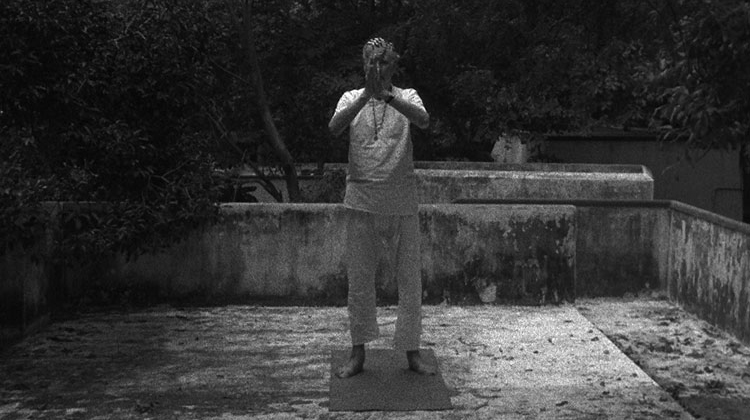 [Photography: Paula Marvelly, Alan Jacobs,
(CC BY-SA 4.0) The Culturium]
Post Notes