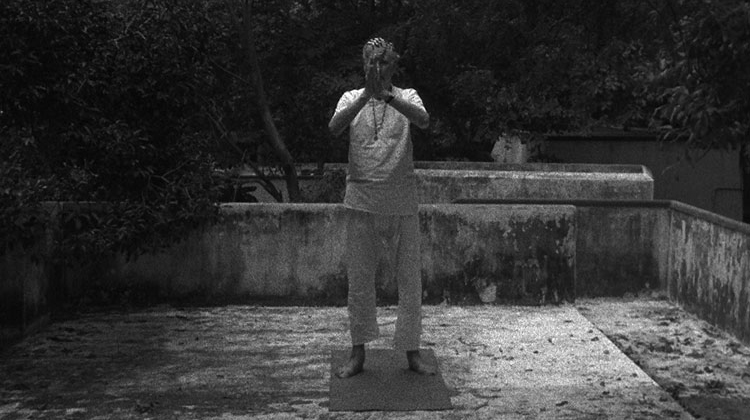 How the Victorian poet Swinburne inspired a
Postmodern Formalist's work
"I'm quietly waiting at the tavern door,
Oh cup bearer hand me a cup of wine,
So I may enjoy the bliss of Self once more,
And rest assured in the love of God Divine."
ALAN JACOBS has been interested in religion and mysticism all his life. He is currently President of the Ramana Maharshi Foundation, UK. In The Culturium's first-ever guest post, Alan talks about his new anthology of poems, as well as his thoughts on the state of modern poetry.
Heart of Heart's Chalice of Love's Fire, published by Global Fraternity of Poets, is my latest requested anthology of mystical poetry from poems considered by myself and others to have been amongst my best work, selected from several volumes of my published poetry, as well as my poetry blog.

I chose the title from the opening line of Algernon Swinburne's famous sonnet, 'Cor Cordium', firstly because this great Victorian poet has been one of my poetic educators as a master of lyrical poetry and English prosody. In addition, the title has a strong spiritual resonance because I too found that one's spiritual heart is indeed a 'chalice of love's fire'.
Cor Cordium

O heart of hearts, the chalice of love's fire,
Hid round with flowers and all the bounty of bloom;
O wonderful and perfect heart, for whom
The lyrist liberty made life a lyre;
O heavenly heart, at whose most dear desire
Dead love, living and singing, cleft his tomb,
And with him risen and regent in death's room
All day thy choral pulses rang full choir;
O heart whose beating blood was running song,
O sole thing sweeter than thine own songs were,
Help us for thy free love's sake to be free,
True for thy truth's sake, for thy strength's sake strong,
Till very liberty make clean and fair
The nursing earth as the sepulchral sea.

—Algernon Swinburne, 'Cor Cordium'

Postmodern Formalism

My poetry can best be termed Postmodern Formalism, owing to the fact that I have endeavoured to compose an aesthetic poetry, returning to the mainstream of classical English prosody as a heartfelt reaction against much of today's overworked prosaic and, often chaotic, free verse. As the American poet, Robert Frost, succinctly stated, '… [it] is like playing tennis without a net', much of which reads simply like prose with line breaks.

Wherever possible, I respect the principles of rhyme, metre, cadence and musicality, and, being spiritual poetry, it calls for an elevated language. Here are three poems— 'Rose Garden', 'Unseen Weaver' and 'Sufi Song' —selected from my anthology to illustrate my point.

Rose Garden

God's Rose Garden is an emblem of the heart;
Blooms, like blood-red rubies shine in Sun's bright light,
Fountains play, and white snow lilies impart
Sweet perfume embracing this perfect sight.
My soul is filled with praise and adoration,
In gratitude to that Mighty Power above,
Who created this astounding sensation,
By which a rose garden speaks of His love.

Marvelling in wonder at such beauty,
Man's impelled to perform his vital duty,
Of awakening from this dire dream of life.
Through strong effort comes his prize for strife,
Grace descends and destroys sad ego mind,
Pilgrim's freed and eternal peace does find.

—Alan Jacobs, 'Rose Garden'
Unseen Weaver

There's a huge loom of Time, in duration;
Born of Infinity, from a consummation
With Life, which has never been void of time,
While Sun and Moon as shuttle upward climb.

By weaving to and fro as night and day,
A splendid pageant of coloured display,
Strung on the warp and weft of cosmic unity.
The back of this embroidered tapestry

Is monochrome, derived from that formless One.
Its face is multihued, radiant as the Sun,
Its tones reflected from archetypal light,
All magically absorbed, an equalled sight.

Only what's permitted by an unseen hand,
Appears as this moving panoramic band;
A rainbow painting of the whole wide world,
Brushed vertically: each single thread is whirled

Without the dimmest dint of dull duality;
Bright Light, unique to Self, sheer Reality!
Coated with golden fleece and angel wool,
Dyed in the deepest vat of Destiny's pool.

So does this sacred cloth, woven in Love,
Quarrel with its weaver who reigns above?
Wrapped in his Joseph cloak at rainbow's end,
Eternal pilgrim ever loves his Mighty Friend.

—Alan Jacobs, 'Unseen Weaver'
Sufi Song

I'm quietly waiting at the tavern door,
Oh cup bearer hand me a cup of wine,
So I may enjoy the bliss of Self once more,
And rest assured in the love of God Divine.

The Sheikh called from inside the tavern hall,
'First dear child you must die to ego mind,
You'll hear the blessed bridegroom's call,
Cross the threshold and the bride you'll find.
You wallow in the pleasures of the world,
Be still in the sacred silence of your heart,
Then in life's dream, you'll no more be hurled,
From soul's wedded state ne'er more depart.'

His fragments of self then came together,
He found his Inner Master and then gave up,
His senses wandered through all wind of weather,
Then the faithful bearer brought the vintage cup.
The Sufi had obeyed his master's call,
He'd done his best to stay quite calm and be,
He'd waited with great patience in the tavern hall,
The door then slowly opened and he was free.

—Alan Jacobs, 'Sufi Song'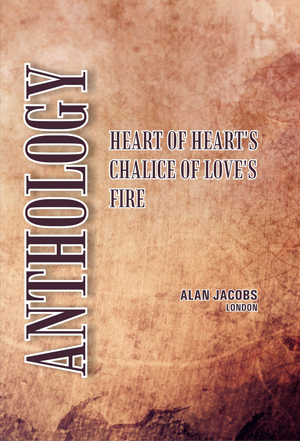 Post Notes