Musica universalis
This Book of Sounds rediscovers the listener as a partner of sound and silence, who in the quest for his world, wishes for once to be totally at one with sound. It rediscovers the piano as an instrument of timbre and tuneful sound with all its possibilities of dynamics, colour and resonance. The Book of Sounds rediscovers playing as the possibility of experiencing oneself in sound, of becoming at one in time and space with all the sounds around one. It rediscovers a world of consonant experience which could only now be written because of a totally changed consciousness of sounds on earth.
—Hans Otte
HANS OTTE (3rd December 1926–25th December 2007) was a German composer, pianist and radio promoter, as well as author of many pieces of musical theatre, sound installations, poems, drawings and video art. From 1959 to 1984, he served as musical director for Radio Bremen and was instrumental in introducing many contemporary experimental American composers to European audiences through his festival Pro Musica Nova, most notably John Cage, David Tudor, Terry Riley, La Monte Young, John Adams, Keith Jarrett and Steve Reich. Upon his death, Otte's own back catalogue contained more than 100 compositions.
Drawing deeply on European and Asian spirituality, his masterwork is undoubtedly The Book of Sounds (Das Buch der Klänge, 1979–82) composed of twelve "chapters", in which Otte presents a synthesis between two twentieth-century art movements—on the one hand, emphasis on the interplay of sound and silence as explored by avant-garde minimalist composers such as John Cage and Philip Glass; on the other, focus on the nature of oneself in relation to the divine, exemplified by the so-called Holy Minimalist composers such as Arvo Pärt, Henryk Górecki and Sir John Tavener. The entrancing, pulsating score is one of the most hauntingly beautiful piano compositions I have ever heard.
I have chosen Chapter 11 of The Book of Sounds, played by the highly accomplished Latvian pianist, Vestard Shimkus, in the excerpt above (a full-length recording played by the composer Hans Otte himself is below). Recorded in the Riga Dome Cathedral, the ecclesiastical acoustics add reverberations and textural depth like no other type of performance could possibly achieve. Indeed, watching Shimkus is akin to meditation, the way in which he is almost completely motionless in his delivery as if he himself is in awe of the music flowing through his fingertips as he channels a higher universal order of sound and we are immersed in the work of a composer in touch with the eternal.
For Otte, composing was a slow process of perfection, taking place through the deepest levels of personality, musicality, individuality and consciousness. With The Book of Sounds, all the musical experiences and beliefs he gained over many years culminated in a single large cycle for his beloved, true instrument, the piano. After the age of mathematical serialism, the composer felt a great need to return to the traditional powerful dichotomy between consonant and dissonant harmony, letting the colours slowly fill the heavens in a most natural, unbridled and ultimately peaceful way. His efforts resulted in an intensely personal and intimate document of a human being: a book of sounds celebrating life in all its colours. A true labour of love.
—Ralph van Raat, Dutch classical pianist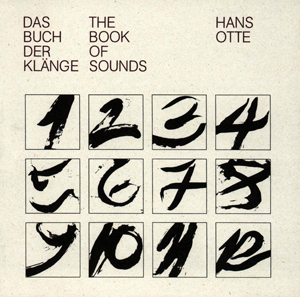 Post Notes