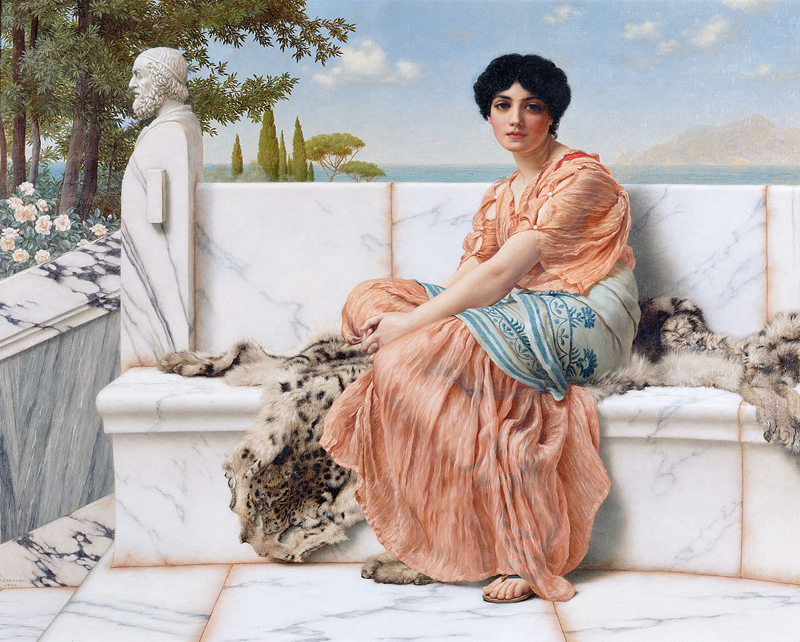 The six types of Greek love
and why Plato revered a female poet from Lesbos
"Love makes me tremble yet again,
sapping all the strength from my limbs;
Bittersweet undefeated creature
—against you there is no defence."
—Sappho
THE ANCIENT GREEKS had a lot to say about the nature of love. According to the contemporary cultural thinker, Roman Krznaric, they recognized six types of this most elusive of states: eros or sexual passion; philia or the affectionate love of friendship; ludus or playful, flirtatious love; pragma or longstanding, mature love; philautia or love of self, either positively (self-worth) or negatively (narcissistic pride), similar to Rousseau's amour de soi and amour-propre; and finally, agape or unconditional, selfless love.
The Symposium
The Greek philosopher, Plato, also had something to contribute to the discussion, as one would naturally expect. In one of his most famous works, The Symposium, the subject of love is discussed at a drinks party through the medium of a dramatic dialogue. Seven of the guests take it in turns to deliver a speech outlining their position, including Socrates, Plato's teacher and closest friend.
Socrates' address recounts an exposition told to him by Diotima, a contemporaneous female philosopher. Expounding the nature of beauty, she demonstrates how love, and in particular falling in love, can lead to worship of the Divine itself; in other words, how eros can become a gateway to agape:
'The correct way,' she said, 'for someone to approach this business [the pursuit of love] is to begin when he's young by being drawn towards beautiful bodies. At first, if his guide leads him correctly, he should love just one body and in that relationship produce beautiful discourses.

'Next, he should realize that the beauty of any one body is closely related to that of another and that, if he is to pursue beauty of form, it's very foolish not to regard the beauty of all bodies as one and the same.

'Once he's seen this, he'll become a lover of all beautiful bodies … After this, he should regard the beauty of minds as more valuable than that of the body, so that, if someone has goodness of mind even if he has little of the bloom of beauty, he will be content with him and will love and care for him and give birth to the kinds of discourse that help young men to become better …'
'After practices, the guide must lead him towards forms of knowledge, so that he sees their beauty too … he will be turned towards the great sea of beauty and gazing on it, he'll give birth, through a boundless love of knowledge, to many beautiful and magnificent discourses and ideas … He will suddenly catch sight of something amazingly beautiful in its nature; this, Socrates, is the ultimate objective of all the previous efforts … this beauty always is and doesn't come into being or cease; it doesn't increase or diminish …

'It will appear as in itself and by itself, always single in form; all other beautiful things share its character but do so in such a way that when other things come to be or cease, it is not increased or decreased in any way nor does it undergo any change.'
—Plato, The Symposium
The first female lyric love poet
Plato was a notorious advocate of gender equality. In The Republic, his great discourse on a perfect government, he champions the rights of women and their suitability for "guardianship" at the highest political office of the state.
It is no surprise, therefore, that he highly venerated another female thinker, one he would refer to as the Tenth Muse, after the Nine Muses of Greek mythology. Born on the Mediterranean island of Lesbos, Sappho was a priestess and poet living in approximately 600 BCE. We only know scant amount of her work for most of it—up to nine papyrus rolls—was sadly destroyed by fire.
The only remaining evidence of her poetry—four complete poems and a handful of fragments—comes to us either through quotations in various books passed from era to era or on papyrus leavings and surviving pieces of broken vases and pots. (Interestingly, parts of two previously unknown poems by Sappho, discovered on a fragment of papyrus, were published in February 2014 in the Times Literary Supplement.)
Sappho's work is in the genre of the lyric—short, personal monodies or poems sung by a single voice. Throughout her verse, she employs all the imagery and symbolism recurrent with the divine goddess and the fertility of her bountiful nature—roses, apples, trees, the moon. More specifically, her work is infused with the multifarious shades of Hellenistic love, specifically eros and agape.
Like Shakespeare's sonnets, the subject of Sappho's infatuation is undetermined. Some commentators have focused on stories surrounding her tragic love for a ferryman, Phaon, and her subsequent suicide; others have concentrated on her sexuality and the perceived female homoerotic elements in her verse.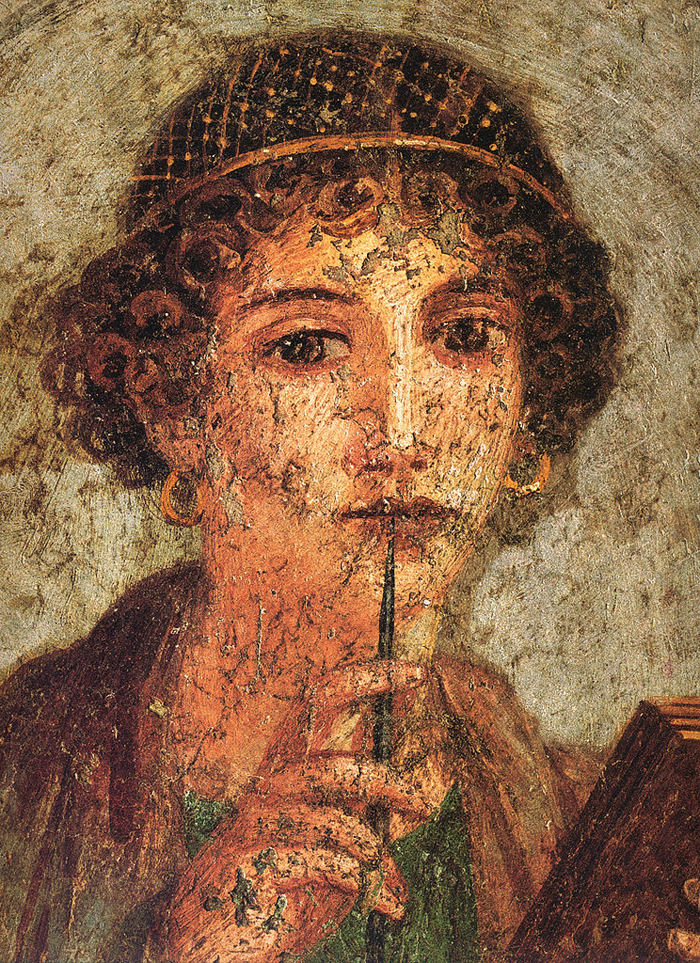 Whether or not she endorses lesbianism, we can never know but of one thing we can be in no doubt—her poetry is the celebration of sexual and sacred love:
Immortal Aphrodite, on your patterned throne,
daughter of Zeus, guile-weaver,
I beg you, goddess, don't subjugate my heart
with anguish, with grief

but come here to me now, if ever in the past
you have heard my distant pleas
and listened; leaving your father's golden house
you came to me then

with your chariot yoked; beautiful swift sparrows
brought you around the dark earth
with a whirl of wings, beating fast, from heaven
down through the mid-air

to reach me quickly; then you, my sacred goddess,
your immortal face smiling,
asked me what had gone wrong this time and this time
why was I begging

and what in my demented heart, I wanted most:
'Who shall I persuade this time
to take you back, yet once again, to her love;
who wrongs you, Sappho?

For if she runs away, soon she shall run after,
if she shuns gifts, she shall give,
if she does not love you, soon she shall even
against her own will.'

So come to me now, free me from this aching pain,
fulfil everything that
my heart desires to be fulfilled: you, yes you,
will be my ally.

—Sappho, Poems & Fragments, trans. Josephine Balmer, "78"
In a time when there has been a renaissance in the appreciation of poetry, in particular free versification, it is little wonder that Sappho's work is even more popular today than it ever was in the ancient past. After all, what is more enduring than the power of love?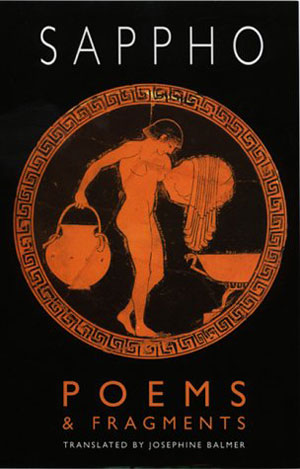 Post Notes