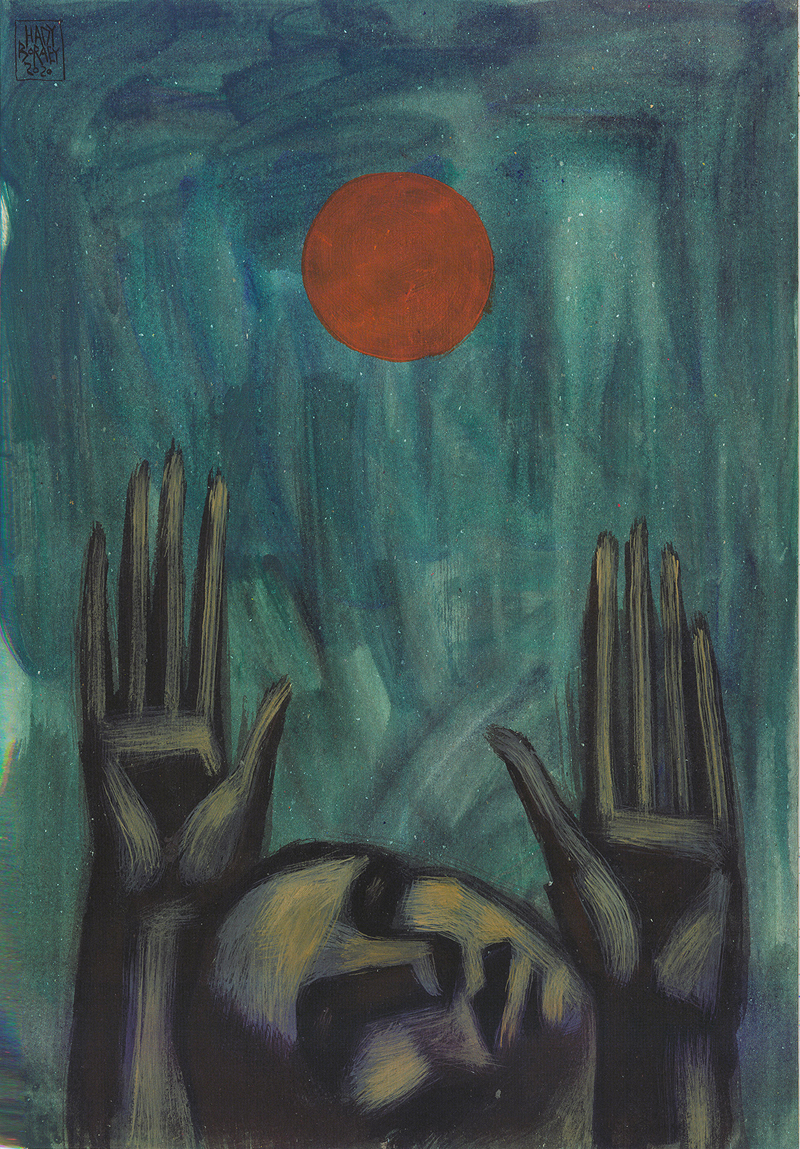 A call for hope
A moment of silence in the desert, under the harshness of a red sun. He is praying. In the silence, he heard the voice …
—Hady Boraey
IN LIGHT OF current world events—politically, racially, physiologically—it is always encouraging to see how artists are able to respond immediately to the call of the human psyche for peace and unity amidst insanity and turmoil. Thankfully, international peacebuilding nonprofit/NGO, CARAVAN, offers a platform to such artists by showcasing their work both online and at international exhibitions, with the objective of building bridges through the arts, specifically between the creeds and cultures of the Middle East and West. Founded and curated by Paul-Gordon Chandler (Rev. Canon), who was recently awarded the Hubert Walter Award for Reconciliation and Interfaith Cooperation by the Archbishop of Canterbury, Justin Welby, CARAVAN's latest offering features the striking paintings of Egyptian visual artist, Hady Boraey.
Born in Behira, Egypt, Boraey holds a PhD and MA in Fine Arts from the Faculty of Fine Arts of the University of Alexandria. As a lecturer in the Graphic Department at the University of Alexandria, he specializes in illustration, drawing, manual design, painting, traditional mixed media and installation. Boraey has participated in numerous exhibitions both in Egypt and internationally, as well as winning many important awards. Through a distinctive painting technique, metaphorically and symbolically, he takes the viewer on a poetic journey to discover the unknown, opening up to new spiritual horizons both old and new. He has participated in several CARAVAN projects, winning first place in their recent To Heal the World exhibition.
In his latest virtual exposition, Line of Descent, Boraey takes us on a journey into his mystical imagination, as he contemplates the challenges and hardships of life against the backdrop of ancient universal stories found in the spiritual traditions of the Abrahamic faiths. In this deeply personal reflection, Hady assumes the role of a transcendent observer. Witnessing the spiritual journey of life, he reflects on the momentous stories that have shaped humanity, beginning with Adam and Eve and the infamous tree, to their children and the continuing journey of mankind that has evolved into our contemporary heritage.
Indeed, speaking of the current Covid-19 outbreak and the effect on creativity during a time of global calamity, Hady Boraey says:
There is no doubt that the whole universe will be changed after this pandemic crisis. The new thing here is that everyone around the globe is experiencing the same feelings—the same fears, hopes and dreams. People will recalculate their principles. We will feel more connected. We will appreciate our blessings. We will deal differently with many issues. People will change. Of course, visual arts will face the same fact of change. I believe we will see a big movement after the pandemic time. And in the future, art history will share a lot about its impact on the arts. More artists will be keen on contributing with the movement—climbing to new levels and facing their challenges. Also, I believe that more people will appreciate art and be interested in it. People will search deeply for themselves and many of them will find it in art.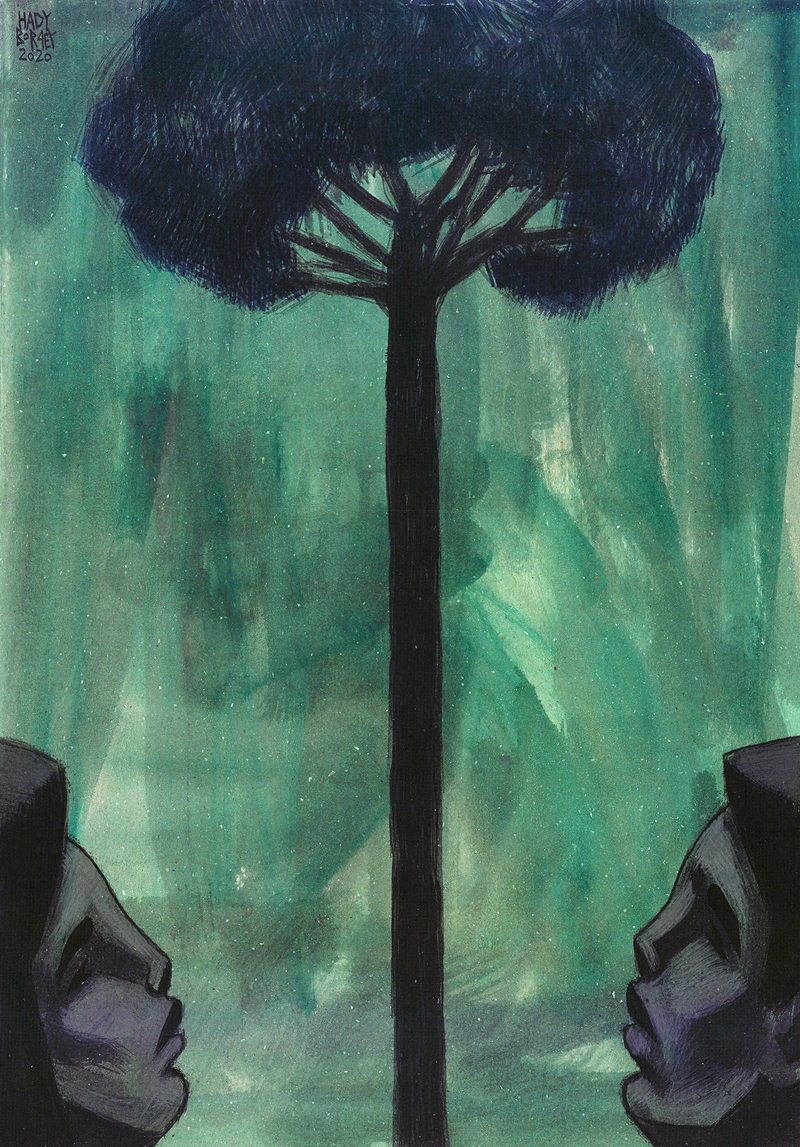 That moment of hesitation. A man and woman are looking at the tree's fruit, asking themselves, 'Should we, or shouldn't we?' Of course, in the story of Adam and Eve, they decide to taste the fruit. I am capturing those critical moments of indecision, where we ask that all-important question—which is the eternal question: 'Should we, or shouldn't we?'
—Hady Boraey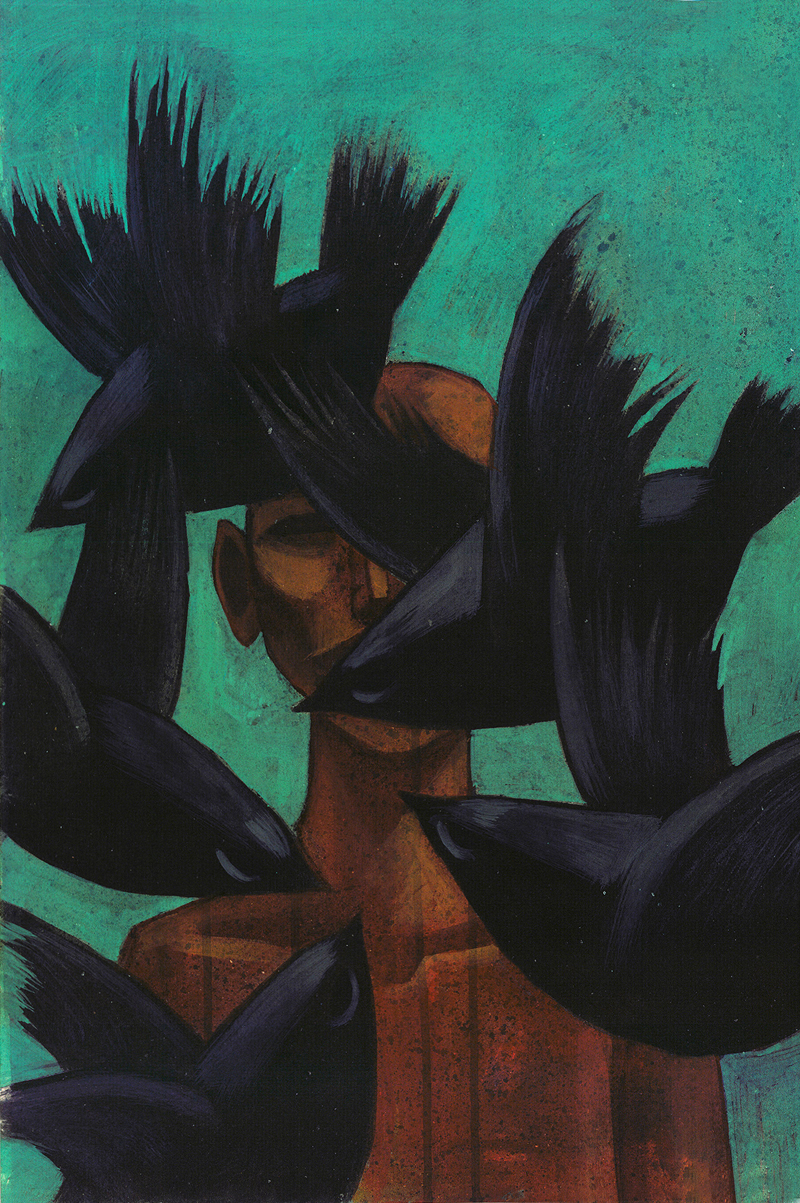 These crows represent confused thoughts—about the meaning of life and our purpose in it.
—Hady Boraey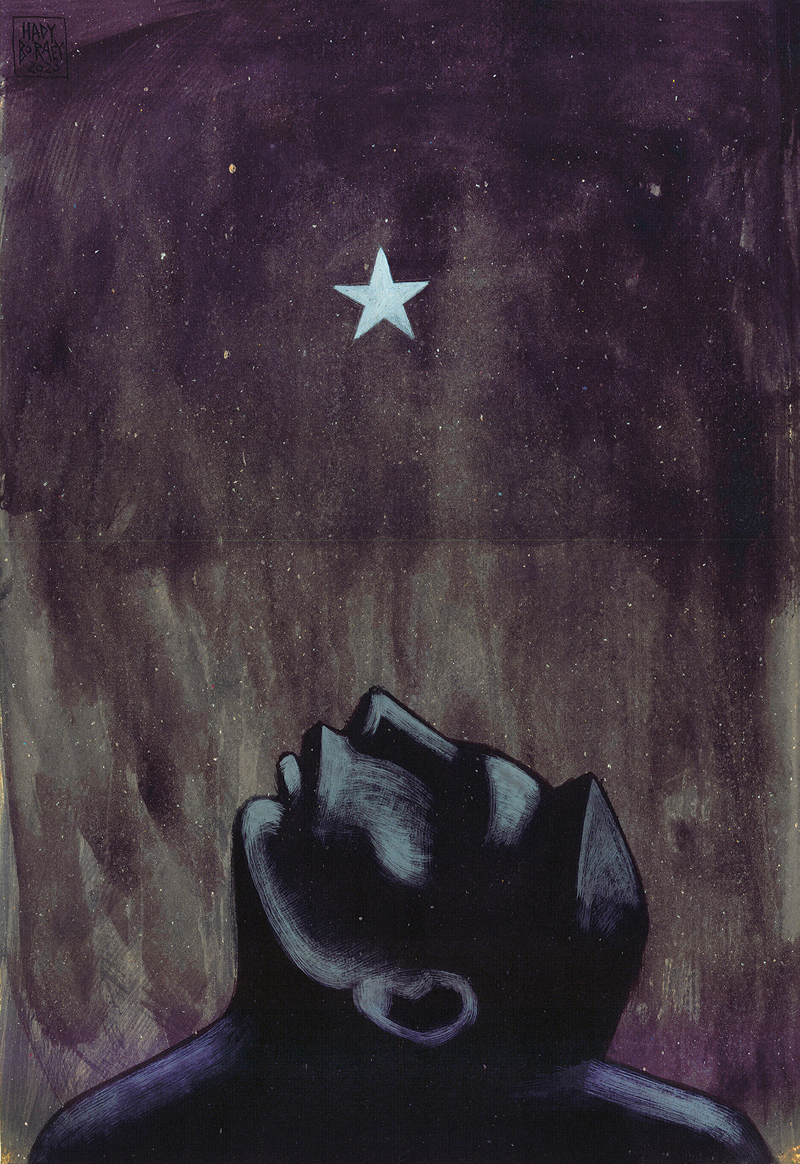 There are small stars throughout the night sky … illuminating the vastness of the universe. Here I reflect a thought from the Qur'an, that 'when we look up with our eyes to the sky, we can see the surface of the world and the stars become lamps to give us light' … spiritual light and guidance.
—Hady Boraey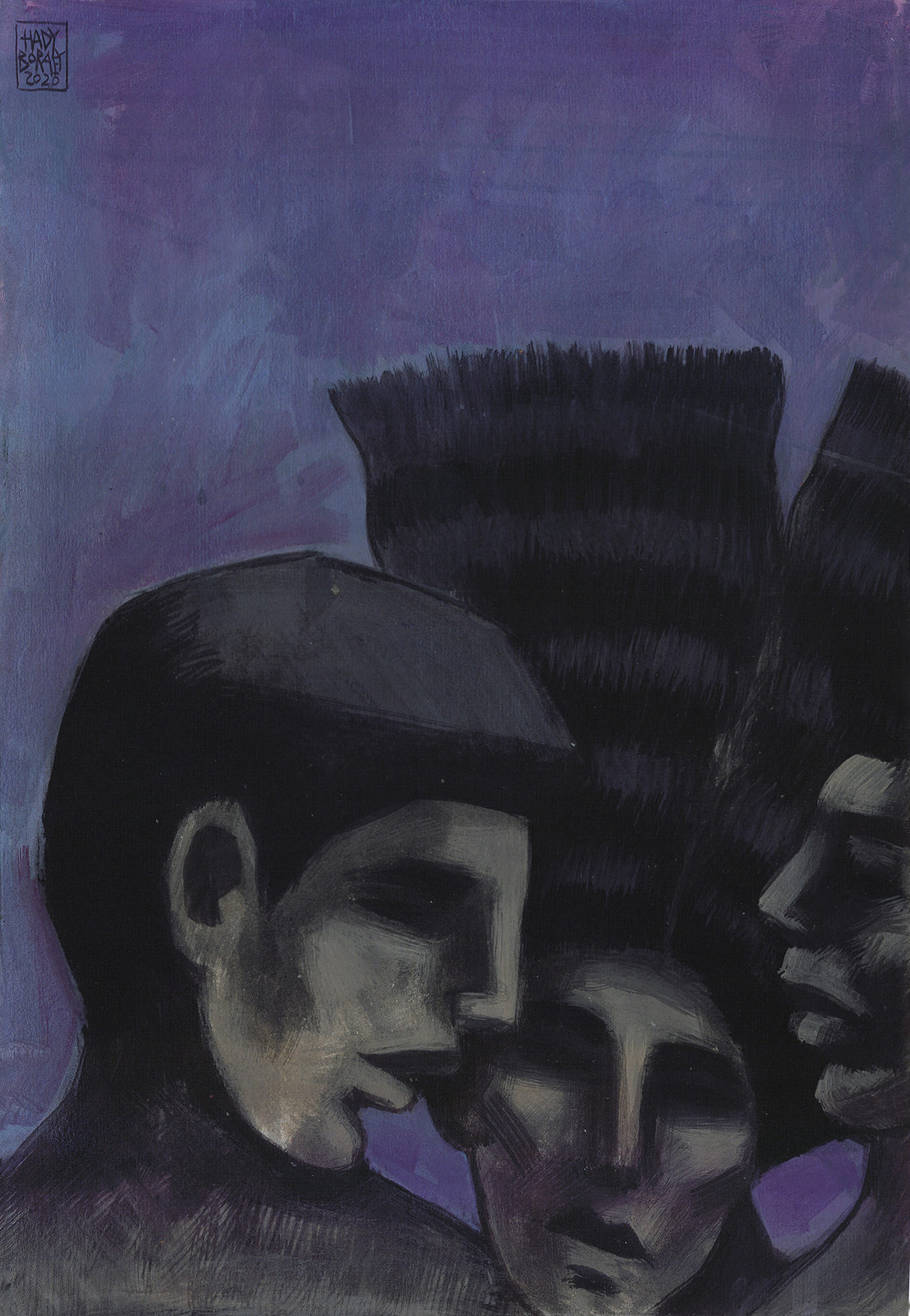 An ancient Middle Eastern legend recounts that there was another woman in Eden, with Adam and Eve. Her name was Lilith. Here I depict her whispering to them. There is always a 'third factor' in leading humanity astray.
—Hady Boraey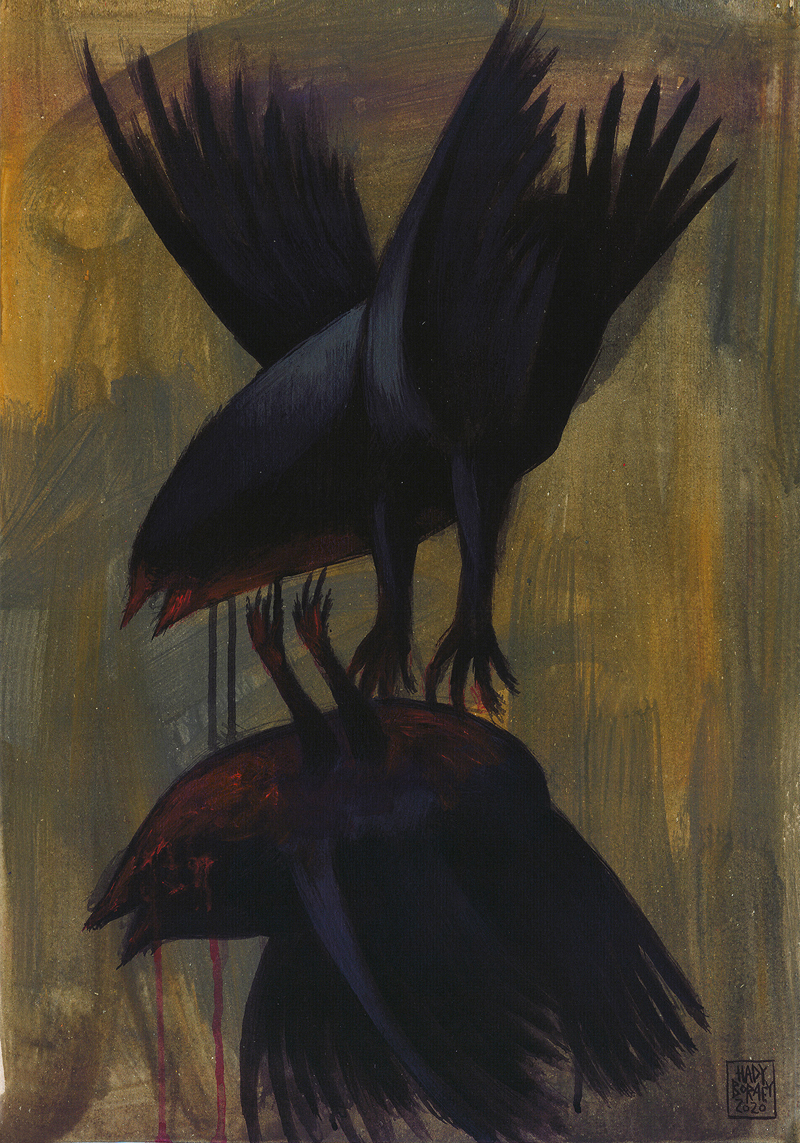 In the Qur'an, after murdering his brother Abel, Cain has a vision of two crows fighting. It is an ugly scene. One crow kills the other and buries it, giving Cain the idea of how to hide his wicked action, by burying his brother. Evil is done in secret and all is done to keep it hidden.
—Hady Boraey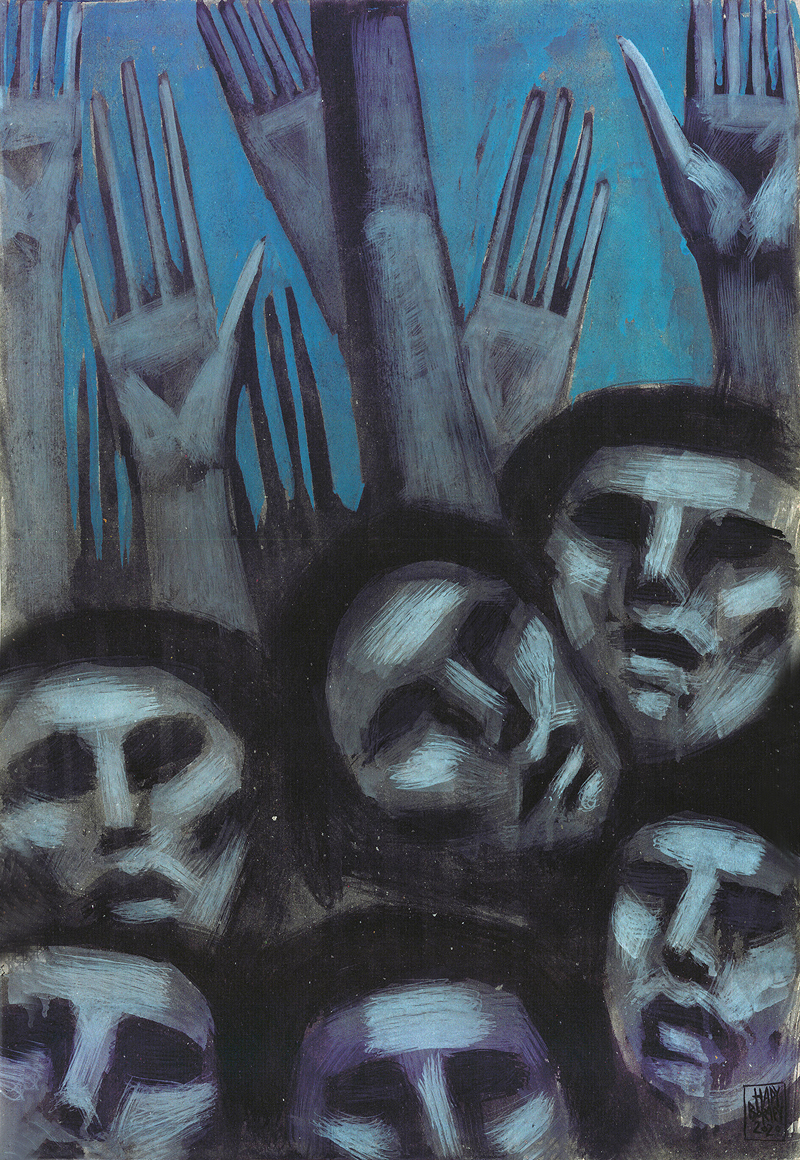 A call for survival. A call for hope. In this ocean of life, many are sinking. Our world seems to be sinking. We fear the end. Where will it lead? What will happen to them? What will happen to us? Will salvation come? Will rescue come? Or will we be led into another dimension? Will there be new life?
—Hady Boraey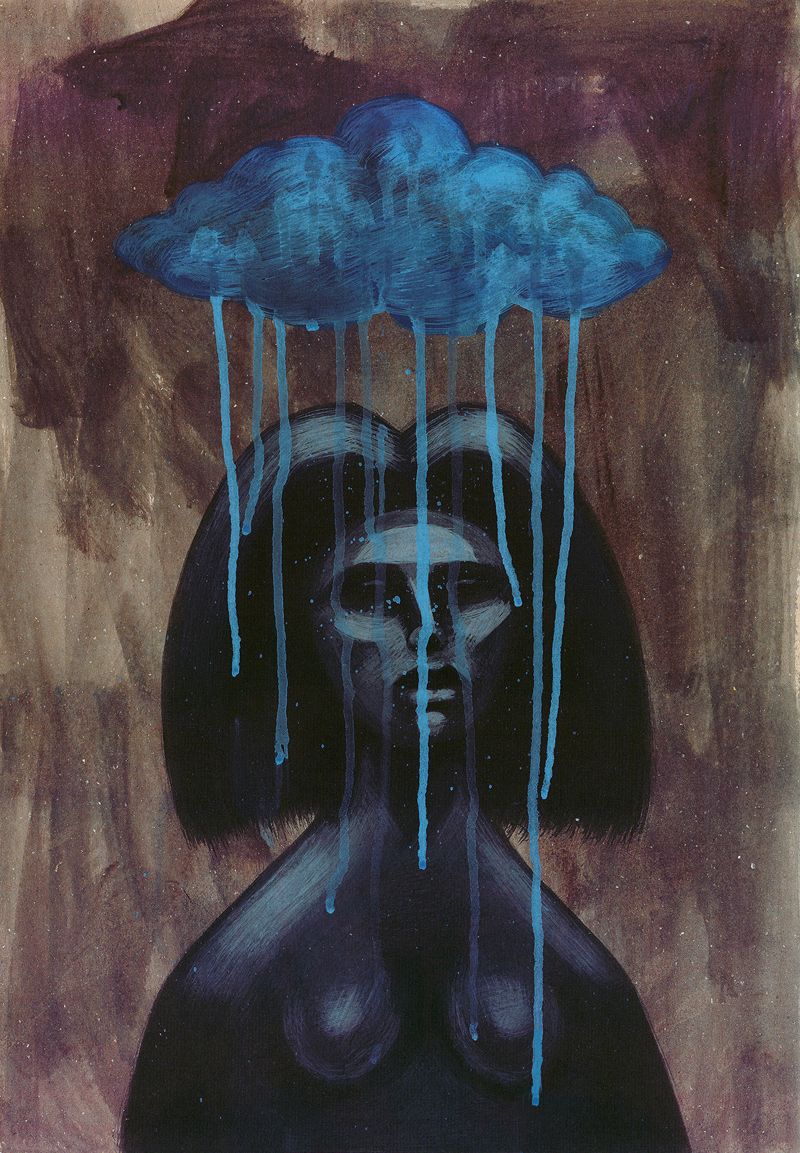 Middle Eastern Sufi folklore speaks of those who are deeply connected to God. They are considered true children of God, who receive miracles from God. In these mystical stories, one of the gifts God gives them is to send beautiful clouds to protect them, to provide them shade and rain in the midst of the desert summer heat. In other words, God protects God's children.
—Hady Boraey
Post Notes