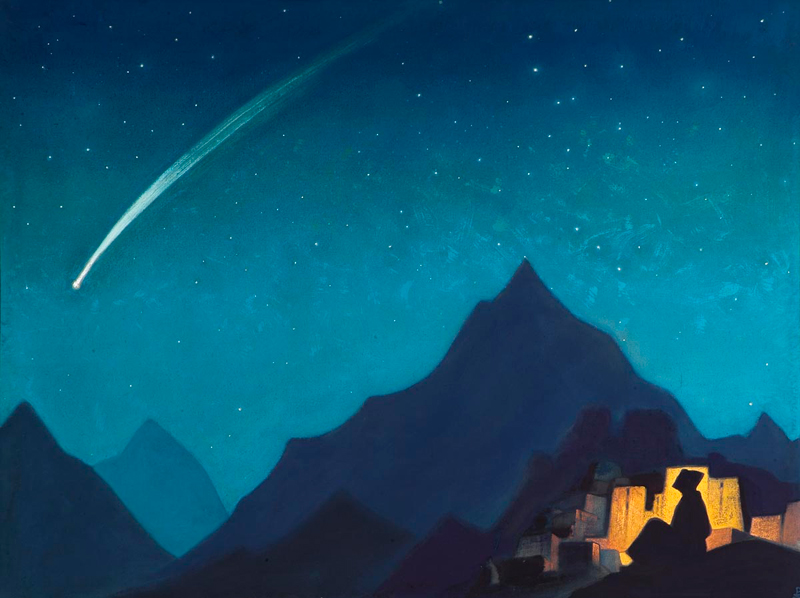 The shining light of Art
Awaken, O friend.
A message has come.
Ended, thy rest.
Now I have learned where is guarded
One of the Sacred Signs.
Think of the joy if
One sign we shall find
Before sunrise, we shall have to go.
At night we must all prepare.
Look at the night sky …
It is beautiful as never before;
I do not remember
Such another.
Only yesterday
Cassiopeia was sad and misty,
Aldebaran twinkled fearfully
And Venus did not appear.
And now they are all ablaze.
Orion and Arcturus are shining.
Far behind Altair
New starry signs
Are gleaming and the mistiness
Of the constellations is clear and transparent.
Dost thou not see
The path to that
Which tomorrow we shall find?
The starry masses have awakened.
Take thy fortune.
The armour we shall not need.
The shoes put tightly on,
Tightly girdle thyself,
Our path will be stony.
The East is aflame.
For us
Is the hour.
—Nicholas Roerich, "The Hour", Beautiful Unity
I ONLY RECENTLY discovered the work of Russian polymath, Nicholas Roerich (9th October 1874–13th December 1947), whilst researching the paintings of his artistic contemporary and mentor, Arkhip Kuindzhi, and I wonder why I had never even heard of him until now. On a par with the creative output of Kahlil Gibran and William Blake who similarly excelled in all the multifarious disciplines of the creative process—poetry, prose and painting—Nicholas Roerich's work is also imbued with transcendental knowledge, subliminal beauty and the power to utterly transform human consciousness itself.
Born in St. Petersburg towards the end of the nineteenth century, Nicholas Roerich was brought up in an upper middle-class family, developing aptitudes for art and archaeology; during his student years training as an artist at the Academy of Art concurrently with jurisprudence at St. Petersburg University, he mingled with eminent writers, painters, musicians and art critics of Russia's intelligentsia and Symbolist Movement, finally meeting his wife-to-be and soul companion, Helena, a talented pianist and accomplished author, her books including The Foundations of Buddhism and a Russian translation of Helena Blavatsky's Secret Doctrine.
Indeed, both Roerichs were fascinated with finding the interconnectedness of all life and became avid readers of the Vedantist essays of Ramakrishna and Vivekananda, the poetry of Rabindranath Tagore and the Bhagavad Gita; they would subsequently go on to establish some years later the Agni Yoga Society in New York, ("Agni Yoga" meaning "Mergence with Divine Fire"), which espoused a living ethic encompassing the esoteric philosophies and religious teachings of all ages from around the world.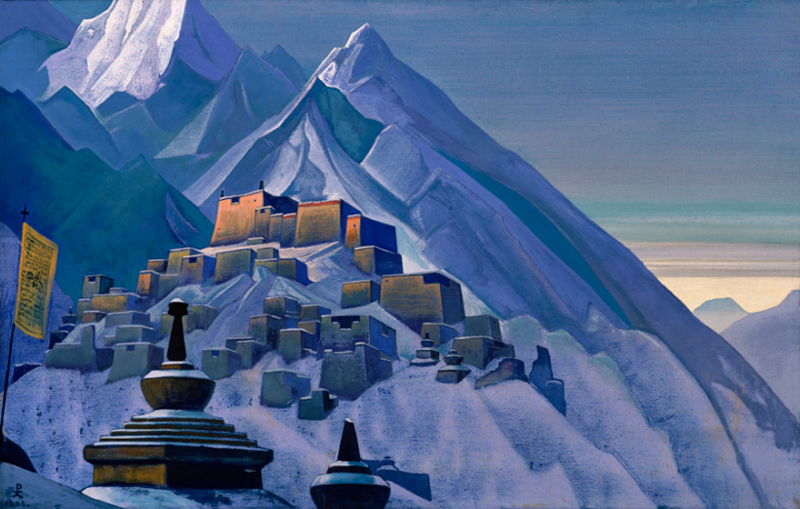 The Roerichs travelled extensively throughout Russia, Scandinavia, Europe and America, with Nicholas producing an unparalleled collection of canvases—depicting landscapes, religious iconography, architecture—embodying his ever-deepening apperception of the need to preserve the world's cultural and artistic inheritance as a means to uplifting the spirit and elevating the soul, made all the more immediate when set against the backdrop of the Russian Revolution and the First World War.
Moreover, being as equally gifted with the pen as with the paintbrush, Nicholas also produced during this period a collection of sixty-four blank verse poems, entitled Flowers of Morya in Russian (Flame in Chalice in the English translation), which would reveal his interior spiritual journey, drawing on the mysticism of the Hindu scriptures and finding expression in his later paintings composed during the Roerichs' pilgrimage to India in a quest to imbibe the Eternal Self.
In a trek that would encompass the crossing of thirty-five mountain passes, Nicholas produced over five hundred paintings documenting his expedition through the Himalayas, as well as a book, Heart of Asia, together with poetry and almost-daily essays, Diary Leaves (Beautiful Unity being one of many collections). He believed that the rigour of the mountains, indeed any seemingly insurmountable obstacle, fashioned a man's spirit, enabling him to develop endurable courage and spiritual strength.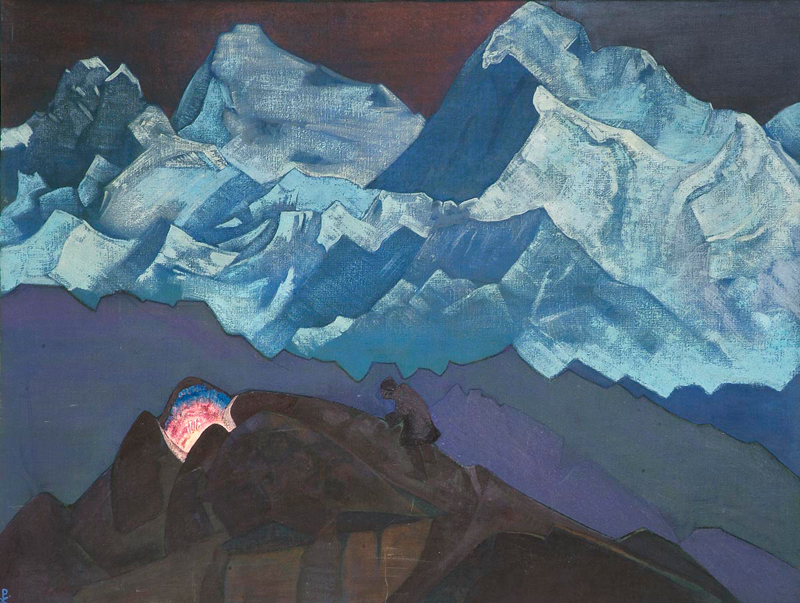 Speaking of their long and happy relationship upon the approach of an anniversary, Nicholas wrote of Helena in his diary: "Forty years—no less than forty. On such a long voyage, meeting many storms and dangers from without, together we overcame all obstacles. And obstacles turned into possibilities. I dedicated my books to Helena, my wife, friend, travelling companion, inspirer! Each of these concepts was tested in the fire of life. And in Petersburg, Scandinavia, England, America, and in all Asia we worked, we studied, we broadened our consciousness. Together we created, and not without reason is it said that the work should bear two names—a feminine and a masculine."
Returning to New York for the opening of the Nicholas Roerich Museum's new premises, Nicholas proposed a treaty, reflecting his love of the arts and all things beautiful, for the protection of cultural treasures during times of both peace and war, akin to the Red Cross. Using the motto, Pax Cultura, together with a banner showing three spheres surrounded by a circle (representing Religion, Art and Science as aspects of Culture), his efforts were finally realized on 15th April 1935, in the signing of The Roerich Pact by the nations of the Americas in the White House in Washington, which is still in force to this very day.
Indeed, the pursuit of Beauty was sacrosanct for Nicholas Roerich. In the manner of Plato's Forms, he believed that creativity was an expression of Universal Consciousness and as such, should be honoured and revered above all else. Moreover, global peace was not only a prerequisite for planetary survival but also the unfoldment of spiritual evolution itself, with the gatekeepers of Art and Knowledge guiding us along its elevated and noble path, forever onward and upward toward the mountains of Truth. It is little wonder, therefore, that Nicholas' cremated ashes were scattered in Kullu in the Himalayas, seat of inspiration for his most elevated and exquisite work.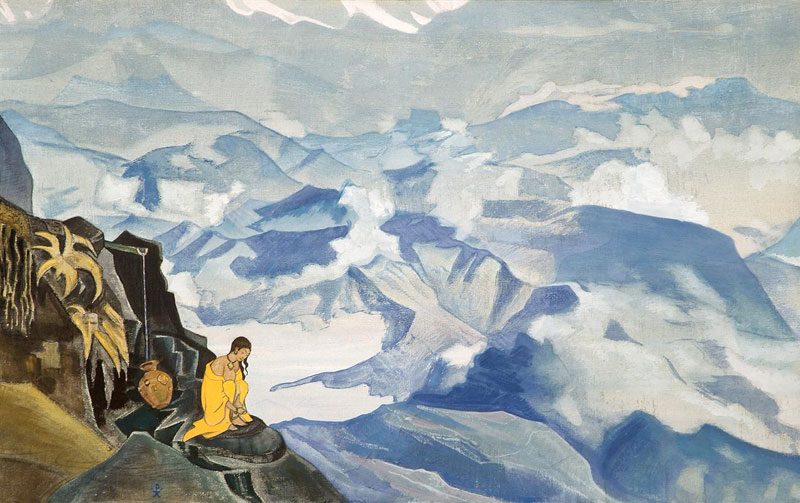 Art will unify all humanity. Art is one—indivisible. Art has its many branches, yet all are one. Art is the manifestation of the coming synthesis; art is for all. Everyone will enjoy true art. The gates of the 'sacred source' must be wide open for everybody and the light of art will influence numerous hearts with a new love. At first this feeling will be unconscious but after all it will purify human consciousness, and how many young hearts are searching for something real and beautiful! So give it to them. Bring art to the people—where it belongs. We should have not only museums, theatres, universities, public libraries, railway stations and hospitals but even prisons decorated and beautified. Then we shall have no more prisons.
—Nicholas Roerich, Beautiful Unity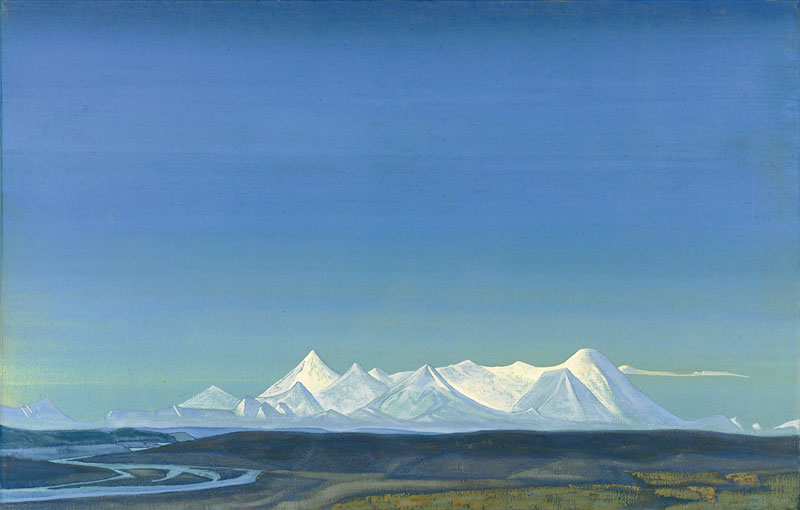 Create, Create and Create! Create in daytime, create at night; for creation in thought is as essential as our physical expression. In this creativeness, you shall overcome the most hideous habits of vulgarity, triviality and quarrelling. People sometimes think that creators are very selfish and conceited. But these ugly properties belong to the domain of darkness. When a person 'climbs' to the Light, then such an abhorrent husk drops off by itself and man becomes enlightened. His 'I' is changed into the concept of 'We'.

On the same path towards the summits, man will understand the true meaning of Guruship. From the depth of darkness one can hear disgusting cries at present: 'Down with culture', 'Down with heroes', 'Down with teachers'. It is a shame on humanity but one witnesses such outcries of crass ignorance even nowadays. But he who thinks of such a refined conception as colour and sound, culture and harmony, he will understand the infinite Hierarchy of Beauty and Knowledge, and having ascended the majestic stairs of achievement, he will also lead the pilgrims of life who are following behind.
—Nicholas Roerich, 'Beautiful Unity', Beautiful Unity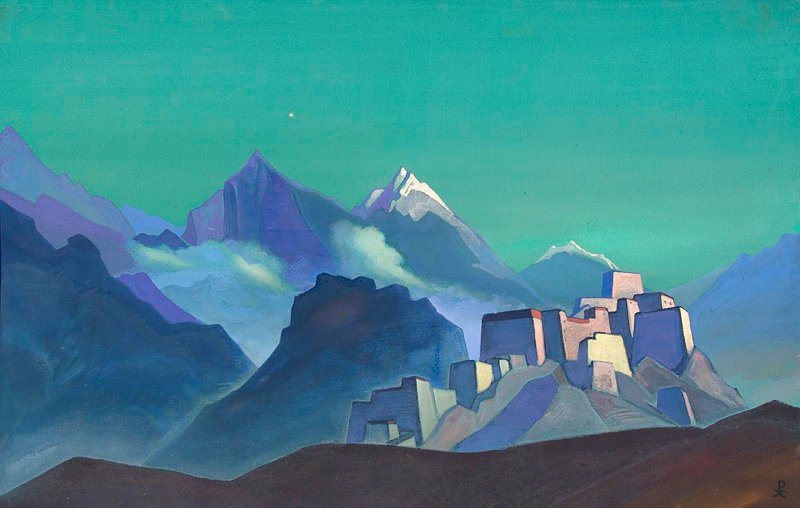 Plato ordained in his treatises on statesmanship: 'It is difficult to imagine a better method of education than the one that has been discovered and verified by the experience of centuries; it can be expressed in two propositions: gymnastics for the body and music for the soul. In view of this, one must consider education in music as the most important; thanks to it, Rhythm and Harmony are deeply enrooted into the soul, dominate it, fill it with beauty and transform man into a beautiful thinker … He will partake of the Beautiful and rejoice in it, gladly realize it, become saturated with it and will arrange his life in conformity with it.'

Of course the word music, in this case, should not be understood as routine musical education as it is understood now in its narrow sense. In Athens, as service to all Muses, music had a far deeper and broader meaning than it does today. This conception embraced not only the harmony of sound but the whole realm of poetry, the whole domain of elevated perceptions, of exquisite forms and of creation in general, in its best sense. The great service to the Muses was a real education of taste, which in everything cognizes the great Beautiful. And we shall have to return to this vital Beauty, unless Ideas of elevated constructiveness are to be completely rejected by Humanity.
—Nicholas Roerich, 'Realization of the Beautiful', Beautiful Unity
Culture—the veneration of Light—rests on the cornerstones of Beauty and Knowledge. And if there was a beautiful necessity to inaugurate the Red Cross of Culture and a universal Banner reminding men of the treasures of Culture—it means that this beautiful necessity also was undeferrable. Culture, Beauty and Science are violated not only in times of war but also in times of so-called peace. This truth again refers to the whole world.

If anyone should possess a receptacle containing a wonderful panacea, how carefully would he guard such a treasure? But beauty is that same miracle-working panacea and as such requires a vigilant devotion. Now cures are affected in hospitals by sound and colour—thus Beauty, the perfect panacea, enters in a new garment. People worry about their health. May this consideration at least teach them to venerate and guard the panacea of Beauty. Half a century ago, our great Dostoyevsky proclaimed: 'Beauty will save the world.'
—Nicholas Roerich, "The Beautiful", Beautiful Unity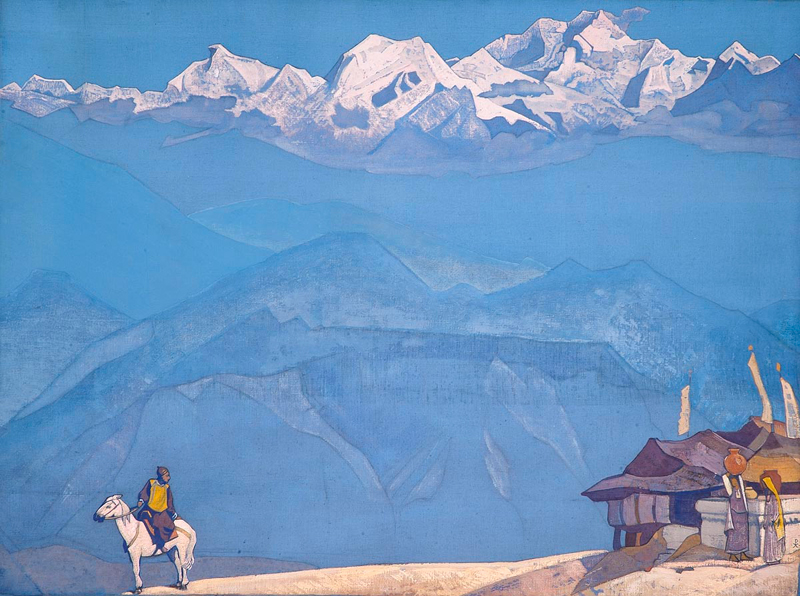 Every librarian is a friend of the artist and scientist. The librarian is the first messenger of Beauty and Knowledge. It is he who opens the gates and from the dead shelves extracts the hidden word to enlighten the searching mind. Not one catalogue may replace a librarian. A loving word and experienced hand may produce the miracle of enlightenment. We affirm that Beauty and Knowledge are the basis of the entire culture and these are changing the whole history of humanity. This is not a dream. We can prove it through all of history. The immutable facts tell us how, from primitive ages, all progress, all happiness, all enlightenment of humanity was led by Beauty and Knowledge. It is not strange to speak these words at a time when millions of books are printed; every year a torrent of printed pages forms new snowy mountains. In this labyrinth of paper glaciers, true snow blindness can strike the inexperienced traveller. But the librarian, as a true honour guard of knowledge, is vigilant. Only he knows how to steer the boat through the waves of this ocean of past and future.

The library exists not only to spread knowledge. Each library is an introduction to bringing knowledge into the home. Is it possible to imagine a home and a household without books? Again, if you will take the most ancient images of the home and household, the finest examples revealed are objects and books. And you can see that these old books, in their beautiful bindings, were held as a true treasure. And not because the library did not exist. Librarians existed throughout the ages. But the human spirit feels that knowledge can be acquired, not only in public places, but also in the calm of the home. We even carry the most sacred books and images with us. They are our unchangeable friends and guides. We know perfectly that it is not worthwhile to read a book once. As magical signs, the truth and beauty of the book is absorbed gradually. And we do not know either the day or the hour when we need the gospel of knowledge. So, the library is the first step of enlightenment. But the true upliftment of knowledge comes in the hour of silence, in solitude when we can concentrate all our intelligence towards the true meaning of scriptures.

Books are true friends of humanity and each human being is entitled to have these noble possessions. In the East, in the wise East, a book is the most precious gift. And he who gives the gift of a book is regarded as a nobleman. During five years of travel in Asia, we have seen innumerable libraries in each monastery, in every temple, in every ruined Chinese watchtower. There was a library with collections of the most remarkable books—and collections of famous biographies, dictionaries, history and the sciences.

When you see a lonely traveller in the mountains, you may be sure that a book is in his knapsack. You may deprive him of everything, he will be resigned to it, but he will fight for his real treasure, the book. So, let us remember that books are real treasures and let us collect and cherish them as the noble crest of our home.
—Nicholas Roerich, "Treasure of the Home", Beautiful Unity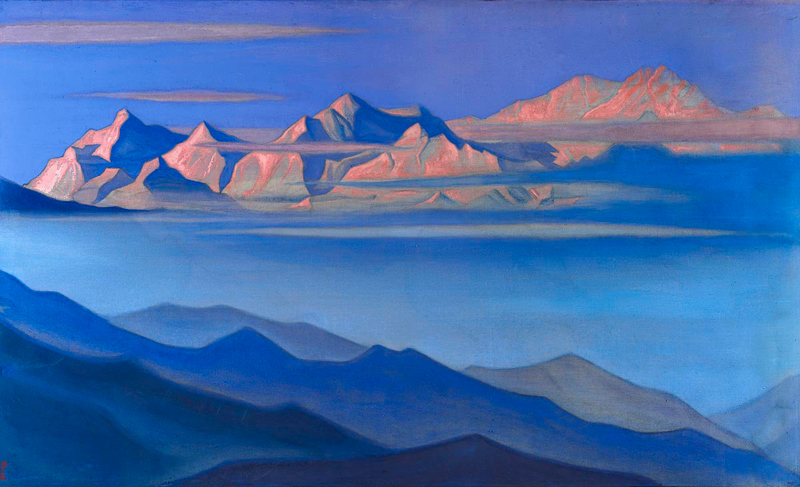 Our responsibility before the Beautiful is great! If we feel it, we can demand the same responsibility to this highest principle from our pupils. If we know that this is a necessity, as, during an ocean storm, we can require of our companions the same attention to the ardent demand of the moment.
We are introducing, by all means, art into all manifestations of life. We are striving to show the quality of creative labour, but this quality can be recognized only when we know what ecstasy is experienced before the beautiful; this ecstasy is not that of a transfixed image but is motion, an all-vibrating Nirvana. This is not only the falsely-conceived Nirvana of immobility but the Nirvana of the noblest and most intensive activity. In all ancient teachings, we have heard about the nobility of action. How can these actions be noble, if they are not beautiful? You are the teachers of art; you are the emissaries of beauty; you know the responsibility before the coming generation and in this is manifested your joy and your invincible power. Your actions are the noble actions.

And to you, my young unseen friends, we are sending out our call. We know how difficult it is for you to begin the struggle for light and achievement. But the obstacles are only new possibilities to create beneficent energy. Without battle, there is no victory. And how can you avoid the venomous arrows of the dark enemy? By approaching your enemy so closely that he shall lack space even to send an arrow. And after all, nothing enlightened may be achieved without travail. So blessed be labour. And blessed be you, young friends, who are walking in victory! The Gurus of the past and future are with you. Gurus, to you my invocation and my reverence!
—Nicholas Roerich, "Guru—The Teacher", Beautiful Unity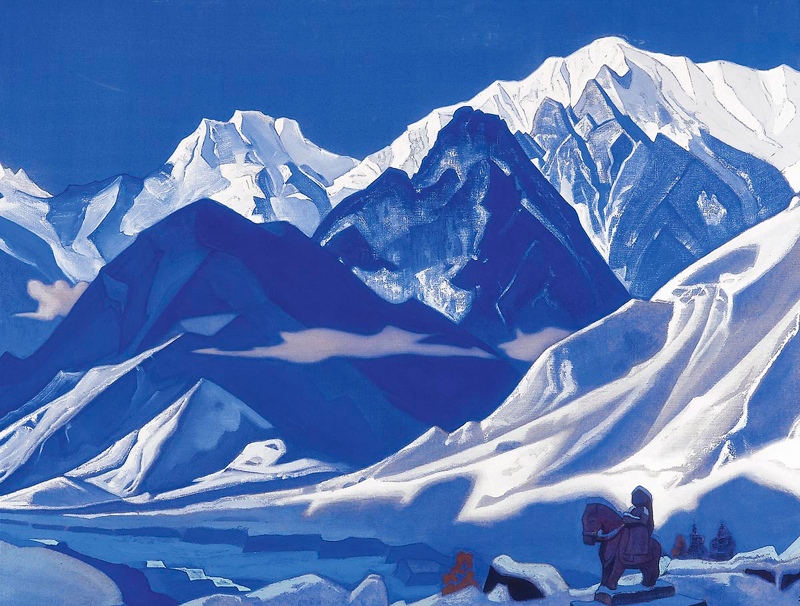 Real Peace, Real Unity is desired by the human heart. It strives to labour creatively and actively for its labour is a source of joy. It wants to love and expand in the realization of Sublime Beauty. In the highest perception of Beauty and Knowledge all conventional divisions disappear. The heart speaks its own language; it wants to rejoice what is common to all, what uplifts all, and what leads to the Radiant Future. All symbols and tablets of humanity contain one hieroglyph, the sacred prayer—Peace and Unity.

It is truly beautiful, if amidst the turmoil of life, in the waves of unsolved social problems, we still may hold up before us the eternal flambeau torches of peace in all ages. It is beautiful, through the inexhaustible well of love and tolerance, to understand the great movements which connected the highest knowledge to the highest aspirations. Thus, by studying and admiring we are becoming real cooperators with evolution, and out of the brilliant rays of the Supreme Light may emerge true knowledge. This refined knowledge is based on real comprehension and tolerance. From this source comes the great understanding, emerges the Supremely Beautiful, the enlightenment and enthusiasm for Unity. Contemporary life is changing rapidly, the signs of a new evolution are knocking on all doors. In real, unconventional science we feel the splendid responsibility before the coming generations. We gradually understand the harm of everything negative. We begin to value enlightened positiveness and constructiveness, and in this measure, in merciful tolerance, we can prepare a vital happiness for our next generation, turning vague abstractions into beneficent realities.
—Nicholas Roerich, "Cultural Unity", Beautiful Unity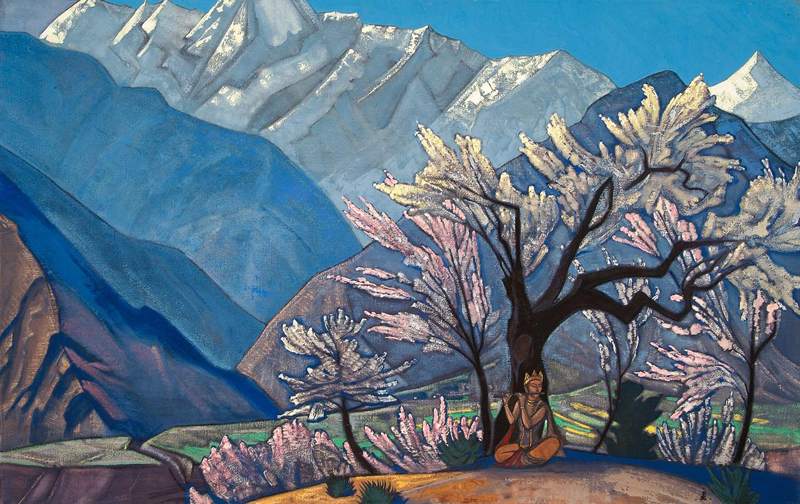 During the days of the present Armageddon I have been asked to send my message to several art exhibitions in India. My message was: Art should be protected by all means. Armageddon is raging. Art and Knowledge are the cornerstones of evolution. Art and Science are needed always, but in our days of Armageddon they must be especially guarded by all the powers of our hearts. It is a great mistake to think that during troubled times culture can be disregarded. On the contrary, the need for culture is especially felt in times of war and human misunderstandings. Without Art, Religion is inaccessible, Without Art the spirit of Nationality is lost. Without Art, Science is dark. This is not a utopia. The History of Humanity gives innumerable examples of Art being the great Beacon Light in times of calamity. Scientists assert that colour and sound are a panacea. By Beauty and Harmony even wild beasts were tamed. Let the sacred flute of Sri Krishna resound again! Let us visualize that peace in which the majestic frescoes of Ajanta were created! In times of war let us think of future peace affirmed by creativeness, labour and beauty. Travelling through India we passed along a road in the shadow of mighty chinars. Our guide told us: 'The great emperor Akbar thought of the future travellers who were going to be sheltered by these beautiful trees. He looked into the future.' 'To regard the Beautiful means to improve'—said Plato. 'Man becomes that of which he thinks'—preordained the Upanishads.
—Nicholas Roerich, "Adamant", Beautiful Unity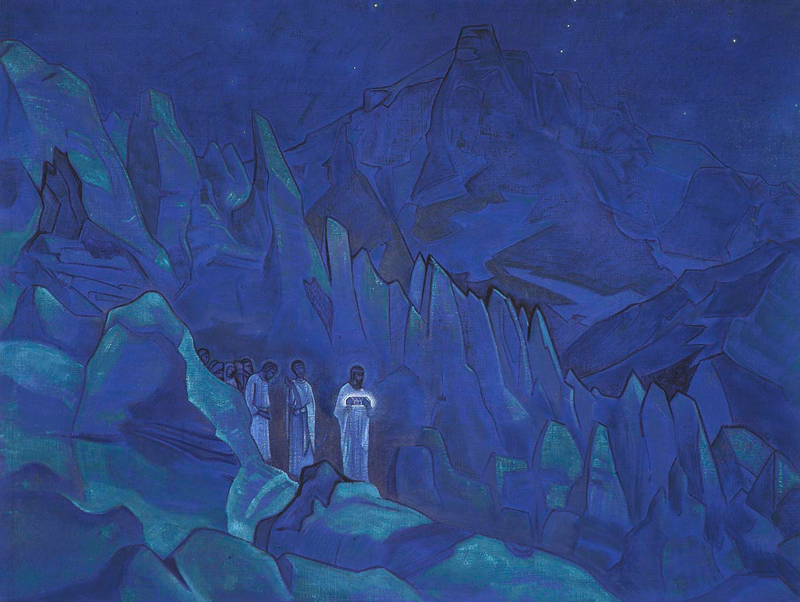 The arts are one. What is the creative spirit that abides in all art that is but a breath away from the finer ethers of 'worlds before and after?' Music, painting, sculpture, poetry, drama and dance—these are one in essence, one in principle. Do they not spring from the one source—the broadly creative spirit? Are they not all parts of the one life? As petals interwoven and blended, they form the flower of life. They have their home in the timeless and in the endless. That is why a single life is only long enough to catch 'hints of the proper craft, tricks of the tool's true play.'

To be in harmony with the increasing rate of life's vibration, we find we must make use of the fast-flying wings of the imagination. In our effort to join the worlds within and the worlds without to converge into our 'one world', we are re-discovering this principle of unity as it relates to all life. For the basis of true culture, it would seem, lies in the perception, not only of the unity of the arts but of the unity between art and life. These cannot be dissociated without harm. Where they are severed, life is fragmented and crippled. Seen as one, it becomes an inexhaustible fountain of beauty. When we function truly—with the wisdom of joy—it is with the whole consciousness. In the life of wholeness, as exemplified in the Academy of United Arts, the spirit of each of the arts and of life itself is finely fused and integrated.

Through varying symbols of art, the student sees a world clothed in many veils of beauty. A world 'where music, silence and dreaming are one'. He learns to seek the goal in creative labour—in striving to become, in the words of Dante, the 'Scribe of Eternal Love'. Through this service he develops expanded capacities of perception and containment. He finds that the home of the true artist is thus 'bounded by the mother-skies'; that 'his race is Man; his banner—The Banner of Peace'.
—Nicholas Roerich, "Unity", Beautiful Unity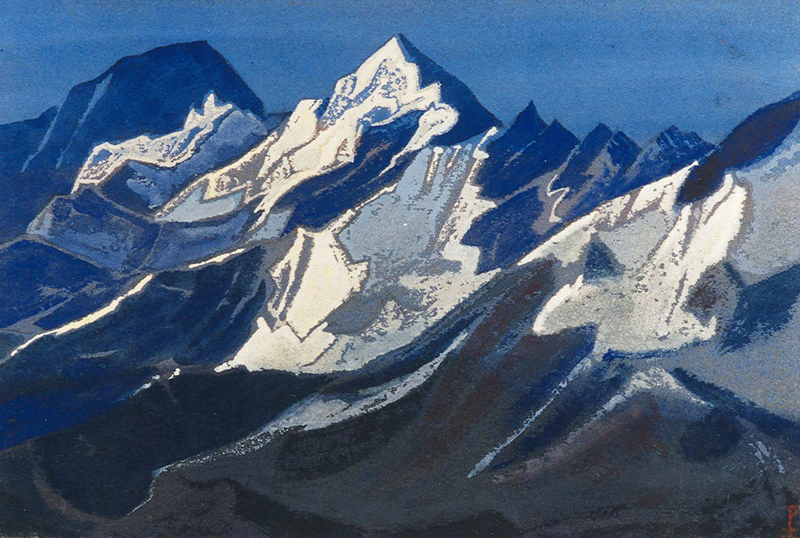 Where are the conditions of creativeness? In the genius, in the imperative tremor of the heart, which calls forth constructiveness. The earthly conditions are of no importance for the creator who has been called. Neither time, nor place, nor material can limit this impulse of creativeness. 'Even if imprisoned, an artist will become an artist,' was one of the sayings of my teacher, Kuindzhi. But he also used to say, 'If you have to be kept under a glass cover, then the sooner you disappear the better! Life has no need for such touch-me-nots.' He understood well the significance of the battle of life, the battle of light and darkness. A small clerk came to the teacher; the latter praised his work, but the clerk complained: 'Family and office stand in the way of my work.'
'How many hours do you spend in the office?' asked the artist.
'From ten to five.'
'And what are you doing from four to ten?'
'What do you mean, from four to ten?'
'Yes, from four in the morning?'
'But I sleep.'
'Well, then you will spend your whole life sleeping. When I worked as a retoucher with a photographer, our work was from ten to six; but the whole morning from four to nine, I had at my own disposal. And to become an artist, even four hours per day are sufficient.'
Thus said the venerable master Kuindzhi, who, beginning as a shepherd boy, through labour and unfolding of his talent reached an honourable place in the art of Russia. Not harshness but knowledge of the laws of life suggested to him his replies, full of realization of his responsibility, full of consciousness of labour and creativeness.
—Nicholas Roerich, "Armour of Light", Beautiful Unity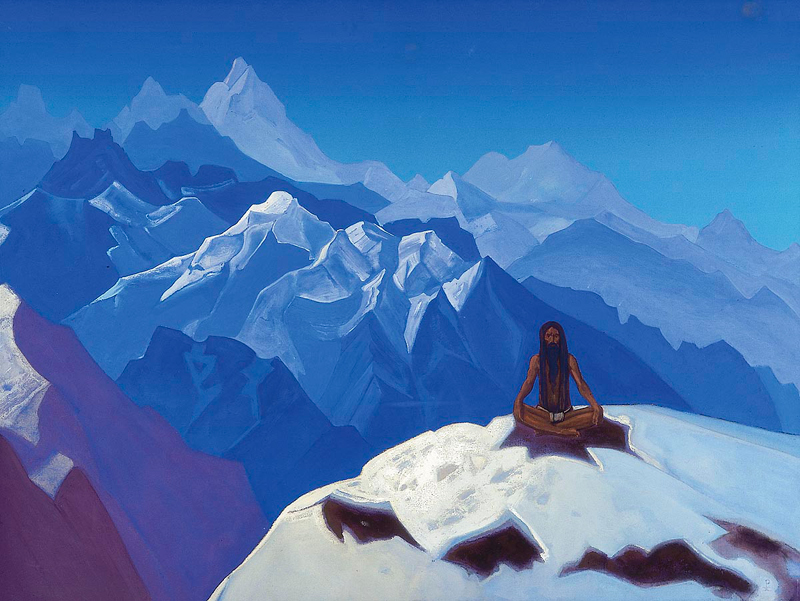 Humanity is facing the coming events of cosmic greatness. Humanity already realizes that all occurrences are not accidental. The time for the construction of future culture is at hand. Before our eyes, the reassessment of values is being witnessed. Amidst ruins of valueless banknotes, mankind has found the real value of the world's significance. The values of great Art and Knowledge are victoriously traversing all storms of earthly commotions. Even the 'earthly' people already understand the vital importance of a beauty that is alive. And when we proclaim: labour, beauty and action, we know verily that we pronounce the formula of the international language. And this formula, which now belongs to the museum and stage must enter into everyday life. The sign of beauty and action will open all gates. Beneath the sign of beauty, we walk joyfully. With beauty and labour, we conquer. In beauty we are united. And now we affirm these words—not on the snowy heights, but amidst the turmoil of the city. And realizing the path of true reality, we greet the future with a happy smile.
—Nicholas Roerich, Beautiful Unity
Post Notes