Glowing moments
Jason Symes is a photographer born and bred in Raheny, Dublin, Ireland who came to photography in his early 20s. Mostly self-taught, he takes photographs of what appear to be the simple things in life, trying to show beauty in all places and things, people and animals.
Gabriel Rosenstock was born circa 1949 in postcolonial Ireland and is the author-translator of over 180 books, including books for children. Prose work includes fiction, essays in The Irish Times, radio plays and travel writing. He has given readings and performances in Europe, US, India, Japan and Australia. Broken Angels is the fourth in an ongoing series of ekphrastic tanka books published by Cross-Cultural Communications, New York, and available as a free e-book on the EDOCR platform.
In this week's guest post for The Culturium, Jason and Gabriel discuss their creative collaboration celebrating the interface between words and images and how the fusion of haiku and photography can bring us back in touch with our deepest selves.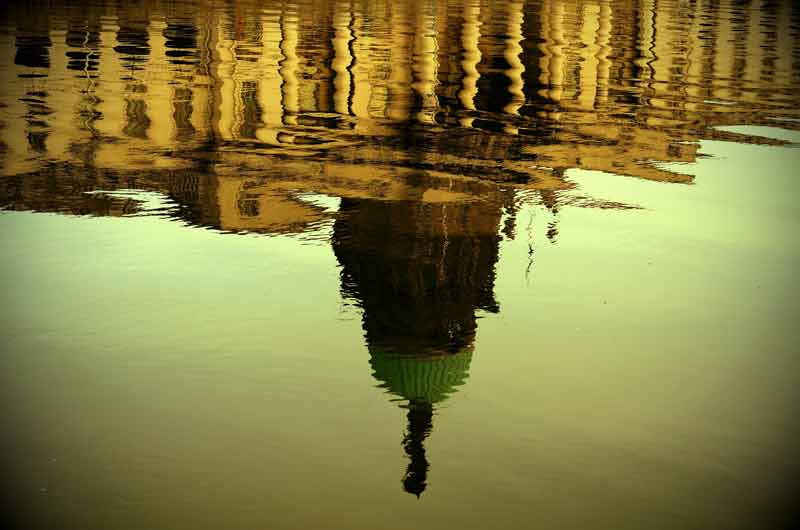 "Newness has no grief,
it's unknown to it."
—Swadesh Sen
GABRIEL ROSENSTOCK: We take the words of an Indian poet as our cover motto, a poet who is not well known in the West, someone who tells us that newness knows no grief. It is a remarkable statement in many ways. It applies to the art of haiku and equally well to the art of photography. What the haijin (or seasoned haiku poet) perceives always emits a glow of newness. Similarly, the awakened eye behind the lens perceives this unfailing shimmer of newness. It is life itself! We are not talking about novelty here but the newness that is constantly arising from the heart of all self-regenerating phenomena, from season to season, from day to day, from hour to hour, is the glow of creation that is longed for and seen by the meditative heart.
Getting back to our Indian poet again, a Bengali poetry webzine, Kaurab, says that Swadesh Sen (1935–2014), "never gave a public reading, never approached a publisher". How encouraging it is to read these words in an age of endless hype, spin and branding. For the true photographer and the true haijin alike, there is nothing to do but to seek the glow of creation, plunge into it, affirm it and be made new again each time.
Ogiwara Seisensui, a pioneer of modern haiku, mentor to Taneda Santoka and Ozaki Hosai, says: "We must not miss this flash of lightning. We must capture the sensations of this valuable instant. We must constantly strive to deepen our perception and gain a greater enlightenment by recording and expressing our feelings of these moments. Each haiku form is short, sharp and intense because it aims to record the rare glowing moments at which our life radiates rays of light." We hope that the reader experiences many "glowing moments" in these photographs by Jason Symes and in the haiku responses that accompany them.
"God grant that in my careless art,
for fun, for dreaming, for the heart …
You've found at least a crumb or two."
—Alexander Pushkin, "Eugene Onegin"
JASON SYMES: Having to write about my photography is an extremely difficult thing for me to do. Up until I lost my beloved mother, Maureen, on 17th July 1987, I was quite orderly, deliberate and occasionally planned things. It seemed like the proper thing to do. In saying that, owing to the politics of the time and the constant threat of nuclear war, the planning seemed irrelevant but there was a confidence and some logic to what I did.
My father protected me from knowing the full extent of my mother's illness and I will be forever grateful for that. I couldn't possibly have coped knowing what was really happening. My mother's passing had a very profound effect on my mindset from that moment on.
Life would be a lot less meaningful and any plans that I did have dissipated instantly, life would now be lived from moment to moment. My father was now our sole raison d'être and nothing else in the world really mattered. He knew that I was "dropping out" and was the greatest possible friend that one could wish for. It was by total chance that photography arrived in my life. My Dad enrolled me on a course run by a local person who organized courses purely for the sake of goodness. I can't pretend that it was a eureka moment but it did introduce me to the basics of photography.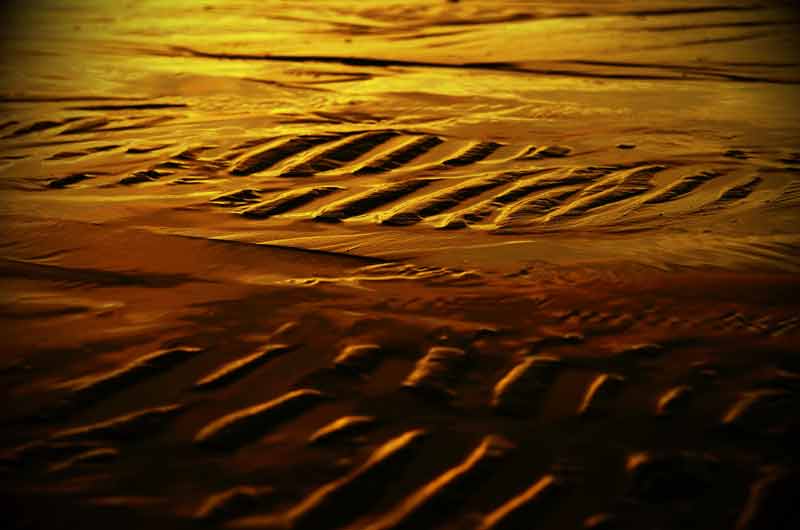 cá n-imíonn smaointe—
eitirí is iomairí
na hinchinne

where do thoughts go—
the grooves and ridges
of the brain
At the time, photography was very expensive so it was impossible to gain access to proper large aperture lenses so the images then lacked depth, no pun intended. The one really magical time that the course did give me was the moment in the darkroom witnessing an image appearing on photographic paper from nowhere. It can never be recreated on a computer the feeling of awe one experiences, almost like alchemy.
I dropped the camera for some time until it was reintroduced to me by the wife of a friend, Ramona Farrelly, who is one of the most natural photographers I have ever known. It's almost like the camera is part of her mind. Ramona's kindness, books, promptings was the main reason why thankfully photography re-emerged into my life.
This time around, I was a lot older and more appreciative of my environment and the beauty, colour and light that enveloped us. I started to look a lot deeper at flowers, trees, oceans and skies and the majesty of what has been created around us. The interconnectivity of it all is astounding and my brother, Mark, always said, "It's not just the physical beauty of a flower but it's scent and why it has that scent." Surely, this must be more than a random occurrence.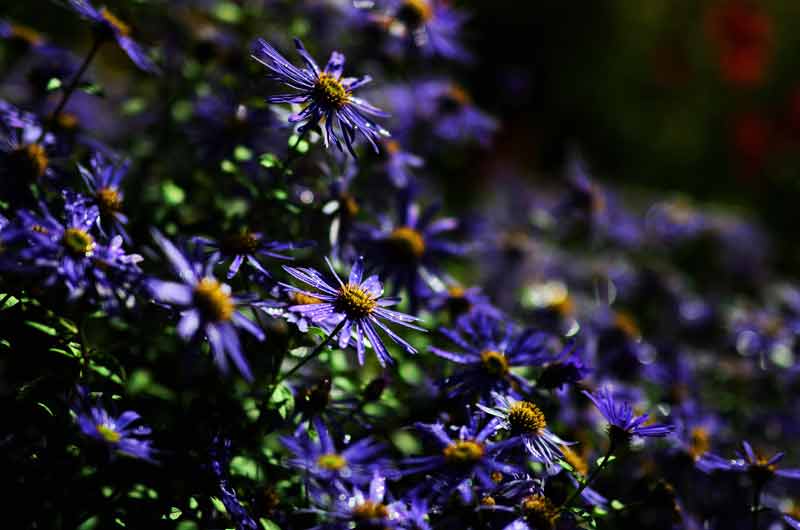 tar éis na báistí …
ní bheidh aon ní arís
mar a bhí

after the rain …
nothing will ever
be the same again
When I was younger, I had a very solid faith largely because growing up in Ireland, it was forced upon us at too early an age. In my mind, a divine being would want an individual to actively search through wonder and awe and not to be preached to about martyrdom and betrayal.
I sure do hope that God exists and my mind oscillates from day to day. The greatest proof of all for me is nature, kindness in people without motive, and, above all, the diversity of all life forms, the divine nature of dogs in particular. We had the absolute pleasure of being owned by a Border Collie named Luca, who brought us everything we needed to know about life. I firmly believed he helped me to see in a different way.
Photographing Luca and my Dad became the most precious of all things, recording their immense beauty and spirit. My Dad, George, passed on Easter Sunday, 2016, appropriately, portentously, and every image that I take now is in his honour.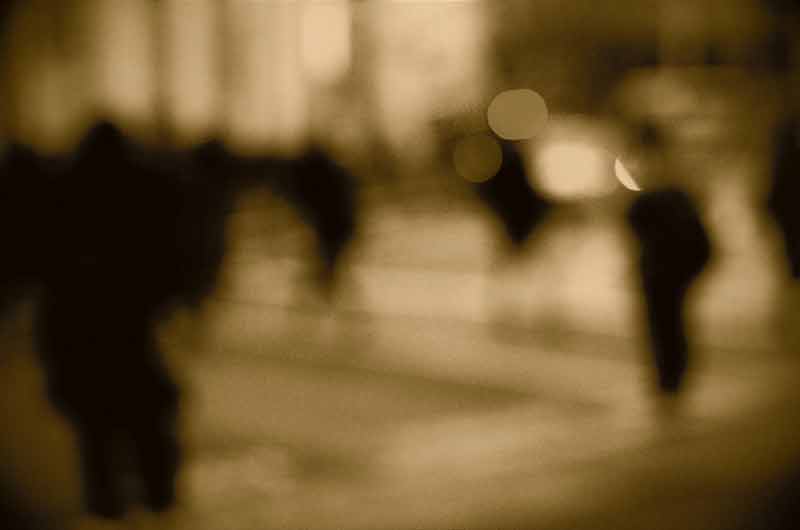 clog an aingil …
cé a bhí ionam
roimhe seo?

the angelus bell …
who was I
before this?
Around Christmas, I contacted Gabriel Rosenstock, the eminent Irish poet about interpreting my photography through haiku verses. Gabriel writes in Irish and then translates them into English, and this marriage of forms breathed a new life and perspective into my photographs. Gabriel's mind saw things only an enlightened mind could see. We spent time over Christmas emailing back and forth and though I never thought that the magic of the darkroom could be recreated, I was delightfully proved wrong. I marvelled at each and every response from him.
My poor brother's patience was tested as I kept calling him as each haiku arrived: "Mark, look at this, it's pure magic." It was an honour to work with Gabriel and it's quite ironic, as is modern life, that we have never met (I don't leave Raheny too often) and probably never will. That is certainly not to say that our souls and minds haven't.
It is fair to say that music and film have played a huge part in my life. The music of The Smiths, Sigur Ros, The National, R.E.M. were the soundtrack to my life and the work of film directors like Terrence Malick and poets like Paula Meehan have directed me along the path. More importantly than anyone else have been my very close family and dogs. My main hope now is that my nephew, Ben, or one of my nieces, Mia, Emer or Kate, will take up a camera and find peace and happiness making their own images of a future world. The only advice I can pass on is to look, look again but look deeper.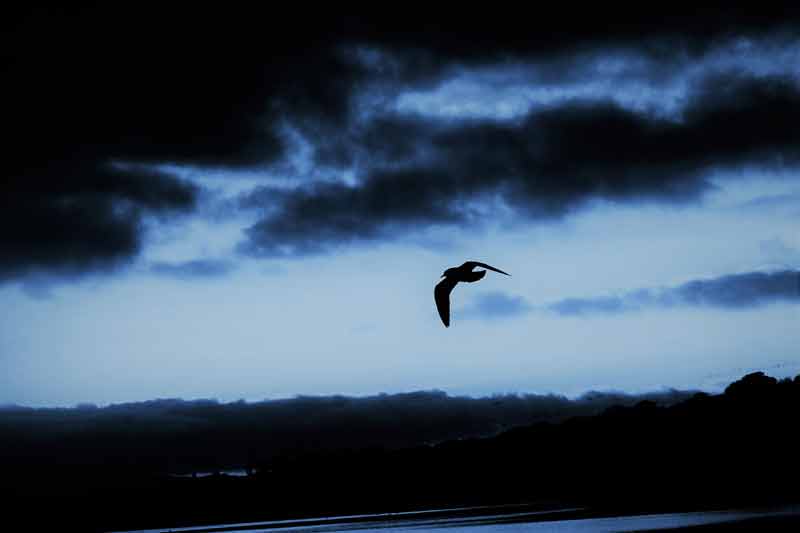 tagann deireadh
le gach aon ní …
oíche dhorcha an anama

everything
comes to an end …
dark night of the soul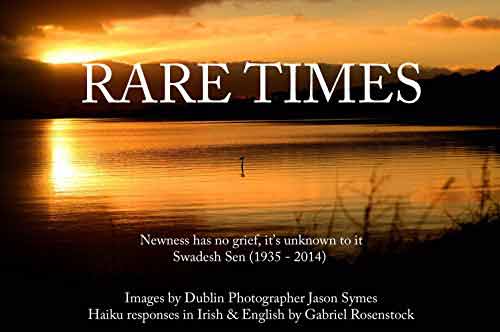 Post Notes