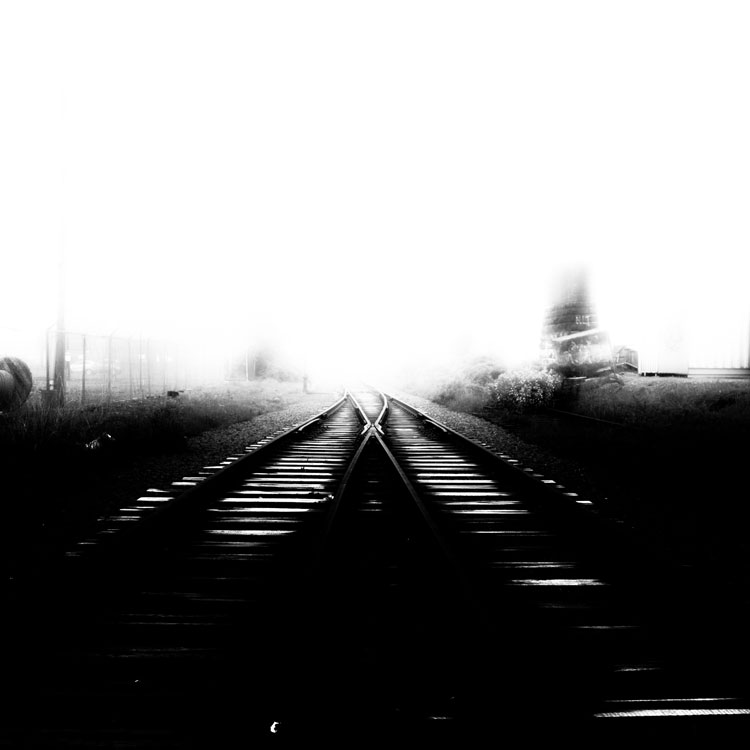 Experiencing intimacy with the landscape
"Only the broken march toward eternity."
Jerry Katz, attempting to contribute to the mainstreaming of nonduality, started the website Nonduality.com and a discussion forum, Nonduality Salon. He co-organized the first Science and Nonduality Conference and edited One: Essential Writings on Nonduality. Jerry's photographic blog is Nonduality.org. He is active on Facebook with both his personal page and group, Nonduality Talk.
In this week's guest post for The Culturium, Jerry explores his artistic and "nondual" pursuit of photography, which spontaneously arose one day whilst sitting on a rock on a beach in Cape Breton, Nova Scotia, Canada.
---
A LANDSCAPE PHOTOGRAPHER enamoured by a scene might enquire, "Do I feel the landscape 'sees me' even while I see it?" Or, "Do I hear, see, taste, recognize the true nature of 'me' in the landscape?"
Thirteenth-century Christian mystic and philosopher, Meister Eckhart, wrote, "The eye through which I see God is the same eye through which God sees me."
The eye through which I see a landscape is the same eye through which the landscape sees me.
The "eye" is the place where both the landscape and the photographer shine in their true nature. This "eye" or true nature may be called Love, Truth, Reality, the Higher Self, God, Consciousness, among many other terms.
The rest of Eckhart's famous quotation is, "… my eye and God's eye are one eye, one seeing, one knowing, one love."
The relationship of the photographer to the landscape—when the eye through the landscape is seen as the same eye through which the landscape sees—is profoundly intimate, non-separate, nondual: "One seeing, one knowing, one love."
When it is recognized that the photographer is not separate from what is photographed, there is "one seeing" and every photograph is a selfie.
Creating something beautiful
Having taken a hundred or more photographs during a day's shooting, it is appropriate to produce something beautiful.
Considering I am influenced by multitudinous versions of beauty, how do I know that my version of beauty is authentic?
How I make a photograph beautiful
I'm not imagining that the world of art declares my photographs beautiful. I'm only saying that I am responsible for creating a finished photograph that I alone find beautiful.
I may select a few out of hundreds of photos taken on a given day and work with them in Adobe Lightroom. As I apply the software adjustments I periodically ask myself, "Is this beautiful?" I don't use Photoshop.
I have to be honest about what is beautiful. I have to refrain from making public anything that to me appears dishonest.
The nature of my writings
I usually include a brief writing with each photograph. Each writing comes from living the intimacy with the landscape in the way I've already described.
Horizon photographs and writings
These photographs were taken near where I live in Nova Scotia, Canada.
Ever since childhood I have been intrigued with the horizon. For the ordinary photo below, I composed:
The horizon.
So precise.
So non-existent.

To accompany the following photograph, I wrote:
A hundred visits to the same monastery
not one good poem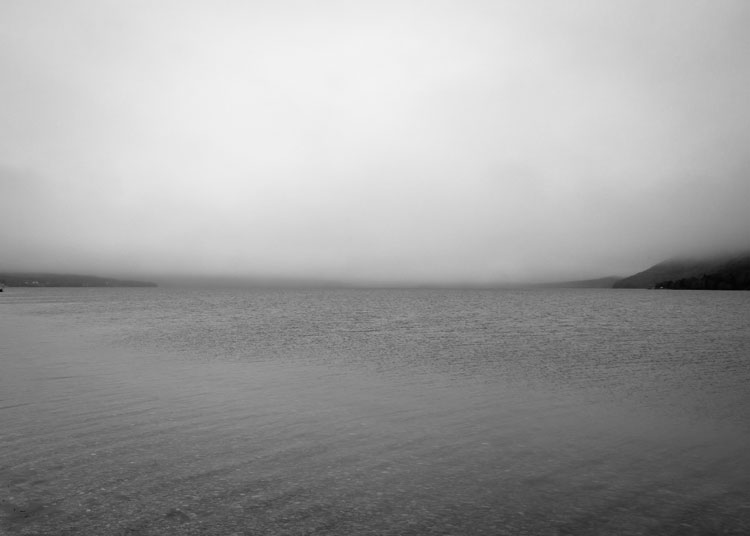 … because that's how it is. You write a hundred poems or take a hundred photographs in a setting that provides a flood of inspiration, and … nothing. It is just the truth. I hope the photograph above depicts a beautiful emptiness.
I like sunset photographs in black and white. The following photo called for the title:
The people of sunset walk with the unknown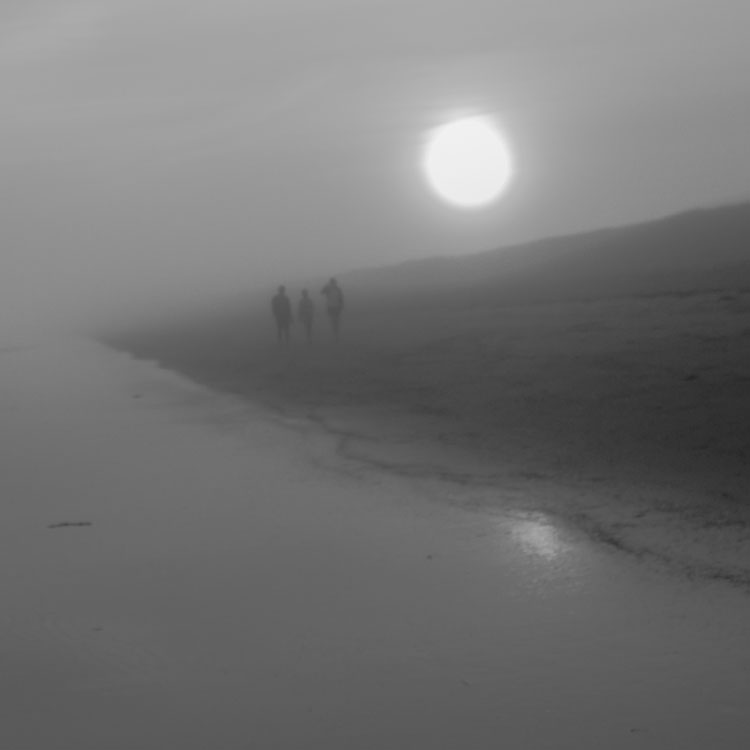 The triangles confer some power to the photo. A lesser obvious triangle is the one made by the sun, the sun's reflection and the group of people. A subtle triangle is formed by the three people themselves. I skewed the horizon to add drama.
Sunset is emotionally engaging. Sunrise, to me, is always full of freshness and promise, however:
Moonrise makes no promise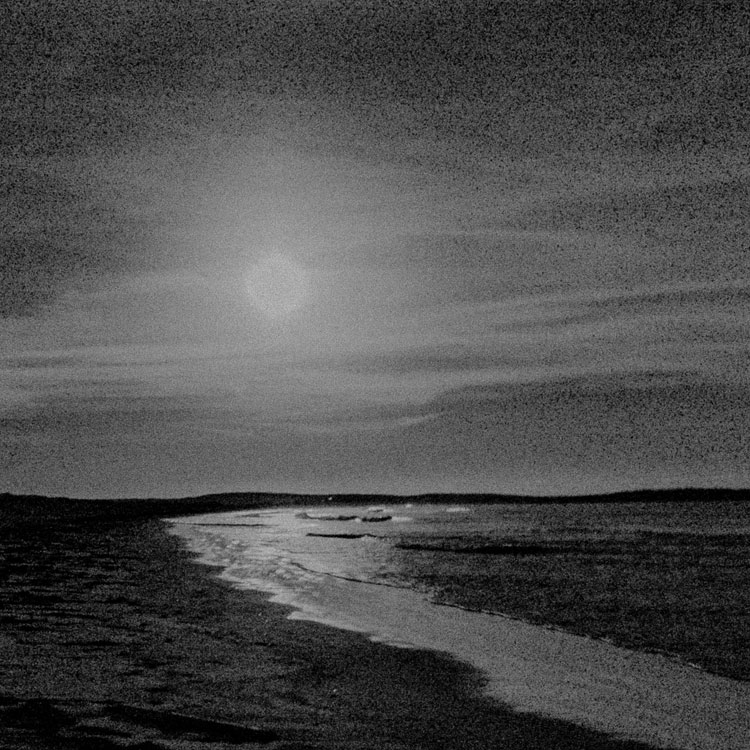 No promise from moonrise. You are left alone on the beach at night, it is cold, the moon is close and all the shadows seem to howl.
I was overcome in some way when I came across this broken-down walkway. I knew exactly what to write:
Only the broken march toward eternity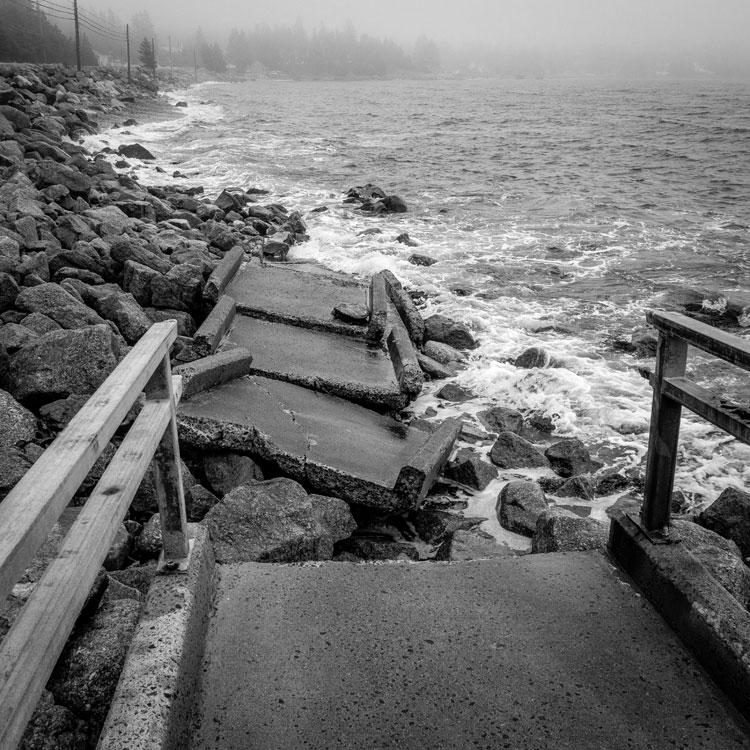 The ramp is so beautifully broken, broken as we all must become broken in order to realize the intimacy with that we wish to photograph.
We must be so broken we cannot go anywhere or do anything except be what and where we are. Surrendering to that immediacy, we may come to suddenly experience Meister Eckhart's description of nonduality: "One seeing, one knowing, one love." And now we are alive.
My view of landscape photography can be summarized in a few words:
Let the scene see you
words inspired by this photograph: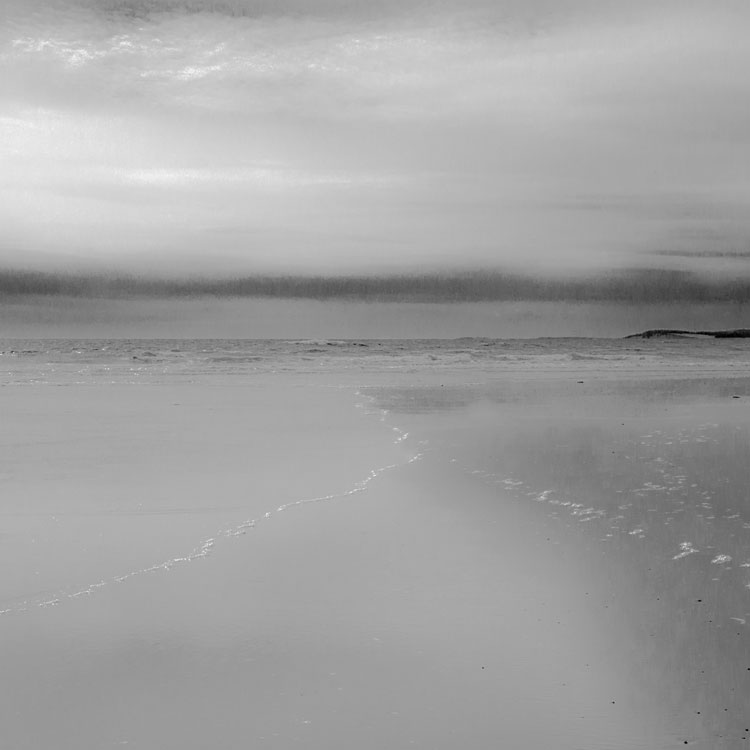 Other landscape photos
It is important to know a landscape intimately. Be married to it. See it every day. There is always something new to be seen. Dozens of times I walked past the site shown in the following photograph and often sat on the log to rest. Yet one day I saw this place in a new way, as shades of white: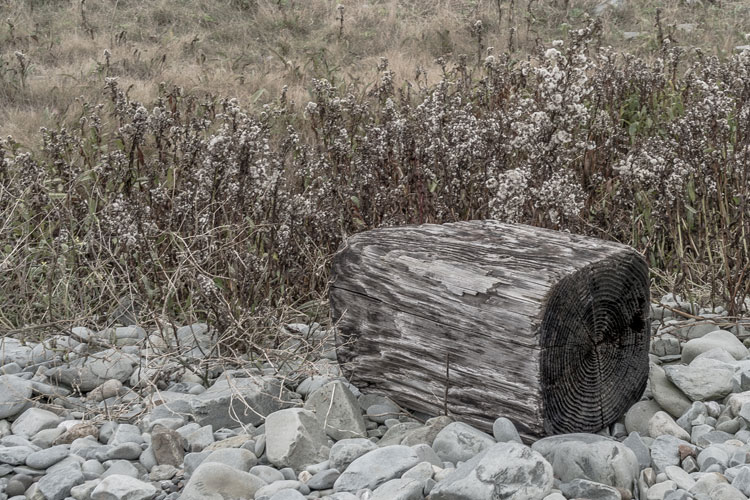 I don't have much to say about some photos. They don't all inspire an accompanying writing. I am not so talkative around certain landscape photos, such as those that follow, though I'm not sure why. Words are not always necessary.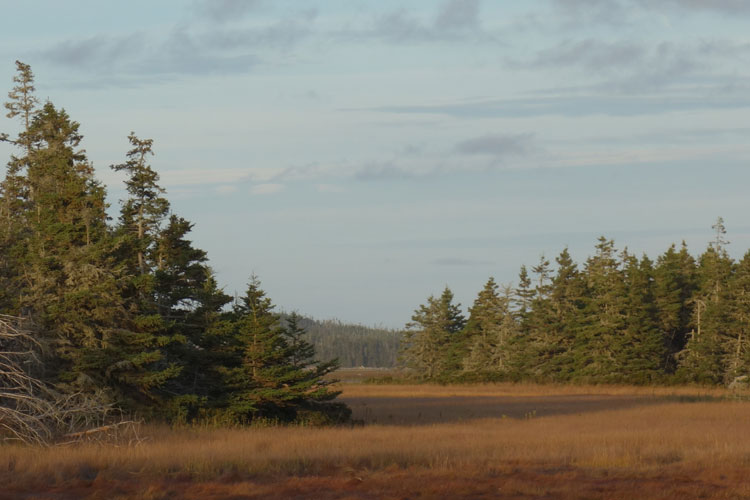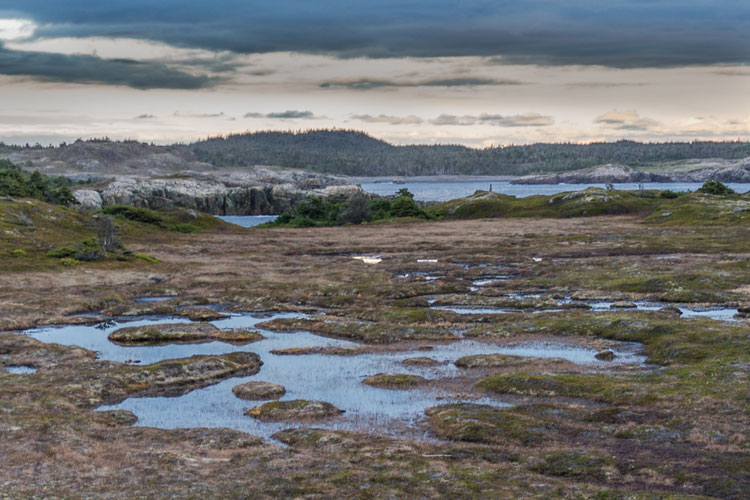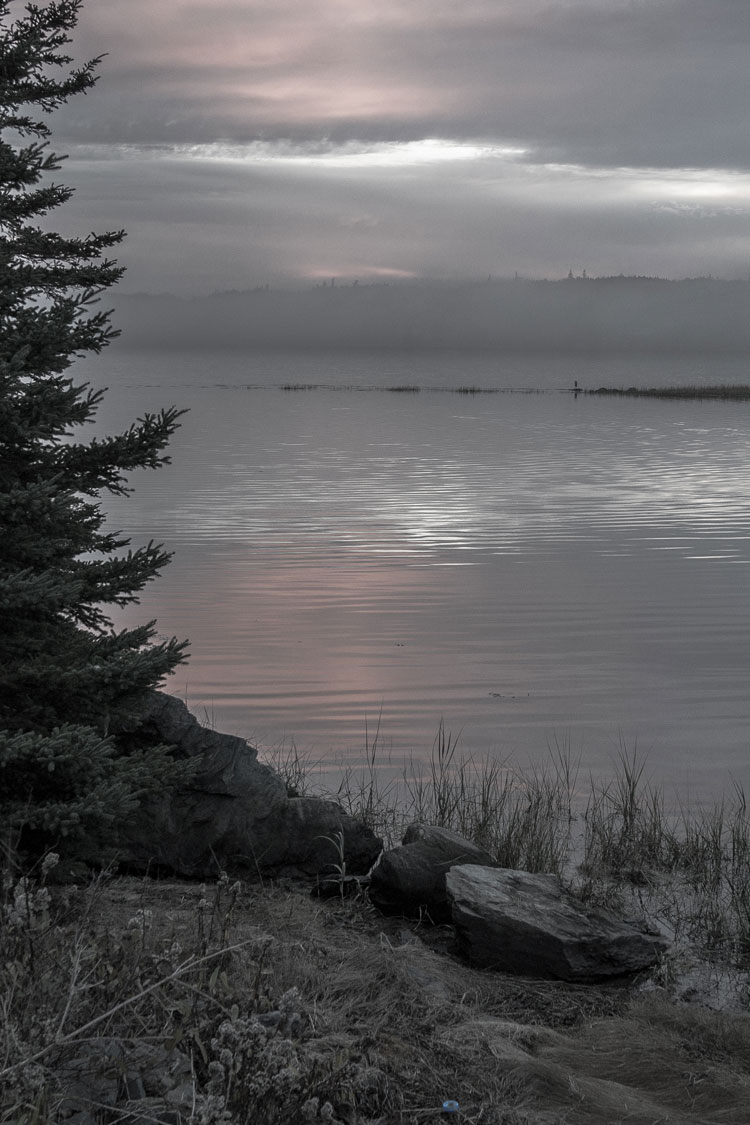 If you're interested in photography …
I recommend studying photographic composition (there are lots of good videos online) and using whatever camera you have. Take the most simple and obvious photographs of whatever you feel "one with". Be aware when you are trying to be artistic, contriving or clever. You don't have to please the world of art.
If you wish, use software to make adjustments until your pictures are beautiful to you. Use your phone camera and its software. You may never need any other camera. Or use an old digital or film or instant camera.
The bottom line is that photography is a journey toward honesty, beauty and self-discovery.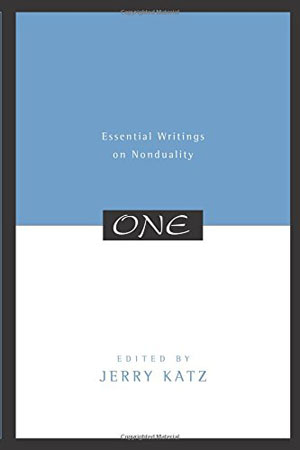 Post Notes