Lightness of being
na daoine maithe, an ea?
tá an áit dubh leo …
sceach gheal faoi bhláth
fairies, is it?
the place is thick with them …
whitethorn in bloom
Gabriel Rosenstock is the author/translator of over 150 books, including 13 volumes of poetry and a volume of haiku, mostly in Gaelic. Prose work includes fiction, essays in The Irish Times, radio plays and travel writing. He has given readings and performances in Europe, the United States, India, Japan and Australia and is a member of Aosdána (Irish Academy of Arts & Letters). Broken Angels is the fourth in an ongoing series of ekphrastic tanka books published by Cross-Cultural Communications, New York, and available as a free e-book on the EDOCR platform.
Ron Rosenstock, teacher and photographer, has been leading photo tours in different locations throughout the world since 1970. A Massachusetts resident, he has had more than 100 exhibits of his work in the United States and Europe.
In this week's guest post for The Culturium, Gabriel and Ron (though they are not related) collaborate on a project exploring both the literary and transcendental essence of the haiku, exquisitely illustrated with their beautiful verse and photography.
Haiku: One-breath poetry, traditionally seventeen syllables (5-7-5), now increasingly practised outside Japan as a free-style form, usually in three lines. It owes its impact and inspiration to a meditative flash in which he/she who experiences the haiku moment merges suddenly with perceived phenomena.
—Gabriel Rosenstock, Haiku Enlightenment
búdaí
an lae amáraigh …
conas a aithneofar iad
buddhas
of tomorrow …
how shall we know them
HAIKU PRACTICE LEADS to a feeling of newness and aliveness. No, it's more than a feeling. It is an actual, existential discovery of newness. In all things. Haiku is a vehicle for regeneration. Can one feel enlightenment? Let us be a little inscrutable about this and say that feelings may or may not be part of the experience. Sudden enlightenment is liberation—from feelings, from cognition. Webster's Third New International Dictionary lists enlightenment as "the state of being in harmony with the laws of the universe" (Taoism) and also "the realization of ultimate universal truth" (Buddhism). Haiku practice is not at variance with these goals. Indeed, the haiku way is the goal itself, not a path to something else.
Vinalhaven
ó, a Vinalhaven …
is ann duit i gcónaí?
Vinalhaven
oh, Vinalhaven …
you are still there?
On the way of haiku, we cannot possibly know what next will be revealed. We are not soothsayers. Nor do we dabble in magic. What will be the next haiku moment? Anticipation is foolish. Each moment is as unique as your fingerprints, your iris, each second as fleeting as your breath. And a haiku moment can happen at any time. But it will not happen without you. You must be there for it to happen. You must be there, before you disappear. It takes two to haiku, you and the witnessed phenomenon in a unifying embrace.
cú-cú!
an croí ag tnúth
leis an nglaoch
cuckoo!
how the heart waits
for the call
In haiku, we pause for a few concentrated seconds. Not to escape from the helter-skelter—or tedium—of existence but to allow ourselves to seep into the life of things. In a dynamic way. Haiku is a gentle way of coming to a stop. A full stop! The haiku moment refreshes us, focuses and strengthens us, encouraging us to continue on a pathless path, which reveals itself uniquely to us all.
Cnoc Maol Réidh—
sea, tá tú mar sin ceart go leor
maol agus réidh!
Mweelrea—
to be sure, that's what you are
mild, bald and smooth!
These intimate expressions ground us in the mystery of being as we open ourselves, time and time again, to new vistas and to keener insights into the living, changing universe we inhabit. They allow us to be attuned to the rhythm, colour, sound, scent, movement and stillness of life, from season to season, whoever, whatever or wherever we are. Haiku may be used as a technique, which facilitates an instant flooding of the mind. No known side effects. Though we may not take to the roads as did many of the Old Masters, haiku reminds us that we are all wanderers, in time and space. But are our eyes—and ears—truly open? Are our hearts open? Haiku is there to enrich our experience of being alive, to unfold the tapestry of living—in a flash—to bring us down to earth, where we belong.
ina n-áit
is ina n-am féin …
giolcach
in their own space
and time …
reeds
When you enter the haiku moment, in a flash, whether you lose yourself or whether you still retain a notion of the "I", one thing is certain—there occurs a blissful and also a sobering new energy, which comes from letting go. Some traditional musicians experience this, as do certain jazz musicians, slipping into an extemporizing mode and momentarily entering a universe in which normal constraints are shattered. After all, if we look at the word "extemporize", does it not mean to be outside of time? Enter!
faic ag tarlú
faic na ngrást …
an Bhearna Bhán
nothing happening
nothing at all …
an Bhearna Bhán
It can occur in such an intense, pure form that it appears to have happened without you. That brief, piercing insight, that moment of haiku enlightenment, strips you of the thousand and one items that are the jigsaw of your ego, the patchwork of your identity. Then we've simply jumbled back again into the duality of the world, its conflicts, routines and distractions. But we know that another pure surprise waits around the corner, whatever it may be. The wellsprings of the haiku moment are infinite, bottomless, inexhaustible.
bhíodar anseo
an dream mílítheach …
an dream eile
they've been here
the pale ones …
the other ones
On one level, any unexpected revelation, however ordinary, can be the stuff of enlightenment. On another level, our readiness to absorb the revelation, our ability to be struck by some "epiphany" (as James Joyce used the word) becomes the real stuff of enlightenment. There are no steps to enlightenment. Steps lead to further steps and so on. There is only the laughing plunge, the sober awakening. No ashram or yoga needed here, no prayer or meditation. The garden is your ashram, the public park, the highway—and the haiku is your prayer, your meditation. You can make the plunge any hour of the day or night. You won't hear the splash but the ripples are real. They will change you and the world.
spéartha suaite …
an seansaol
ag dul in aois
restless skies ….
the old world
grows older
This path does not contradict Christianity, Buddhism, Hinduism, Islam, Judaism, nor can it in any way detract from the core of these or any other religions. This path is not a religion or a cult, though some neo-pagans and pantheists may be more initially attracted to it than, let us say, fundamentalists of the killjoy variety. Haiku can be pleasurably pursued by atheist, sceptic and believer alike. It can adapt to any language, any culture. Someone once asked the former Zen teacher, Toni Packer, "Can a leaf swirling to the ground be my teacher?" Her answer is what every haikuist should know. "Yes! Of course! This instant of seeing is the timeless teacher, the leaves are just what they are."
a gcuid haiku féin
á scríobh ag an ngiolcach …
aigne fholamh
reeds writing
their own haiku …
empty mind
In much of conventional literature, we praise the author's "distance", as the French have it. In haiku, self merges with object. In this very merging is the sacrament, the dynamics of enlightenment. Haiku is a complete, universal, effortless path in itself. At the core of the flurry, flux and excitement of life is ineffable stillness and imperturbability, the "Be still and know I am God" attested to by mystics of all creeds and none.
briathra
Ashtavakra …
ag dul as sa Bhriathar
words
of Ashtavakra …
disappearing in the Word
Let us demystify enlightenment! What is satori (in Zen), samadhi (in Hinduism) but the dissolving of the ego. Similarly, the Tantric concept of maithuna relates to that falling away of the ego in sacramental, sexual union. The haiku moment is a powerfully charged, focused glimpse of unity and non-differentiation, its sheer pleasure reminding us of our birthright, its passing an eloquent portent of impermanence and mutability.
Dúloch …
an tost á bhá
ann féin
Doo Lough …
silence drowning
in itself
The enigmatic sage, Wei Wu Wei , proposes the following formula: "The Saint is a man who disciplines his ego. The Sage is a man who rids himself of his ego." We do not discipline the ego with haiku. We slough it off, it sloughs itself off. Ego has no time or space in which to assert itself within the sanctum of the haiku moment. It might take you long, arduous years and a hair shirt to become a saint. You are only a breath away from being a sage. Not even that. You are already a sage. It's just that you don't know it. While this concept may come as a surprise to you, it is a commonplace in the library of world wisdom. So, don't worry. Just write haiku. Everything else will take care of itself.
scáileannna ag teacht ar ais
chun paidir a rá …
manaigh dhíbeartha
shadows creeping back
to pray …
evicted monks
Haiku is about living, about life and death. It is about being intensely alive. We engage with life, confront demons; with haiku, there is nothing to shirk. Lukewarm haiku will enlighten nobody. To simply espouse a philosophical, ethic or religious creed that has compassion at its heart is next to useless if the body-mind is not alert to the occasions that elicit and arouse our compassion. Thus, the haiku path triggers the salvation mechanism within us all—whatever our station in life. Rabindranath Tagore expressed it well when he said, "There is no higher religion than that of sympathy for all that lives." This sympathy—without which we dare not call ourselves truly human—is constantly born and regenerated along the haiku path.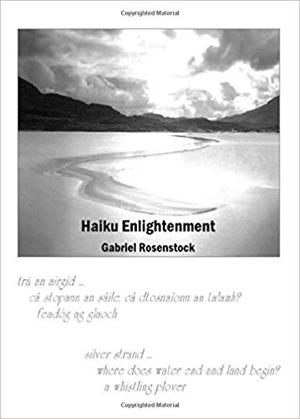 Post Notes