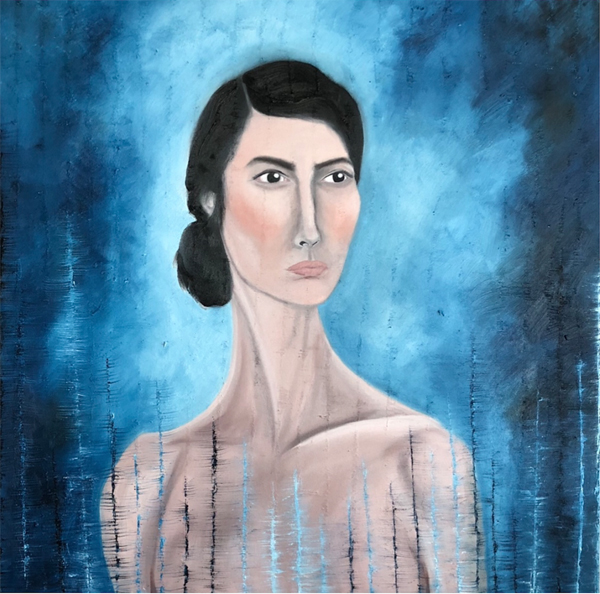 A guide for our times
"Only when you drink from the river of silence shall you indeed sing.
And when you have reached the mountain top, then you shall begin to climb.
And when the earth shall claim your limbs, then shall you truly dance."
Kahlil Gibran, "The Prophet"
THUS SPAKE GIBRAN KAHLIL GIBRAN through the voice of Almustafa, the chosen and beloved one, in his timeless and seminal masterpiece, The Prophet. Similar to William Blake and Carl Gustav Jung, who both wrote and painted with equal dexterity and accomplishment about the interior journey, the Lebanese mystic is one of those rare souls who effortlessly created a corpus of work unmatched in modern times.
Despite the fact that The Prophet was first published in 1923, its perennial philosophy is more popular than ever, having spawned a multitude of modern-day homages in honour of its creator's life—animated film, Kahlil Gibran's The Prophet, produced by Salma Hayek; West End musical, Broken Wings, composed by Dana Al Fardan and Nadim Naaman; and recent exhibition at Sotheby's, organized by Caravan, an international peacebuilding arts non-profit, showcasing the work of 38 acclaimed contemporary Middle Eastern artists inspired by the universal message of peace and harmony found within Gibran's poetry, writing and art.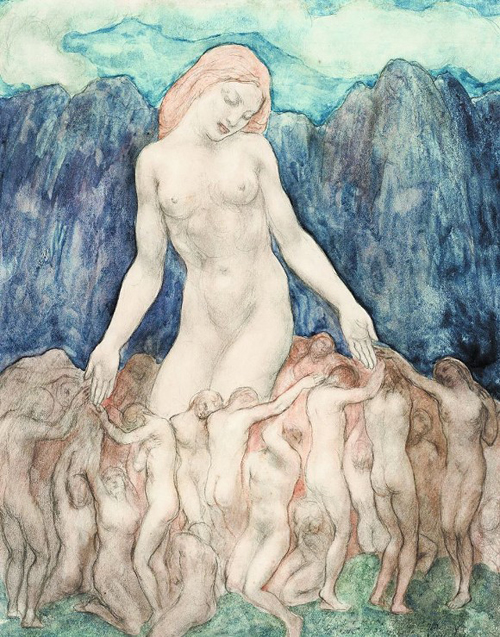 And a poet said, Speak to us of Beauty.
And he answered:
… beauty is not a need but an ecstasy.
It is not a mouth thirsting nor an empty hand stretched forth,
But rather a heart inflamed and a soul enchanted …
People of Orphalese, beauty is life when life unveils her holy face.
But you are life and you are the veil.
Beauty is eternity gazing at itself in a mirror.
But you are eternity and you are the mirror.
—BEAUTY, The Prophet
Each artwork in the Caravan exhibition draws inspiration from The Prophet, thus creating a unified and sacred space in which to contemplate Gibran's transcendental inheritance. Lulwa Al Khalifa's Blind Faith, for me, is the most striking of the entire collection for the way in which it conveys how beauty and stillness forever triumph over conflict and war: "A woman looks sceptically into an uncertain future behind 26 barbed lines. The lines are a nod to the 26 lessons in The Prophet. The woman in the painting is ambiguous and mildly unsettling, not clearly one thing or the other. She is nude but explicitly so, she is female yet has an androgynous quality about her.
"The painting is inspired by the concept of faith as a whole as well as what is taboo and is morally acceptable in the context of faith. I was also inspired by the idea of faith itself. Faith is a surrender with cause but without proof. It requires us to embrace the unfamiliar and abandon parts of ourselves and our beliefs that have been previously ingrained in us and make us who we are. Blind Faith contemplates total surrender and the place of one's true self in the landscape of faith."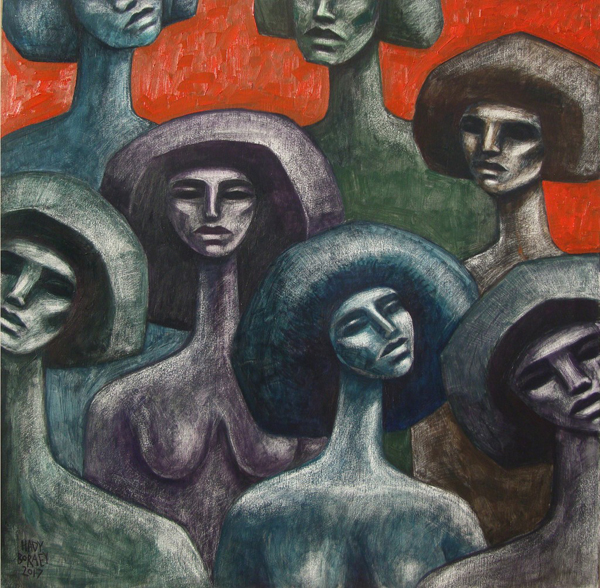 And an orator said, Speak to us of Freedom.
And he answered:
You shall be free indeed when your days are not without a care nor your nights without a want and a grief,
But rather when these things girdle your life and yet you rise above them naked and unbound.
And how shall you rise beyond your days and nights unless you break the chains which you at the dawn of your understanding have fastened around your noon hour?
In truth that which you call freedom is the strongest of these chains, though its links glitter in the sun and dazzle your eyes.
And what is it but fragments of your own self you would discard that you may become free?
If it is an unjust law you would abolish, that law was written with your own hand upon your own forehead …
Verily all things move within your being in constant half embrace, the desired and the dreaded, the repugnant and the cherished, the pursued and that which you would escape.
These things move within you as lights and shadows in pairs that cling.
And when the shadow fades and is no more, the light that lingers becomes a shadow to another light.
And thus your freedom when it loses its fetters becomes itself the fetter of a greater freedom.
—FREEDOM, The Prophet
Another visually arresting canvas is Hady Boraey's The Immigrants. Powerful and majestic, it presents a group of men and women, stripped of superficial identity, standing noble and naked, despite an uncertain future ahead: "My father's name is Mustapha. The main protagonist in The Prophet is a wise man named Almustafa. That was my first connection with the book. Inspiration in my life came from my father's poetry and short stories about the structure of life. In this sense, I felt a connection with Almustafa, the prophet who has his own mystical philosophies, believing in the connection between all elements in the universe. He was a roaming pilgrim who is trying to find answers for the big questions of life, such as evil, fantasy, ugliness, beauty, faith, unfaithfulness and death.
"Almustafa believed that things have to be returned to origins. It is from this idea that I painted the first image of humanity's main two protagonists. The three monotheistic religions tell the same story about how our great God created Adam and Eve. Their first mistake was eating the apple, which changed the way we all live on this earth. I am reminded of the iconic relationships between the first Adam and Eve and all of us who are their descendants, through their earthly struggles—love, war, hate, peace and migrations. In my childhood, I used to see my father as Adam, and my marvellous mother, Sanaa, as Eve, the prettiest woman on earth. Their life story and example have always been a guide to me. I see them with the prophet living in the city of Orphalese."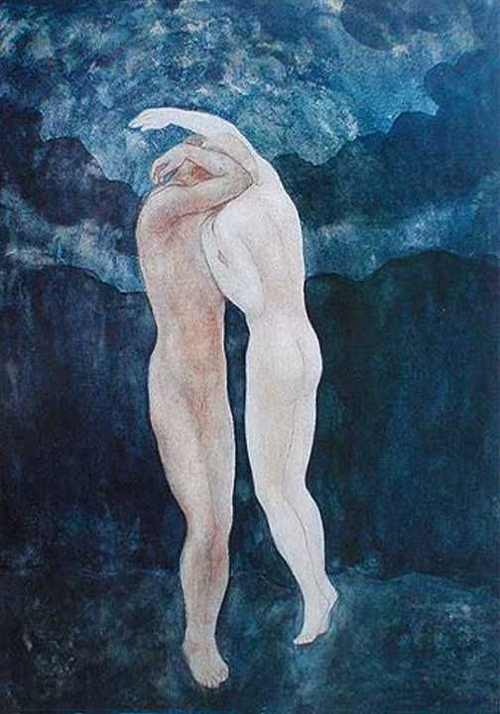 And a man said, Speak to us of Self-Knowledge.
And he answered, saying:
Your hearts know in silence the secrets of the days and the nights.
But your ears thirst for the sound of your heart's knowledge.
You would know in words that which you have always known in thought.
You would touch with your fingers the naked body of your dreams.
And it is well you should.
The hidden well-spring of your soul must needs rise and run murmuring to the sea;
And the treasure of your infinite depths would be revealed to your eyes.
But let there be no scales to weigh your unknown treasure;
And seek not the depths of your knowledge with staff or sounding line.
For self is a sea boundless and measureless …
For the soul walks upon all paths.
The soul walks not upon a line, neither does it grow like a reed.
The soul unfolds itself, like a lotus of countless petals.
—SELF-KNOWLEDGE, The Prophet
Kahlil Gibran (6th January 1883–10th April 1931) immigrated from Lebanon to the United States in the late nineteenth century, coming to worldwide renown in the final years before his death. After a two-year training at art school in Paris, he then visited London in 1910, whereupon he fell under the spell of artists William Blake and William Turner, whose ethereal, oneiric imagery evoked within him the desire to express artistically the spiritual yearnings that were arising within his very own soul.
The poetical result just over a decade later would be an illustrated manuscript so exquisitely executed that it is only surpassed by Shakespeare and Lao Tzu in terms of global sales of all time. Gibran himself understood the import of producing a nonsectarian tract of universal consciousness, the challenge of writing and illustrating the text essentially unfolding as a spiritual rebirth. Indeed, he himself commented that his entire life had only been a prelude to composing The Prophet.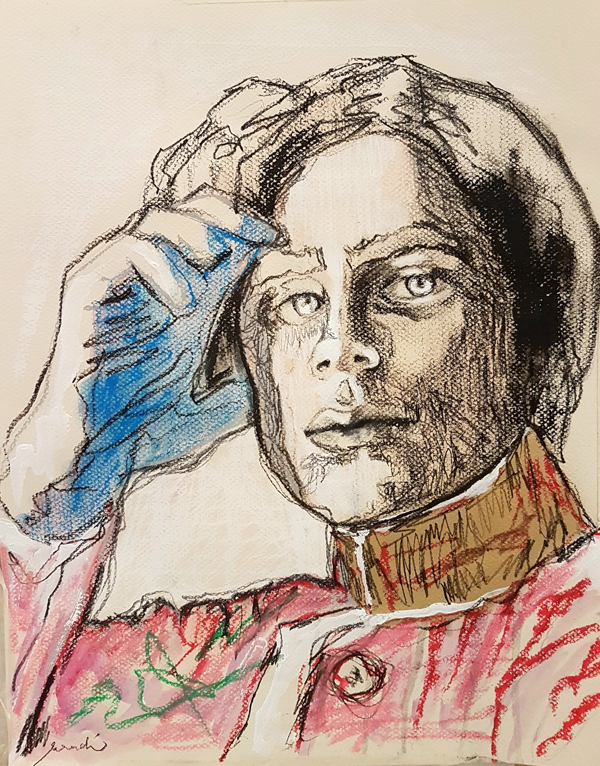 And then a scholar said, Speak of Talking.
He answered, saying:
You talk when you cease to be at peace with your thoughts;
And when you can no longer dwell in the solitude of your heart you live in your lips, and sound is a diversion and a pastime.
And in much of your talking, thinking is half murdered.
For thought is a bird of space, that in a cage of words may indeed unfold its wings but cannot fly.
There are those among you who seek the talkative through fear of being alone.
The silence of aloneness reveals to their eyes their naked selves and they would escape.
And there are those who talk, and without knowledge or forethought reveal a truth which they themselves do not understand.
And there are those who have the truth within them, but they tell it not in words.
In the bosom of such as these the spirit dwells in rhythmic silence.
—TALKING, The Prophet
The Caravan exhibition unveils many diverse artistic genres—portraiture, landscape, abstract, photomontage, sculpture—all composed in a vast array of mediums, including acrylic, oil, paper and mixed media. One particular portrait that indescribably moved me is Sarah Aradi's Young Sage, which is, in fact, of Kahlil Gibran himself and references Fred Holland Day's immortal black and white photograph of the youthful poet, with the enigmatic inscription, "When love beckons you, follow him".
Aradi's composition is an elegant and minimalist reinterpretation of the mystic philosopher, utilizing charcoal, water colour, acrylic, spray paint, oil and soft pastel with mesmeric effect: "That cold stare, like flames beneath an iced veil, a familiar face; Gibran's face said more to me than he has ever spoken about himself, a seeker of the true essence of the meaning of life. Yes, he may seem calm on the outside like a still lake but deep inside his chest lies a storming heart and that beam of light that made him to this day an influential life-changer to the many who read his books or have come upon one of his quotes … It is most evident, especially in this image of him, the eternal, internal war he was going through, confronting fears and insecurities. With many scholars and writers, this state is always the beginning of their journey in the path of self-realization and the state of peace."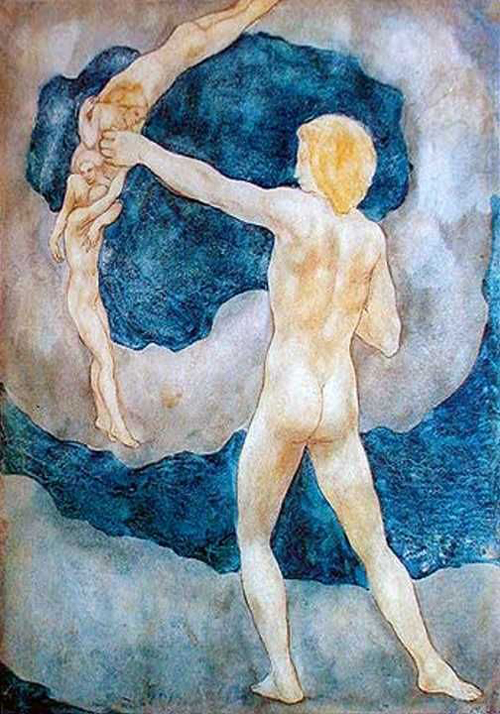 And an astronomer said, Master, what of Time?
And he answered:
You would measure time the measureless and the immeasurable.
You would adjust your conduct and even direct the course of your spirit according to hours and seasons.
Of time you would make a stream upon whose bank you would sit and watch its flowing.
Yet the timeless in you is aware of life's timelessness,
And knows that yesterday is but today's memory and tomorrow is today's dream.
And that that which sings and contemplates in you is still dwelling within the bounds of that first moment which scattered the stars into space.
Who among you does not feel that his power to love is boundless?
And yet who does not feel that very love, though boundless, encompassed within the centre of his being, and moving not from love thought to love thought, nor from love deeds to other love deeds?
And is not time even as love is, undivided and paceless?
But if in your thought you must measure time into seasons, let each season encircle all the other seasons,
And let today embrace the past with remembrance and the future with longing.
—TIME, The Prophet
After viewing the exhibition, I take tea in a nearby hotel with Paul-Gordon Chandler, founder of Caravan, who is erudite and utterly gracious, as we partake of our mutual wanderings around the globe in the pursuit of truth. After many years of serving as an Episcopal priest in Cairo, Egypt, his love of spirituality and the arts would fuse together through his non-profit organization, supporting individual artists as well as coordinating international events, in an attempt to transmute sociopolitical conflict through the transcendental beauty of art. In a speech entitled, The Power of Art in Peacebuilding, addressed to the 2016 Circles of Light Gala of the United Religions Initative, he states unequivocally, "Art is a universal language that has the ability to dissolve the differences that divide us … whether through film, music, literature, theatre, drama, design, animation or visual art. As the late Nobel Prize Egyptian novelist, Naguib Mahfouz, said, 'Art is the language of the entire human personality.'"
Such stimulating work also led Paul to research Kahlil Gibran, foremost proponent of peacemaking, by undergoing a spiritual odyssey to all the historical sites of Gibran's past in order to contemplate his life, art and poetry. Elegantly written and meticulously researched, In Search of a Prophet: A Spiritual Journey with Kahlil Gibran is a profoundly moving personal pilgrimage in service of the memory of Lebanon's greatest mystical sage.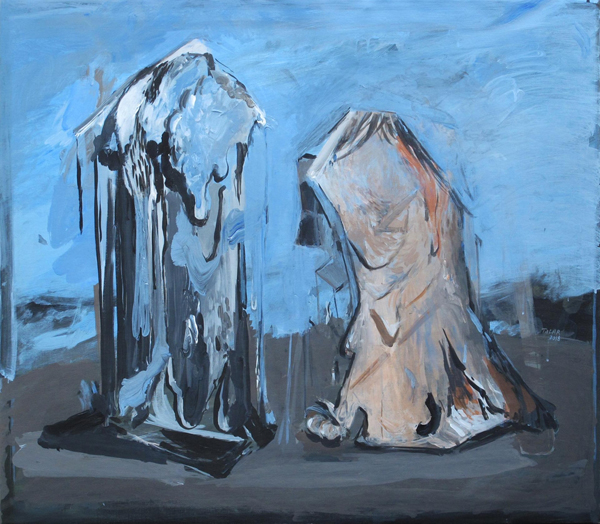 Then a Priestess said, Speak to us of Prayer.
And he answered, saying:
You pray in your distress and in your need; would that you might pray also in the fullness of your joy and in your days of abundance.
For what is prayer but the expansion of yourself into the living ether?
And if it is for your comfort to pour your darkness into space, it is also for your delight to pour forth the dawning of your heart.
And if you cannot but weep when your soul summons you to prayer, she should spur you again and yet again, though weeping, until you shall come laughing.
When you pray you rise to meet in the air those who are praying at that very hour, and whom save in prayer you may not meet.
Therefore let your visit to that temple invisible be for naught but ecstasy and sweet communion.
For if you should enter the temple for no other purpose than asking you shall not receive:
And if you should enter into it to humble yourself you shall not be lifted:
Or even if you should enter into it to beg for the good of others you shall not be heard.
It is enough that you enter the temple invisible.
—PRAYER, The Prophet
Many of the paintings in the exhibition are more abstract in composition, inviting us to gaze a little more intently on the shapes and colours and their association to Gibran's words. Talar Aghbashian's In Situ at first seemed to me to be pillars, harking to the lesson on marriage and yet slowly they metamorphosed into two human beings drenched in robes: "In Situ is a bid to bring together a world of difference, duplicity and ambivalence. A place where perhaps two kindred or animus spirits meet, the moment of exchange is captured through their bodily language, melting away, standing aside. Shorthanded and cartoonlike, they are suspended in this in-between state, in historical atemporality.
"My paintings are triggered by a response to the different landscapes, lived or ventured, working with ideas of the ruin as a figure—a sculptural form found in these landscapes, thinking through ideas of loss, with a strong sense of identifying with the landscape. My frst encounter with Gibran's paintings and work was during my shool years. Abounding of bodies in landscapes—the landscapes of his hometown that he had always found refuge in. There was a lot to find, rediscover and connect with there."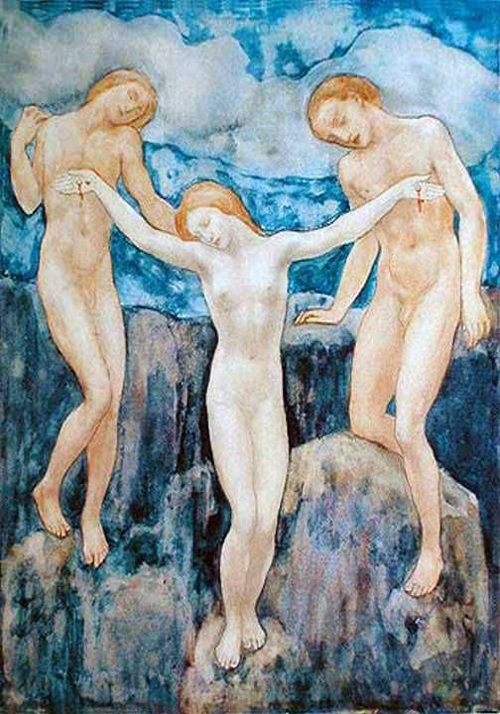 And the priestess spoke again and said, Speak to us of Reason and Passion.
And he answered, saying:
Your soul is oftentimes a battlefield, upon which your reason and your judgement wage war against your passion and your appetite.
Would that I could be the peacemaker in your soul, that I might turn the discord and the rivalry of your elements into oneness and melody.
But how shall I, unless you yourselves be also the peacemakers, nay, the lovers of all your elements? …
Your reason and your passion are the rudder and the sails of your seafaring soul.
If either your sails or your rudder be broken, you can but toss and drift, or else be held at a standstill in mid-seas.
For reason, ruling alone, is a force confining; and passion, unattended, is a flame that burns to its own destruction.
Therefore let your soul exalt your reason to the height of passion, that it may sing;
And let it direct your passion with reason, that your passion may live through its own daily resurrection, and like the phoenix rise above its own ashes.
—REASON AND PASSION, The Prophet
Reading The Prophet, I am reminded of the Eastern spiritual classic, the Tao Te Ching. Weary of governmental duties, Lao Tzu renounces his public life intent on living as a hermit far beyond the city limits in search of peace and inner fulfilment. Approaching the gatehouse, the gatekeeper recognizes him, for his reputation for sagacity already precedes him, and urges him to record his philosophical musings on the meaning of life before his departure into the wilderness.
Similarly, Almustafa is Gibran's guide, on the eve of a one-way, seaward journey, who is also asked to divulge the inner secrets of the human condition before he departs, Odysseus-like, to chase after rosy-fingered dawn lingering just over the horizon. Despite their difference in time period and geographies, both sages' imparted wisdom is identical for they have reconnected with the timeless, transcendental silence that lies beyond, and yet permeates, all creeds and cultures, merging into oneness with God. As the Persian poet, Rumi, declares:
I am neither Christian nor Jewish nor Muslim
I am not of the East nor of the West …
I have put duality away, I have seen the two worlds as one;
One I seek, One I know, One I see, One I call.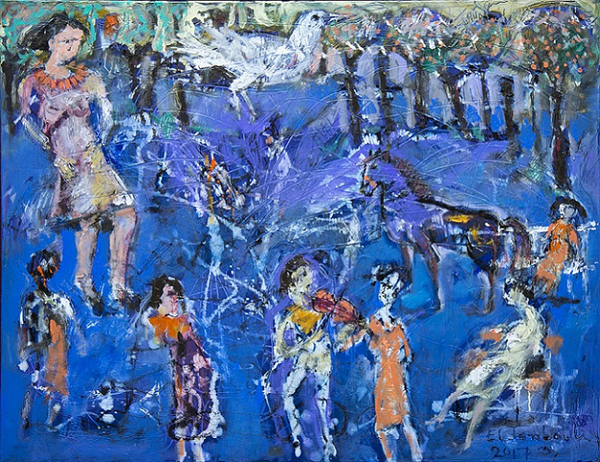 Then Almitra spoke, saying, We would ask now of Death.
And he said:
You would know the secret of death.
But how shall you find it unless you seek it in the heart of life? …
For life and death are one, even as the river and the sea are one.
In the depth of your hopes and desires lies your silent knowledge of the beyond;
And like seeds dreaming beneath the snow your heart dreams of spring.
Trust the dreams, for in them is hidden the gate to eternity …
For what is it to die but to stand naked in the wind and to melt into the sun?
And what is it to cease breathing but to free the breath from its restless tides, that it may rise and expand and seek God unencumbered?
Only when you drink from the river of silence shall you indeed sing.
And when you have reached the mountain top, then you shall begin to climb.
And when the earth shall claim your limbs, then shall you truly dance.
—DEATH, The Prophet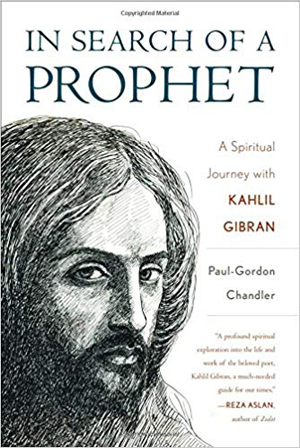 Post Notes