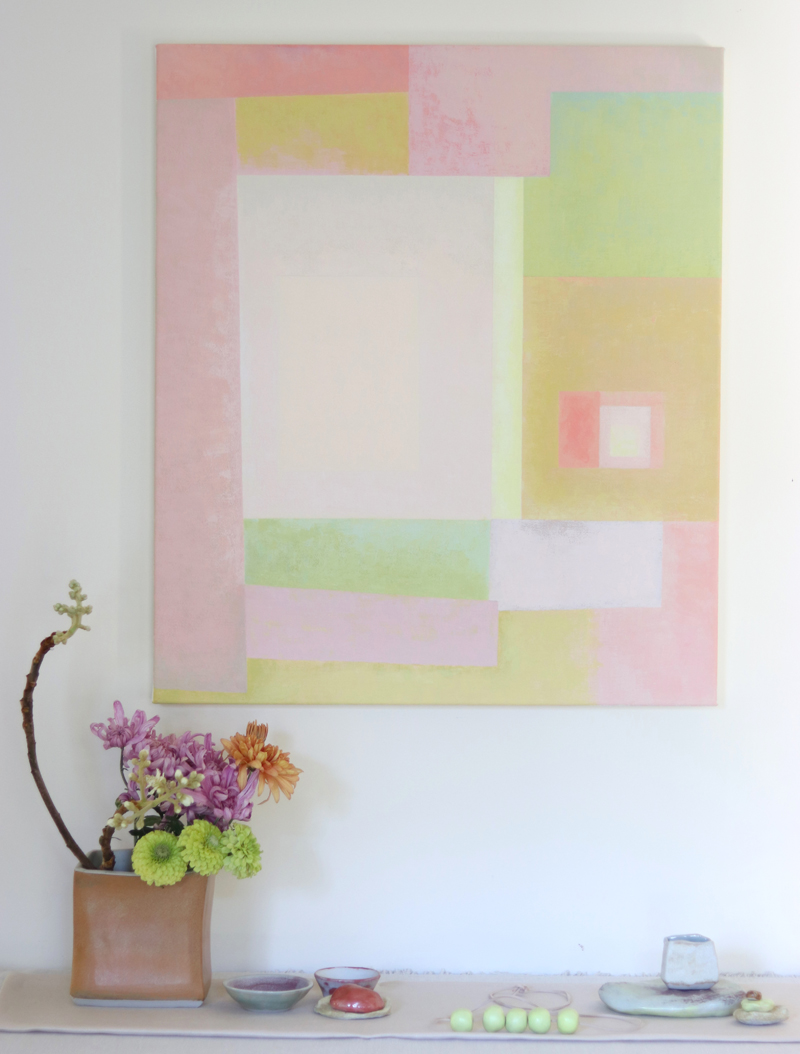 Letters from emptiness
SUZANNE MOSS is an Australian artist who sees her practice as a way to communicate what is often difficult to express verbally, what is shy of being expressed via anything other than visual language. She paints; she's an impeccable technician and colourist. She's also a ceramicist entranced by the unpredictable alchemy of interactions between fire, clay and time; she patiently rolls and fires beads of clay and strings them into her anti-worry 'Joy Beads'. She combines her makings to create environments— "peace rooms" —that one can enter, be absorbed into. I enter Suzanne's paintings and environments and feel as though I've found my way into a space of palpable beauty—beauty felt as love.

e. e. cummings' poem 'love is a place' articulates this sense perfectly:

love is a place

& through this place of

love move

(with brightness of peace)

all places …

By nature, Suzanne is a gentle contemplative who appreciates solitude and stillness. She acknowledges, and is curious about, the river of silence that flows beneath the mind's superficial froth of concepts. Contemplatives understand from first-hand experience that space is consciousness; space is inseparable from being. Our creative work is the way we explore our experience of being and map that experience. Suzanne's 'maps' are expressions of great beauty and, since we experience beauty as an opening into spaciousness, they are not mere art-objects but portals to the peaceful presence of being.

Suzanne's openness has enabled her to learn from wise practitioners and teachers, both historical and contemporary. A teacher herself, she guides and supports those drawn to explore their innate creative potential. As such, she plays an essential role in ensuring that the stream of contemplative wisdom continues to pass from one mind and heart to another. Her entire creative endeavour is a stream of beauty and stillness that can help life rise and greet itself anew with vitality and wonderment.
—Miriam Louisa Simon, artist & editor, the awakened eye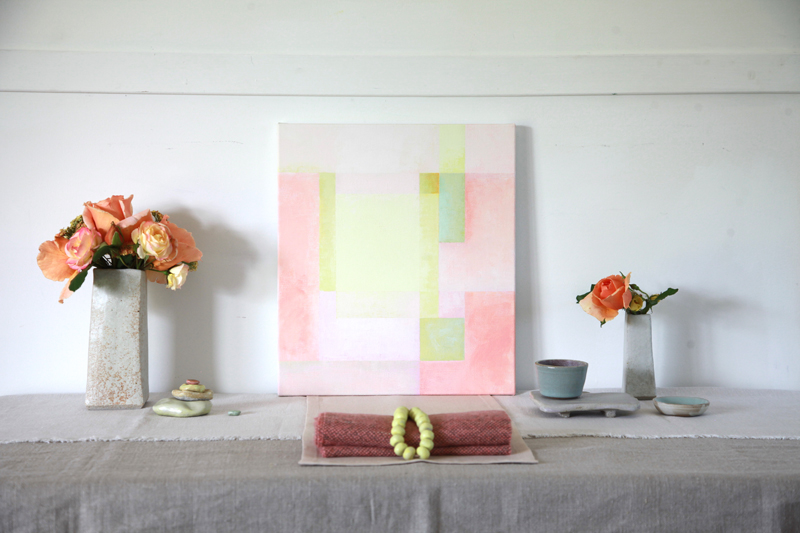 Steadying and mantra-like, the question came soon after a Self-Enquiry session, in the manner of Sri Ramana Maharshi. The answer was love and love gave rise to what might love look like? Almost a year into my doctorate in Visual Arts, I was suddenly on a very different trajectory.
Answers came as natural phenomena, unexpectedly in real life or through poetic writing, always luminous, emanating and boundless in quality. The plum tree at the back door, budded, blossomed and shed its blooms in drafts of faded pink. The heart of the mountain rested, shrouded in fog. The moth drawn to the flame emerged from Rumi's poetry. The bleached shell held the blinding sunlight.
A couple of years later, I was to discover and resonate with Shunryū Suzuki's "Letters from Emptiness":
When you see plum blossoms, or hear the sound of a small stone hitting bamboo, that is a letter from emptiness.
—Shunryū Suzuki, Not Always So: Practising the True Spirit of Zen
For many years, I'd painted figuratively; however, the enquiry what might love look like? called for a different response. Diagrams were the intuitive and immediate way to capture the essential nature of such a letter.
Mutable structures for my paintings, diagrams unfolded onto canvases where the intent is for the beholder to possibly find a space to peacefully wander and wonder, rather than think about subject matter.
Particular kinds of visual language convey a peaceful intent. A soft-edged shape of cloudy pale blue, for example, conveys a greater sense of peace than a hard-edged opaque block of pure red. Composing colours, shapes, marks and material qualities are like having a lot of blocks to play with. Moving one block a little or a lot affects the whole. A radical difference can be made by changing one colour, adding a mark or altering an edge quality.
Perhaps my paintings are a little contradictory. Drawn to both the geometries and mark-making of abstraction, I arrange shapes—I think of them as territories—of different kinds of marks. Some are solid, others are either becoming or dissolving.
Only recently have I realized the influence of Virginia Woolf's solid or shifting line of enquiry, first discovered in the preface to The Waves and followed up with her third Diary. Logic cannot grasp Woolf's striking delve into the nature of life, presence and the core of being human. Like Ramana's question, Who Am I?, her bare honesty opens the reader into a stream of exquisite truth, enfolding and carrying us along with her profound curiosity, to the final shocking question:
Now is life very solid or very shifting? I am haunted by the two contradictions. This has gone on forever; goes down to the bottom of the world—this moment I stand on. Also it is transitory, flying, diaphanous. I shall pass like a cloud on the waves. Perhaps it may be that though we change, one flying after another, so quick, so quick, yet we are somehow successive and continuous we human beings, and show the light through. But what is the light?
—Virginia Woolf, The Diary of Virginia Woolf Volume III: 1925-1930
The light was completely absent as I looked into my fiancé Grant's casket. A comfort really, to know that beautiful light had gone elsewhere. Perhaps it was in the clouds' astonishing formations recently. Perhaps his light was nearby, attracting all those moths.
Grant and I had a stellar year prior to my original diagnosis of breast cancer in 2011. With me from beginning to end of treatment, he suddenly left this life a few months later aged fifty-one. The blow, delivered by phone call, travelled from my chest upward like a bomb going in the wrong direction. I tried to make sense of the words but there was only black space. Dreaming a few nights later, we were climbing a ladder in the sky. I looked into his pale, sorrowful face as he said, Sorry darlin', I can't go any further. The one who sent Rumi quotes had met me in the field beyond as promised.
Dear Moth … I wrote to him most days during the first dark year. I liked the dark night far more than the seemingly never-ending grey that came next. And one day, I felt the sun on my back like a warm hand.
Soon after, Miriam Louisa arrived.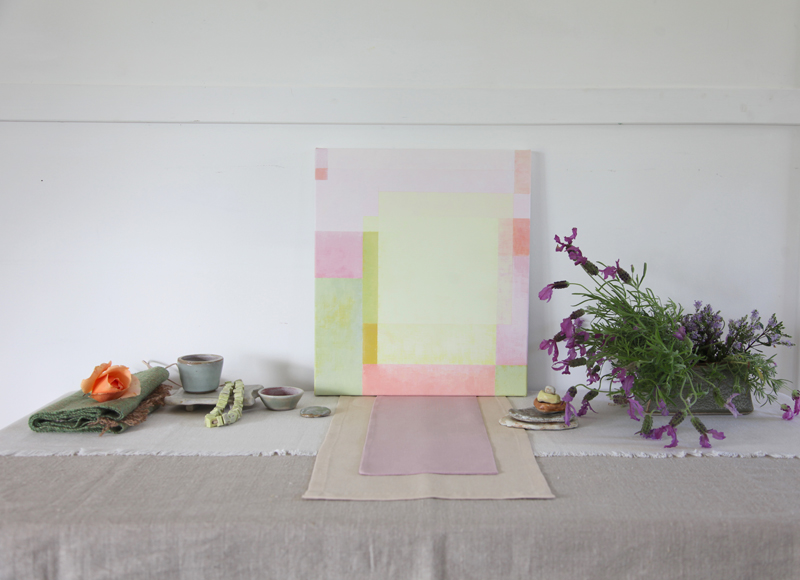 An artist, author, teacher for many years at Krishnamurti schools and generous connector of contemplative art lovers, Miriam Louisa Simons contacted me on discovering the little book on my website, Painting Light, Touching Space. Like sunshine, she flooded the musty rooms of my inner world with her generous encouragement and enthusiasm.
Miriam Louisa's suggestions led me to the work of Zen Buddhist rōshi, John Daido Loori, and Zen calligrapher, Kazuaki Tanahashi. Later that year (2017), Kaz became my teacher for one remarkable month. Practice alongside a master who teaches by clear seeing and the presence of a mountain, my hands stopped shaking during the second week. By the third, Kaz saw my first piece of calligraphy—clouds—where I was not, and simply said you can teach now.
Another luminary was Deborah Barlow, artist and author of the erudite blog, Slow Muse. Miriam Louisa wrote, You're both in Florence and must meet! The day prior, I'd completed presenting my first two-week meditative art retreat, Love Your Creativity, just around the corner from Santa Croce Cathedral. We met at Museo San Marco and had one of those blissful days in the vicinity of profound artistic beauty.
The following year in Boston, Deborah made it possible for me to see the MFA's new exhibition, Seeking Stillness. Agnes Martin's measured fields, Mark Rothko's dark and luminous depths and Joan Mitchell's marks—like the land breathing—were poetically grounded by exquisite Ch'an paintings, the weight of large sculpted scholars' stones and wonderfully tactile Dansaekhwa paintings embedded with time and presence. Discovering that deep sense of connection, I realized seeking stillness is my territory too.
Some experiences are pivotal and change our path if we're ready and willing. However, the cancer quietly relapsed during the following year; the year of I should retrain and earn a proper living. Thankfully, my artist Self had grown and become more steadfast anyway.
I'm sure it was that part of me that commanded—get those pale violet chrysanthemums … yes, those ones … put them in the green vase … yes … now get that new painting and put them there. Yes. Now stand back. I was listening again—the turning point happened. Even so, I was seriously ill.
As I woke from surgery on 2nd July 2021—the day Sydney went into lockdown—the surgeon stood at the end of the bed and said, You have metastatic breast cancer.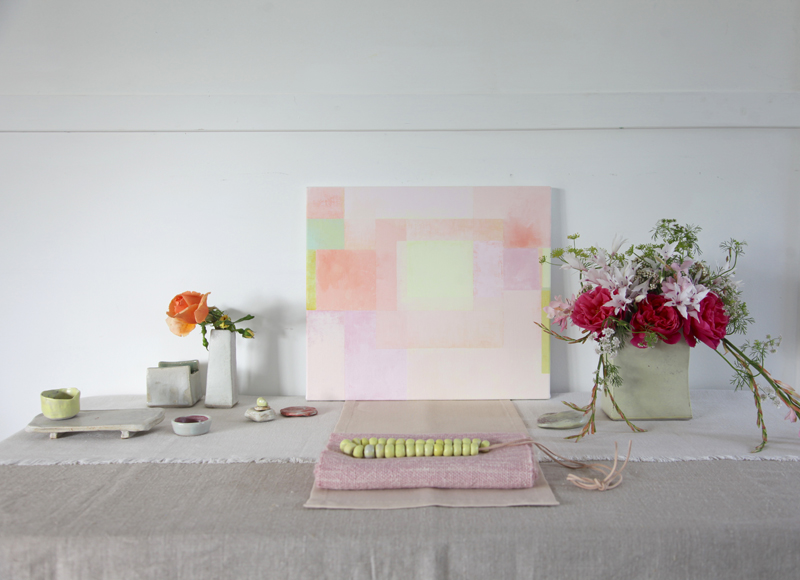 Ten years prior, I had tried to create a nurturing meditation space so I could ease the anxiety of going through cancer treatment. Away from home, I gathered a meditation cushion, mat, vase, candle and incense, and arranged them on a shelf with a silk cloth. However, the things didn't "gel".
The first time around, my mind was stilled far more effectively than I could have ever planned. We'd arrived at a beach café and Grant went quickly to the boardwalk and stopped. I followed his gaze to the water, vibrantly sunlit as far as the eye could see. Suddenly, countless sparkling diamonds of light seemed to fill my mind and obliterate every thought. Absolute silence. And in the stillness, words of that same quality came: What do you love? Why are you here?
Almost always with me, colour pencils and sketchbook were soon on the café table. I felt excited asking and answering the question, What do you love? Memories and ideas trickled in slowly at first. After the third day of making childlike drawings, I realized something was missing. Anxiety.
The meditative art processes that came to me during that time, and since, have distinct stages that are conducive to settling into an altered, aware state. These steps became my creativity-nurturing method, foundational to all my courses presented here in Australia, Germany and Italy on retreat.
This time, in a studio apartment in the middle of Sydney during lockdown, I remembered the old longing—that feeling of being able to relax completely into my grandmothers' embrace. I had to find it within, make it real for myself, somewhat like being in a cubby house where I know I AM here and it's OK to soften and breathe and do nothing else for the time being.
Care of the creative soul came in the form of adapting my course, Paint from your Heart, to an online platform. I filmed myself painting for the purpose of demonstrating methods, often forgetting the camera, and realized what I really wanted was to meet the longing with a sense of being found, gathered up and even cherished.
The intention of creating a sacred space came after re-reading John Berger's essay, "Stones", in his book, Hold Everything Dear: Dispatches on Survival and Resistance, soon after the season of The Black Fires in Australia. I put the book down and watched a vision unfold. A man and woman emerged from dust and smoke. Across time and space, Hildegard and Rumi walked in a structured garden like at Alhambra, the Moorish Spanish palace, talking via thoughts with recurrent themes. Dismissing such unbidden and illogical information is all too easy; however, I was inspired and nurtured it through remembering. Over several months, I painted a large triptych and learned to make rustic vases to hold roses and olive branches. The installation became Hildegard and Rumi's Sacred Garden Conversation.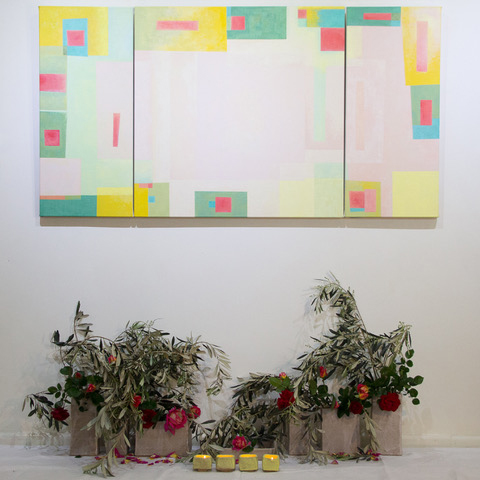 To everyday analytical thinking, arranging art and craft objects with the intention of seeking stillness might seem silly. I almost missed it for myself. See, we arrange things most days in order to function efficiently and there are an infinite number of possible permutations of objects and the space between them. Making a devotional space is different. Rules of the great wisdom traditions make it easier and also influence the choices we make given their deep familiarity. Plus, our own sensibilities are important—the ground from which we know ourselves. For example, while John Daido Loori states that a cup filled with water sits in front of the central image of the Buddha or bodhisattva, and an incense bowl in front of that, he also notes:
Creating a sacred space means to bring sensitivity, proper attitude and awareness to the physical space you are entering.
—John Daido Loori, Bringing the Sacred to Life: The Daily Practice of Zen Ritual
Intention, space, objects, rules and specifications and one's attitude are all important, and there's something to be said about the kind of objects employed. While objects have certain functions, such as a vase to hold flowers, each hand-made thing has a certain character, imbued significantly by its imperfections.
Mass-produced objects do not possess the magic of the hand-made. Since my early attempts at composing perfectly formed things, I've come to realize how much imperfection contributes to the "conversation between things" and the feeling-tone of the whole installation.
The natural beauty and freedom inherent in imperfection have been foundational in Japanese culture for hundreds of years, particularly in relation to tea where, according to Soetsu Yanagi's The Beauty of Everyday Things: "… concrete objects that act as intermediaries—the teahouse, the garden path, the utensils … allowed the tea masters to plumb the depths of beauty." A contemplative space, as small as a corner, tiny table or shelf, is also intermediary—an in-between space that makes it easier to turn from the busyness of the world at large, to private calm, imagination and wisdom.
An overlooked element of contemplative spaces is space itself. Informed by Japanese arts and crafts, artist Giorgio Morandi demonstrated his lifelong intrigue with the impact of adjusting spaces between and around things in his many Natura Morte paintings. We can be like Morandi, alternately the conductor orchestrating the objects and radar for the ambience.
Awareness of resonance means to connect both within and outwardly as one seeks to make pleasing compositional choices. Just as we tune in to placing flowers in a vase, moving one thing can alter the feeling-tone of the arrangement. More or less pleasing, more or less resonant, the process of moving things around in the field becomes more familiar, absorbing and fun with practice.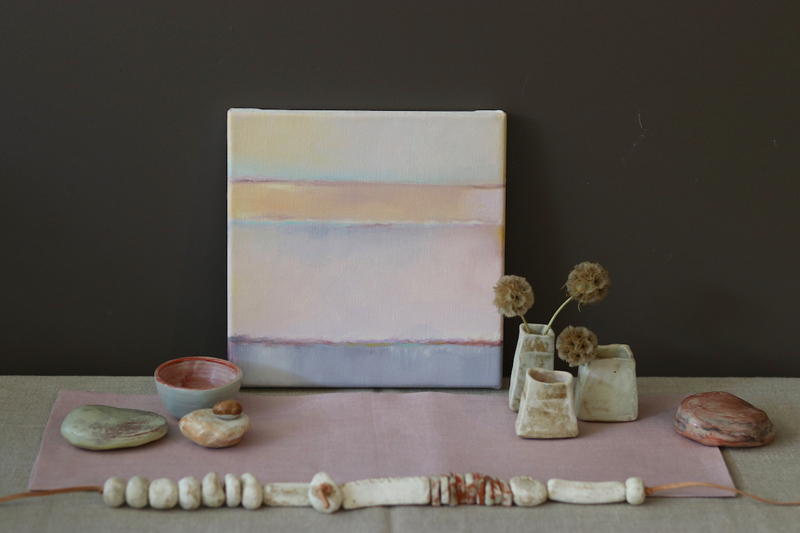 One's awareness of resonance goes beyond like and dislike. Sometimes it's easy, sometimes not. Christopher Alexander's writes in "Pleasing Yourself":
It is hard, so terribly hard to please yourself. Far from being the easy thing it sounds like, it is almost the hardest thing in the world because we are not always comfortable with that true self that lies deep within us.
—Christopher Alexander, The Luminous Ground: The Nature of Order, Book 4: An Essay of the Art of Building and the Nature of the Universe
Making a contemplative space is also a contemplative practice. Sustained noticing and appreciation of a hand-made component move us beyond the discomfort to realizing a sense of interconnectedness. Frederick Franck's drawing instructions in his book, Zen of Seeing: Seeing/Drawing as Meditation, suggest this shift—look at it until you feel it looking back at you!
Try it. Look at and really notice something—a shell, a stone, a flower, a piece of art or craft perhaps … Notice what happens to mind-chatter as you tune into colours, textures and tiny details instead. What happens to your breathing? Perhaps tension in mind and body eases. Solace is what Judge Antonio Cassese experienced on his frequent visits to be with the paintings of Johannes Vermeer while presiding over Yugoslav war crime hearings.
Maybe, sometimes, it's irritating to slow down. I know what that's like too. For many years, the "monkey on my back" drove me to achieve the next thing. Without knowing, until forced to stop by serious illness, the old pattern no doubt contributed to burnout and disease.
Like building a nest, making and sitting with the little environments have helped me settle. Organizational Psychologist Benjamin Hardy notes in his book, Willpower Doesn't Work, "Each environment should trigger the mental state needed to do each type of work." Calm is needed to do the work of easing away stress, making good decisions and healing. I've found that an intentional contemplative space is an effective physical reminder to stop and settle deeply again.
A gentle place or activity can be a designated physical reminder to shift one's perception from any kind of "deadline" to the bigger questions and the lightness of being that comes from contemplating them. With that shift, worries can melt away and biochemical reactions in the body ameliorate the effects of stress hormones.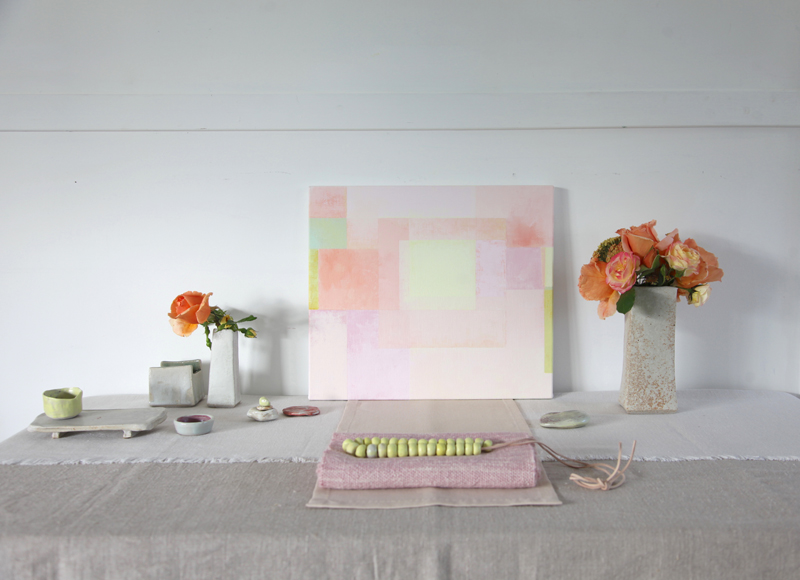 Once, during a meditative art class, I asked my students, Is anyone worrying right now? They each looked at me blankly at first, smiled and continued with their project. Making is a wonderful way to settle, soothe and replenish one's being. And simply looking at art can be enough. "Let's cherish the gentleness of things—this still life will take us travelling in stillness," suggests Christophe André in his book, Looking at Mindfulness: Twenty-Five Paintings to Change the Way You Live, on being present with visual art. Cherishing is love, gentle and aware, with the agency that comes from being present.
And I don't make spaces sacred per se. They are already so, Rumi chides:
Your love called me aside and asked,
'Why are you passing by and not stopping?'
Then your love told me, 'Look at me carefully.
It is me you are seeing everywhere …'
—Mevlana Jalaluddin Rumi, Magnificent One. Selected New Verses from Divan-I Kebir,
trans. Nevit Oguz Ergin
Passing by and not stopping is common in contemporary life. I laughed out loud on hearing the title of Keith Cunningham's book, The Road Less Stupid: Advice From the Chairman of the Board. Cunningham tells how the greatest contributing factor to his astonishing career was, and continues to be, thinking time. He prepares questions, clears his calendar for 40-45 minutes and closes the door. He has a ritual. The chair. The pen. The posture. Settling. Writing. Discerning the gems.
The Via Creativa, with rituals unique to those who walk this path, is another road less stupid, although not particularly valued in western and westernized countries. A way into your Self, Cunningham's thinking time is an ancient contemplative practice and welcomes creativity.
Aside from being in wild places, I have two favourite ways of welcoming creativity. The first is playing with a Peace Room ensemble, like a mini Zen garden, except placing a small painting, a few fake rocks, a vase with seasonal blooms, votive and often Joy, not Worry Beads. Composing such a place the first time took well over an hour. So many choices! Now it's an easy way to segue from everyday worries into the ease and grace of creative process. The second method is the system underlying my classes; steps that appeal to the logical mind so it can support creative processes.
Some years after the epiphany by the ocean, the question that brought me such joy and peace, What do you love? came back with a rush as I read Jean Shinoda Bolen's Close to the Bone: Life-Threatening Illness as a Soul Journey:
It is love that reconnects us to soul, soul work, soul kin; it is love of what we are doing and love of who we are with that gives us a sense of having a place in the universe, of belonging. Love leads us toward what gives us bliss and harmony, purpose and meaning, and this can have a positive effect on medical conditions that might otherwise be fatal.
Bolen acknowledges the work of American psychologist, Lawrence LeShan, and his book, Cancer As a Turning Point, who found many patients went into long-term remission when they took action in the direction of what they loved or secretly yearned to do. That's my tribe!
The making of meditative art and being with contemplative art installations can seem a little strange at first, since they run counter to the speed of contemporary life. Both offer an intermediary space; a place to consciously remember what one loves through the asking and reconnecting with one's sensibilities, attending to materials, choosing and placing colours, shapes or things.
Whether making or looking, the mind changes channel, the heart slows down and soul might receive a balm of gentleness. Then, as the noise of everyday life fades, there's the still small voice and possibly even a letter from emptiness waiting for you.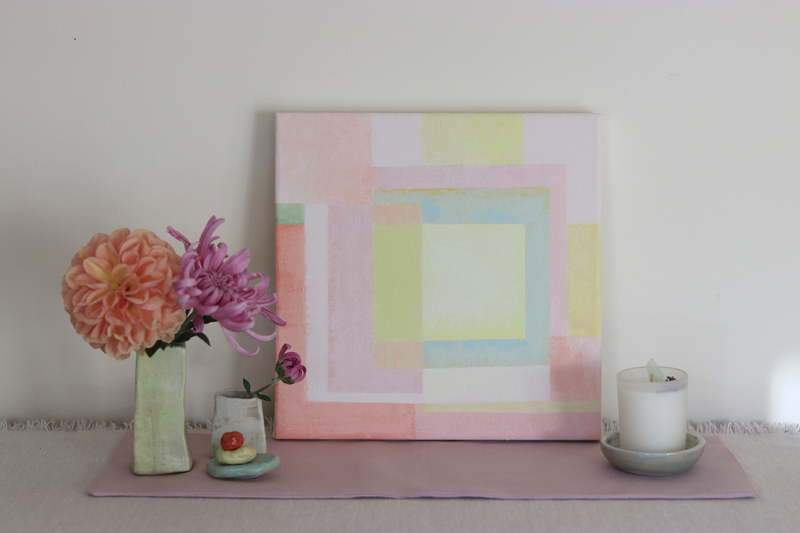 Post Notes