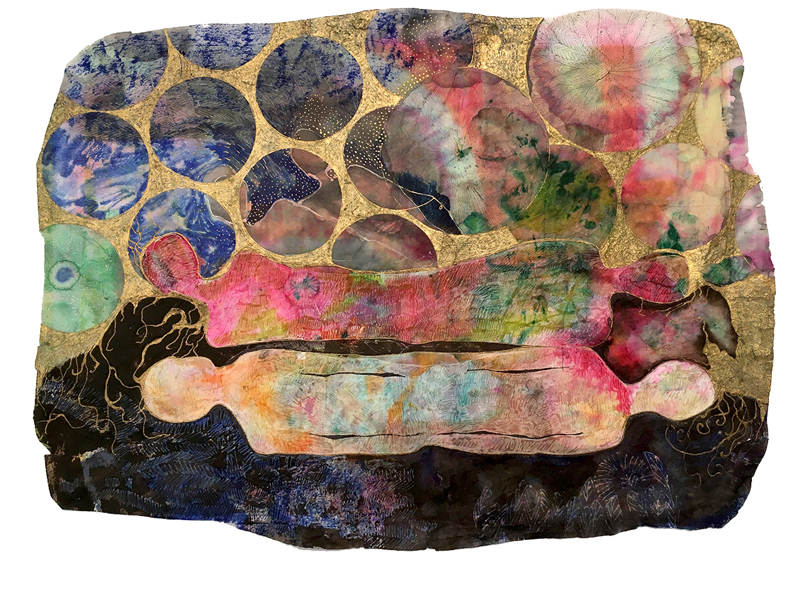 Such stuff as dreams are made on
"I am very interested in the notions of consciousness and unconsciousness;
a certain understanding of the self is essential to me."
Tal Waldman is an award-winning transdisciplinary artist living and working in Paris. Of Israeli-German origin born near Tel Aviv, she draws upon the diverse cultures she has encountered during her residencies in Israel, India, Germany, Greece and France through a variety of different media: sculpture, drawing, painting, installation and architecture.
Motivated by a strong personal history, Tal explores social themes such as immigration, identity and collective memory, as well as mindfulness and sustainability. Some of her latest projects are experiments with randomness and the subconscious, which function as the tools of her art. Committed to an environmental approach, she is a member of the international project, Art et Society. Her work has also been presented at the World Congress of Humanities in Liège, which highlights the challenges and responsibilities for humanity associated with a planet in global transition.
In this week's guest post for The Culturium, Tal showcases her visually stunning series, Directed Randomness (Hasard Dirigé), which explores the relationship between control and chaos, whereby transformation is an integral element of her work. In the face of worldwide dread and anxiety for the future, the beauty, sophistication and elegance of her eudaemonic designs are a much-needed panacea for us all.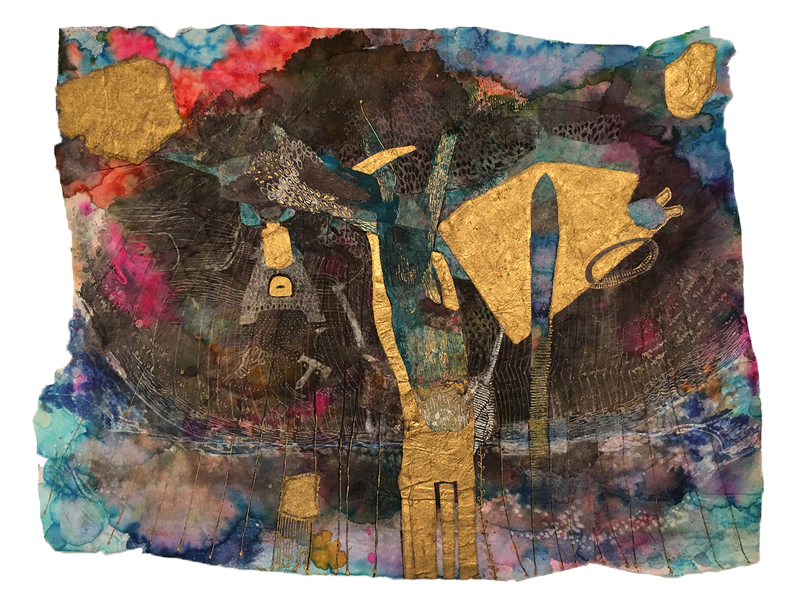 THIS DREAMLIKE SERIES of about 50 intimate and mysterious drawings explores the relationship between chaos and order, highlighting a process of "directed randomness" that uses randomness and the subconscious as a creative tool, echoing an interior process of control and letting go.
Following meditation, randomness is the formal starting point for experimenting with colour, pigment and water. This intuitive action is followed by influencing the drying rate of water with an experimental drying technique that becomes a drawing tool in the final composition. The drawing consists of both unpredictable subconscious actions and controlled activities, proposing a new relationship with no hierarchy between these two life forces.
Inspired by the spiritual dimension of determinism, kinesthetic calligraphy and stochastic art, the boundaries between the sacred and the profane are explored using intuitive and symbolic language. The use of gold refers to the sacred arts of enlightenment and my past studies of miniature painting in India.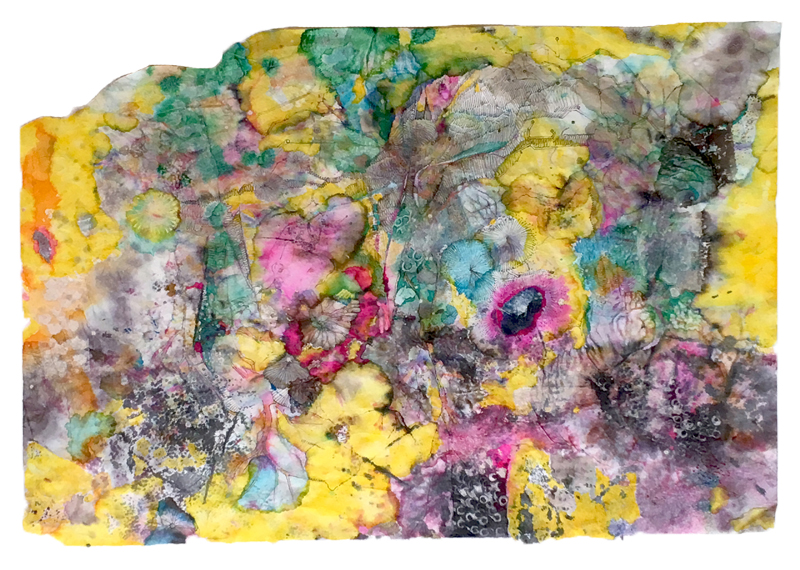 I remember long moments spent alone, reading in my hut perched in a tree, studying plants and learning to draw them, listening to music, sitting in the same position as my dog, looking at vinyls turn. These were intense moments of silence, exploration and concentration. I remember a sentence from Proust which said something like 'you will never experience anything more intense than the afternoons you spent reading in your childhood' … I suppose that to create is to seek this silence and this taste for things specific to childhood.
[Gesture] is a tool. It is very important to me because I am very connected to my body. I like dance, physical expression. In an artist, the gesture is, in my opinion, a completely interior expression, conscious or not, but which is part of his [or her] work. For some creators, the gesture even merges with their work. I was on this axis, the gesture is associated with the whole body. The line is an extension of the gesture. Many of my designs are 'constructed' from lines; they visually translate my body language through the subjects mentioned or the textures used. Paper contributes to making gestures visible, even tactile.
I explore drawing as a tool to try to access my dreams and my subconscious. For this, I have developed techniques which help me to make use of aleatoricism, an English term which means incorporating a dose of chance into creation.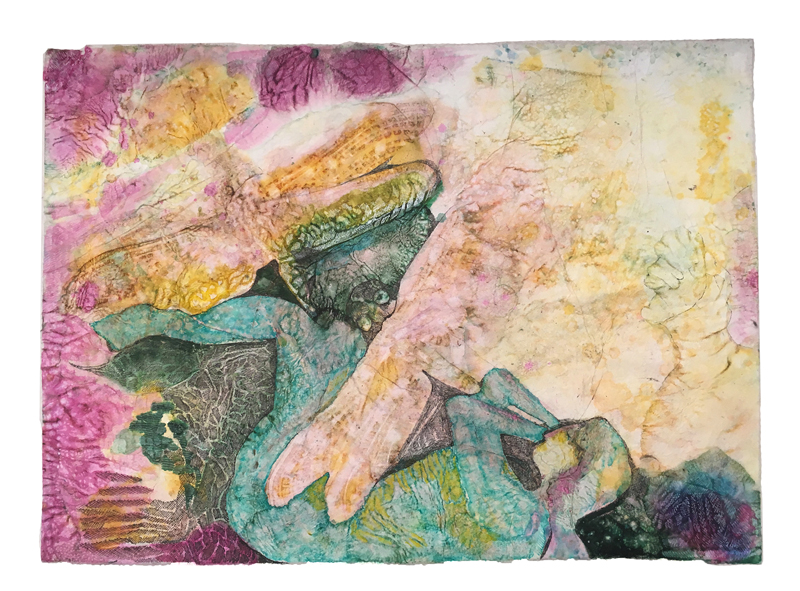 The notion of freedom is present in the primary sense given to my work, in the concept, the support, the gesture, the technique and the material used. It is also linked to the way I decide to perceive it. I think it starts with a deeper understanding of yourself, that it takes you to actively pursue an inner quest. It is only from there that I can speak of an impulse of freedom in my work.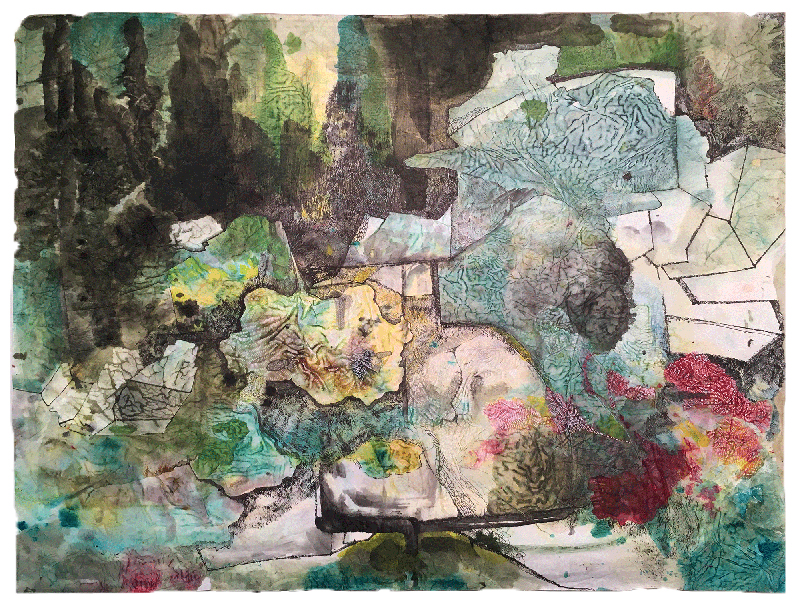 The variable speeds of light contain all the splendours of the universe. Colour is, therefore, one of the manifestations of vibration, which affects our body as well as our emotions. Colour is the sum of materiality, texture and the relationship between the colours themselves. It is also a question of balance, between abundance and the absence of colour.
I am very interested in the notions of consciousness and unconsciousness; a certain understanding of the self is essential to me. Particularly in the work that I have been developing for the past two years through a dreamlike series of drawings entitled Hasard Dirigé (Directed Randomness), where I explore the subconscious as a creative tool, in a constant back and forth between control and letting go.
Post Notes