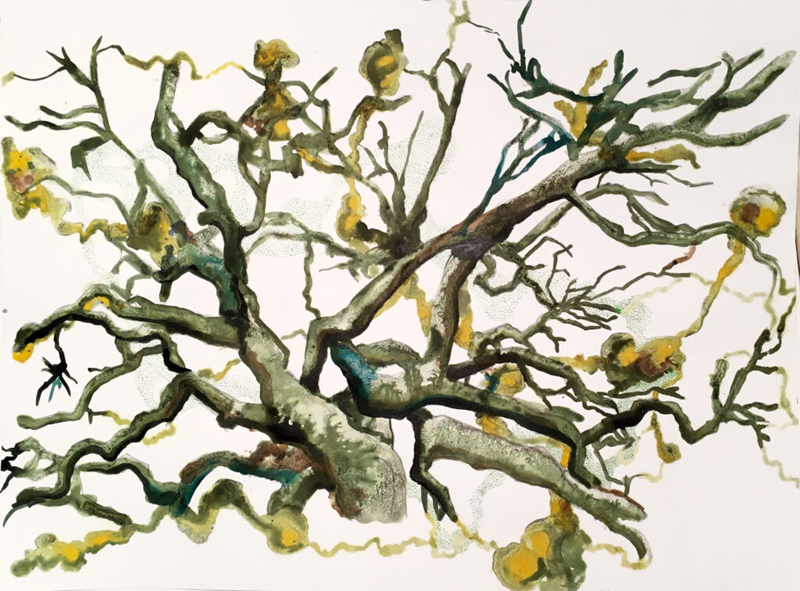 The secret life of trees
"Feel the connection,
to light,
to tree."
THERE ARE MANY beautiful names in the Japanese language that elegantly describe a state of mind or emotional sensibility, which require several words in English to capture the spirit of their essence: yūgen (幽玄), which refers to a feeling or mood in which one intuits that the universe possesses a mysterious and elusive beauty; shinrin-yoku (森林浴), which quite literally means bathing in the ambient atmosphere of a forest; and komorebi (木漏日), which translates as the interplay between light and leaves when sunlight shines through an arbour of trees.
In this week's second guest post for The Culturium, award-winning transdisciplinary artist, Tal Waldman, expounds upon the concept of komorebi by giving us an illuminating glimpse of her work—writings, poetry, painting, photography—collectively entitled TREES & LIGHT, taken from her ongoing project, "Visualizing the Invisible, a Journey Into Silence", which focuses on art and mindfulness in collaboration with fellow artist, Fiona Morehouse. Here, Tal describes an enlightening experience in her sylvan Parisian garden, whereupon she is awakened by the dance of matutinal sunlight:
That morning I reached a conscious understanding of the importance this space represents for me. I therefore decided to seize these special qualities of calm and beauty and channel them into my Art.
There are two trees in my garden,
An apple tree and a Gingko,
and a simple chair at their feet.
Winter and summer, I practise sitting on the chair
and the trees shield from above.

I often raise my eyes,
appreciating,
a soft look,
that encounters white and green
and the light that sparkles through.

I wanted to capture this magic,
Eternalize this silence.
I photographed it this morning, after sitting,
and could not believe my eyes

The light is materialized
The silence became substance.
—Tal Waldman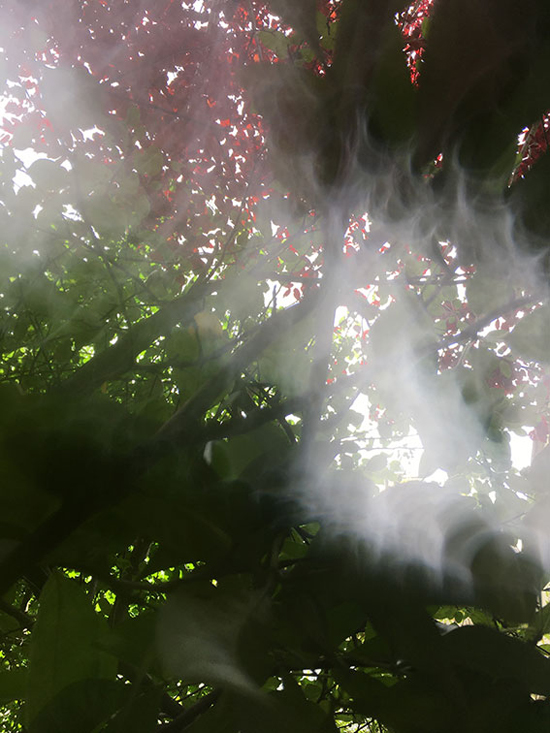 Observing the light becoming a substance reminds me of the Japanese term, komorebi. The first kanji, 木, means "tree"; the second kanji, 漏, means "escape"; and the last kanji, 日, is "light" or "sun", which can be interpreted fully as "the sunshine filtering through the leaves of trees".
While a sunray merely describes the path of beams of light filtering through the trees, in Japanese, the mystic effect of light revealed through the trees—the aesthetic and spiritual qualities sensed by the observer—are more beautifully expressed. I find that this misty dance between the metaphors of light and dark is precisely the constant encounter on our own spiritual paths.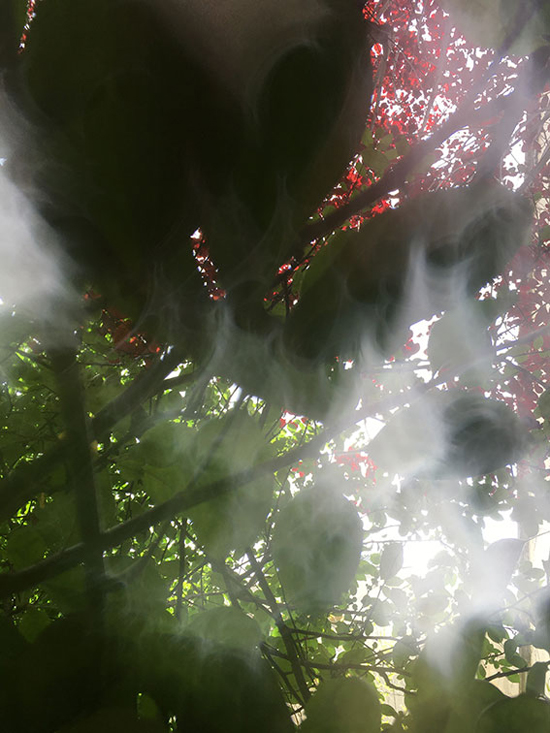 When I was searching in my books and on the internet for komorebi poems to inspire my paintings, I found this beautiful haiku (unfortunately without the author's name):
夏の木漏れ日    terasareru,
照らされる       natsu no
夏の木漏れ日    komorebi
眩しくて           mabushikute

Illuminating
sun rays of summer filtering the trees,
such radiance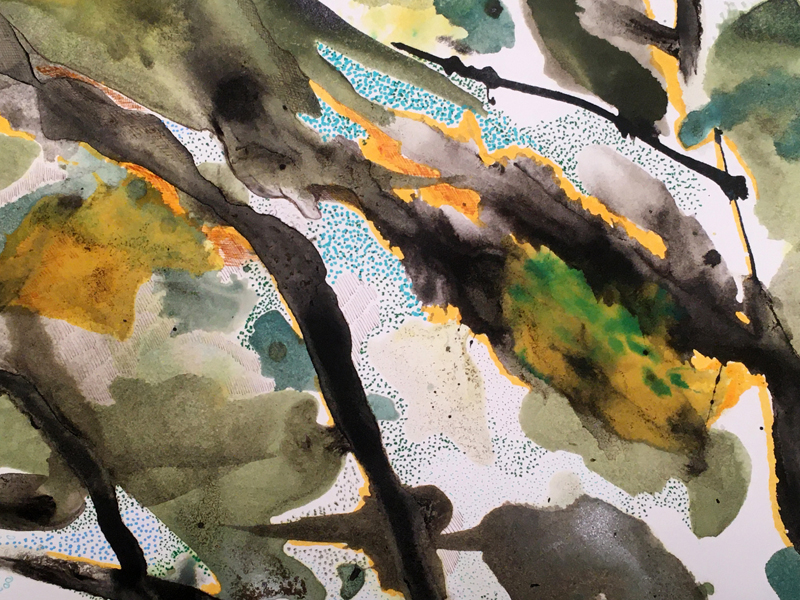 I particularly like "The Banyan Tree" by Rabindranath Tagore: "Sunlight danced on the ripples like restless tiny shuttles
 weaving golden tapestry …" But William Blake, in "Auguries of Innocence", says it all:
To see a World in a Grain of Sand
And a Heaven in a Wild Flower
Hold Infinity in the palm of your hand
And Eternity in an hour […]

When the Soul Slept in Beams of Light
God Appears & God is LIGHT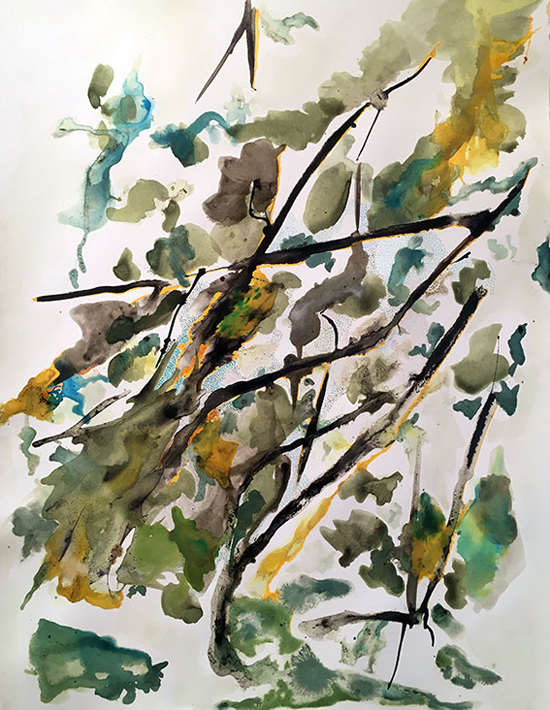 Opening to a form without fully identifying with it,
Returning to the experience,

As the form is disappearing from the paper
an invisible space is found.

Drawing the experience,
Letting the drawing become the experience,
Letting the experience become visible,

Incarnating the sensation
staying under the influence.
Feel the connection,
to light,
to tree.
—Tal Waldman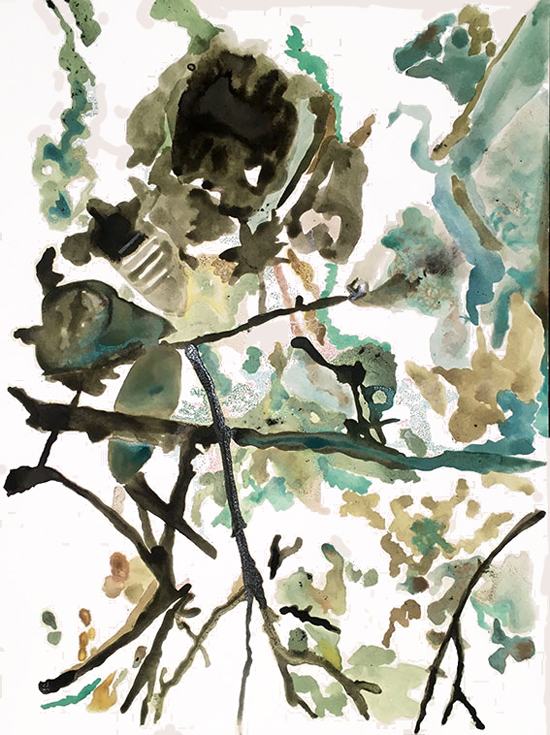 Post Notes