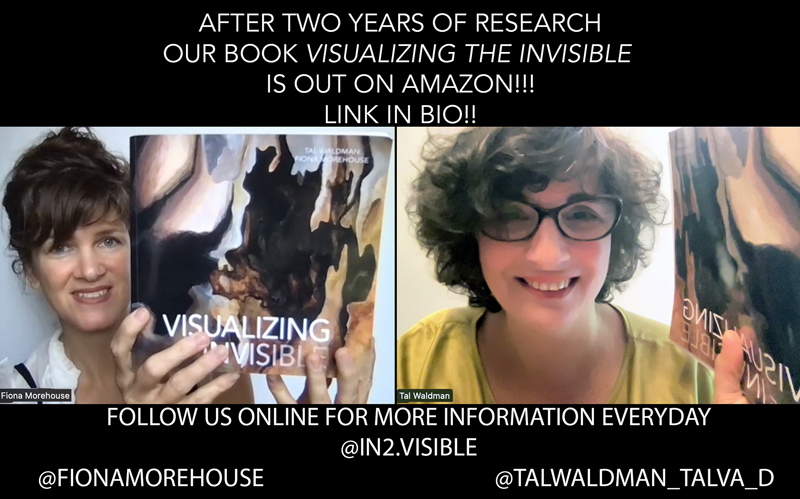 The art of stillness
"Learn to be silent.
Let your quiet mind listen
and absorb the silence."
—Pythagoras
TAL WALDMAN is an award-winning transdisciplinary artist living and working in Paris. Of Israeli-German origin born near Tel Aviv, she draws upon the diverse cultures she has encountered during her residencies in Israel, India, Germany, Greece and France through a variety of different media: sculpture, drawing, painting, design and art installation.
In previous guest posts, Tal showcased her visually stunning series, Directed Randomness, which explores the relationship between control and chaos; Golden Scars, which examines the ancient craft of repairing broken pottery with powdered gold (known as Kintsugi); and Komorebi, the Japanese term for the interplay of light on leaves in her chapter, TREES & LIGHT, part of an ongoing collaborative book project with American artist, Fiona Morehouse.
In this month's guest post, Tal shares with us another chapter, SILENCE, which delves deep into the nature of quietude and stillness within the Visual Arts. Drawing on their individual research over the span of twenty months in their respective cities of Paris and Vermont, Tal and Fiona eventually met in person on an artists' residency in Italy in 2021, where their inspirational dialogue finally came to an end, culminating in the publication of their exquisite book and artefact, Visualizing the Invisible.
SILENCE* (noun)
Absence of any sound or noise; stillness.
The state or fact of being silent; muteness.
Absence or omission of mention, comment, or expressed concern:
The conspicuous silence of our newspapers on local graft.
The state of being forgotten; oblivion.
February 2021
Like a premonition of what is about to arrive, in February 2020 in the mountains of the south of France, I open myself to the landscape and to my journey into silence. Soon after, the world will shut down facing a pandemic. Now, a year later, I am closing a cycle, deepening my understanding of silence back in those same mountains, a brief space before a third closure in Paris.
Silence emerges from the sound of rain
and spreads in a crescendo of grey monotony
over the narrow street I contemplate.
I'm sleeping while awake,
standing by the window,
leaning against it as against everything.
—Fernando Pessoa, The Book of Disquiet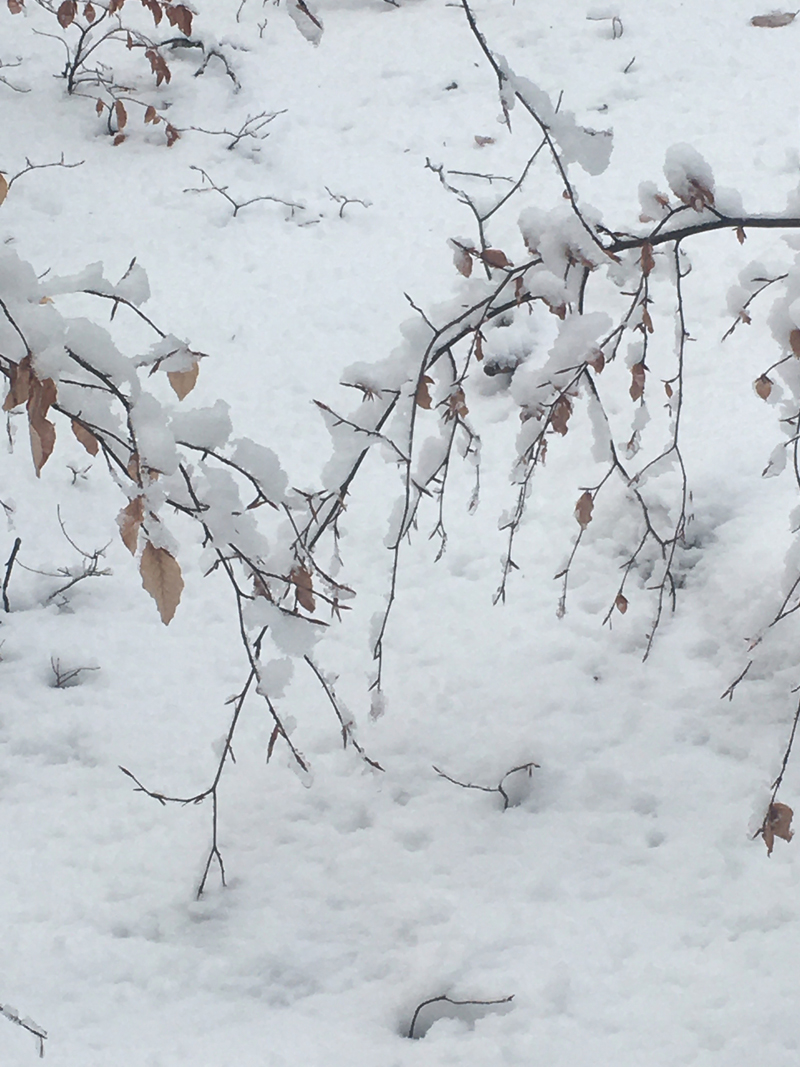 February 2021
Silence is the nature of inner search, the same way that Visual Arts are silent by definition and have the potential to explore silence. Yet, it is being isolated for three weeks, sick with Covid-19, that triggers me to question further. In moments, I am silent like a hermit in the desert, with a natural form of self-abnegation that allows it. Healing and returning to the mountains of the south of France, I confront a different kind of silence. I wonder, What is silence? Are there different kinds of silences? Can silence be found in the Arts? How can I visualize this quality? Shortly after, I discover The Book of Silence by Sara Maitland, which joins my quest:
The serene tender gaze of Raphael's Madonna del Granduca; the startling moment of metamorphosis of Bernini's Daphne and Apollo—where the still rigour of marble holds transformation steady for a silent moment; Turner's sunsets; Andy Goldsworthy's Striding Arches, leaping with silent joy across the Border Hills of Scotland. These were all images that used silence itself as part of the work and generated silence in me. In all these, and many others, the silence seems to pour out of the work into the space around it. I came to believe that my silence was making my seeing more sensitive.
—Sara Maitland, The Book of Silence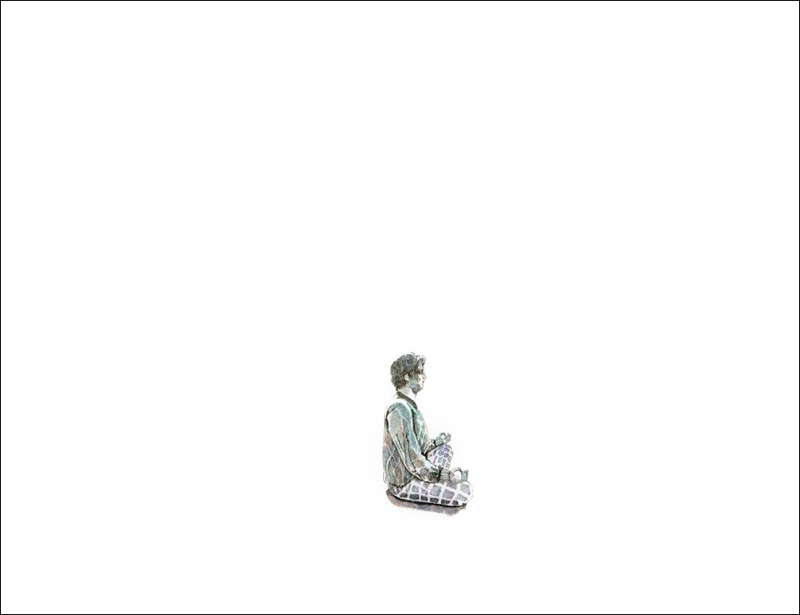 I start exploring the qualities associated with silence, spaciousness, emptiness, dark, light …
I notice that when the noise from the works near my house stops, I feel relief, but when a musical phrase is suspended, I get a different feeling. What is the difference? A "pause" creates contrast and can transform my comprehension to the rest of the creation. What is a pause in the Visual Arts? An empty space can bring light or relief but there is no fixed understanding. So, what are the visual qualities that embody silence in the Visual Arts? In my own works? I start searching for silence in other artists' works asking, WHAT IS SILENCE?
Is silence the stillness and serenity in Giorgio Morandi's still lifes? Is silence the mystery in Vermeer's light and space as it falls in La Femme à la balance? Is silence the invisible light coming out the colour of Alexandre Hollan's paintings? Is silence the minimalism of Jonathan Koons' black cat in a white room? Is silence the spaciousness of Doug Wheeler's desert installation? Is silence the timelessness and wonder in Mark Rothko's meditative colour panels? Is silence the mysterious light of Vilhelm Hammershøi's interiors? Is silence the opacity in the white surface of Kazimir Malevich's abstracts? Is silence a performance by Marina Abramović? Is silence the spaciousness of Paul Caponigro's clouds in the sky?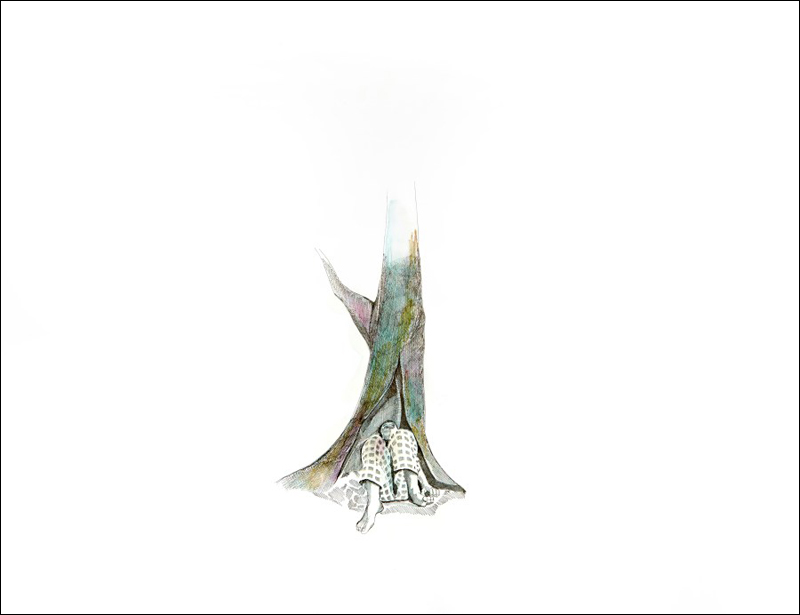 March 2021
Silence is the natural answer to awe and wonder beyond language. (In Zazen, for example, the principle is to fight the duality of words by silence.)
For centuries, people have used silence practice in their spiritual path—Buddha under the tree; Moses and then Jesus on Mount Sinai; Muhammad on Mount Hira.
Silence is the basis for contemplative stillness, emptiness of the mind, freedom from the distracted mind.
There are also secular sources that are enabled by silence—explorers, artists, writers, who withdraw and give testimony of their account with silence.
After exploring masterpieces that inspire silence, I am starting my enquiry by asking myself, What is the way to embody silence in my art? How do I identify and perceive silence?
My first series accentuates the feeling of empty space, bright colours, stillness. The figures are still like a translucid stain in a field of white.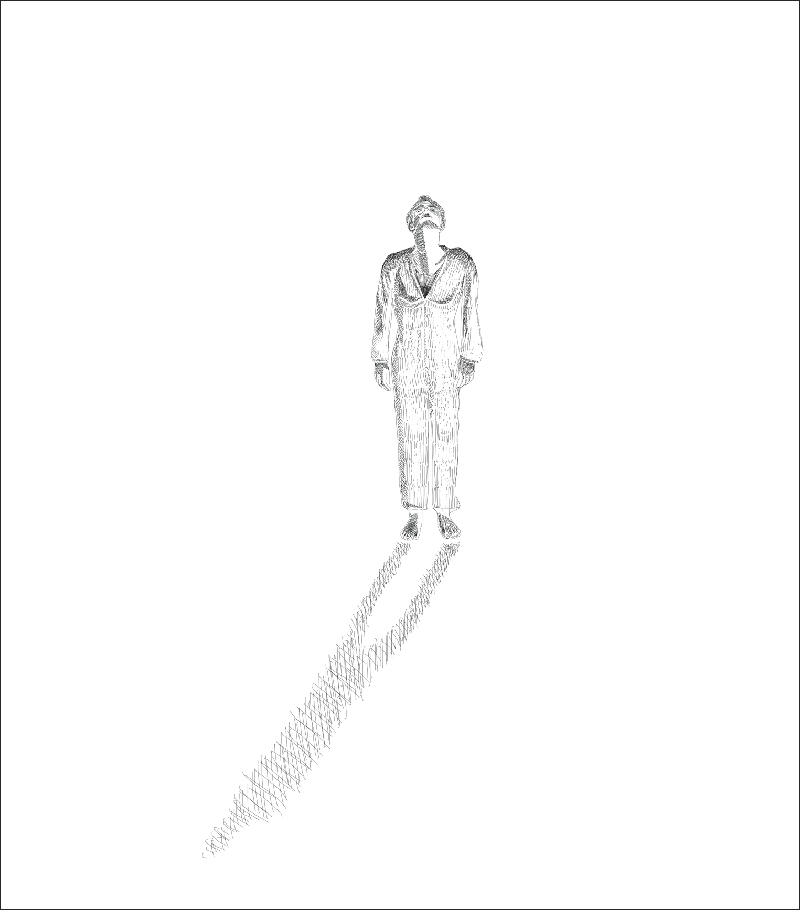 Not all men are called to be hermits, but all men need enough silence and solitude in their lives to enable the deep inner voice of their own true self to be heard at least occasionally. When that inner voice is not heard, when man cannot attain to the spiritual peace that comes from being perfectly at one with his true self, his life is always miserable and exhausting. For he cannot go on happily for long unless he is in contact with the springs of spiritual life which are hidden in the depths of his own soul. If man is constantly exiled from his own home, locked out of his own spiritual solitude, he ceases to be a true person. He no longer lives as a man.
—Thomas Merton, The Silent Life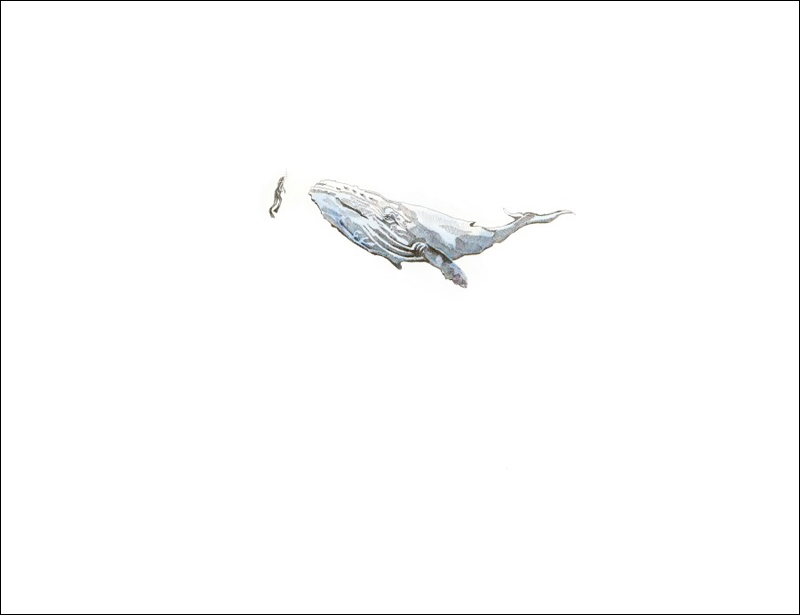 I continue my enquiry. I am unsatisfied with my first White Series, a central dark figure on a large white empty space. Although it might inspire "silence", it does not reflect my inner experience of silence.
Starting a Black Series, I explore an inverted dark environment with a bright figure, creating a "pose", silence. I am now asking, Would the result inspire silence in the eye of the observer? Could the darkness inspire solitude that would endorse this silence? Will it reflect the inner experience of silence?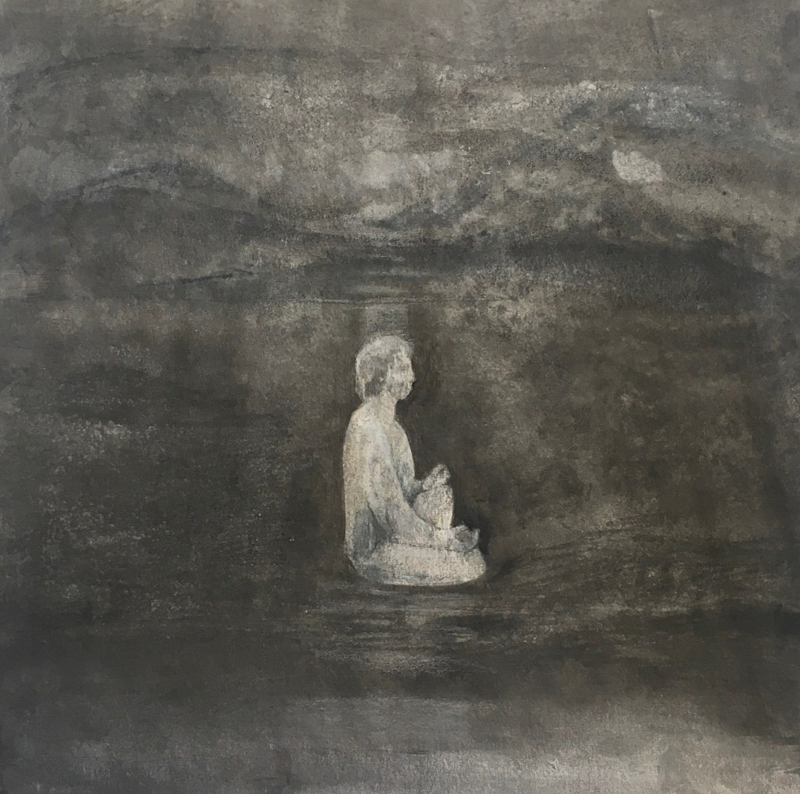 I have always believed that silence, and particularly silence in 'nature', was supposed to stimulate both artistic creativity and religious spirituality. That was not what I was experiencing. Increasingly, I felt that there were, or seemed to be, two different sorts of silence, which required very different techniques. In prayer one is trying to empty oneself of ego; pour oneself out, become permeable, translucent, empty, open to the transcendent; whereas in the act of making art one needs the silence to focus all one's capacity, to shore up or strengthen the ego.
—Sara Maitland, The Book of Silence
I experience a similar understanding while meditating—the experiences of silence are rich and varied but in general they enter the category of "active stillness". This new state allows me to lose the identification with the ego and connect to a more transparent experience enabling seeing beyond.
When creating, silence is the threshold to a creative flow. Silence enables a different part of me to carry the narrative in the service of the creation.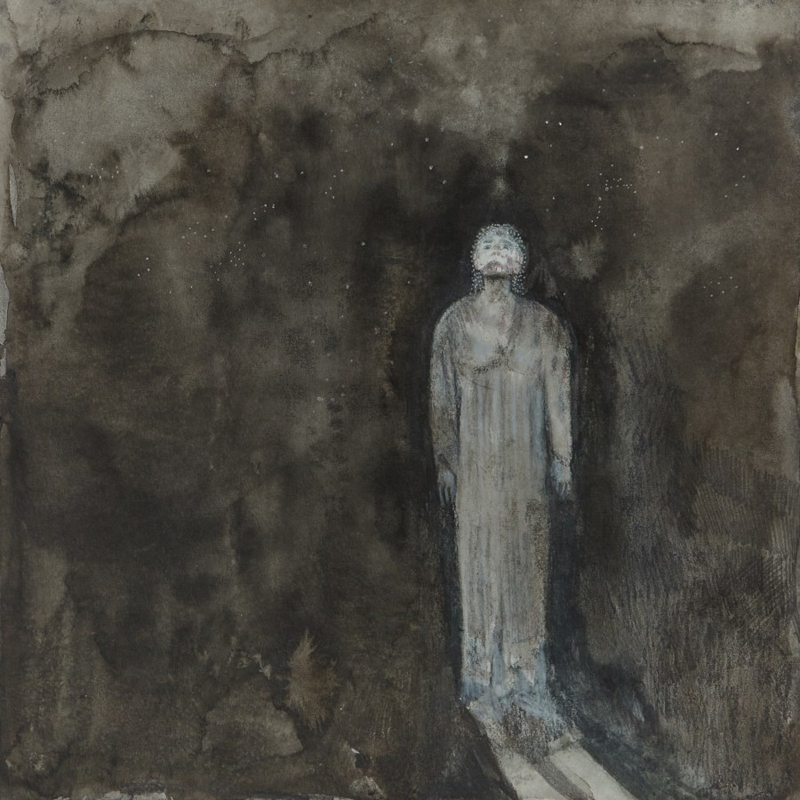 March 2021
When I create,
I attempt to find flexibility in me,
I aspire to openness and trust in the creative process.
Back and forth,
between my initial ideas
and the expression of the materials themselves.
My process needs to grow out of introspection,
out of silence.
I listen,
until my flow is able to endure the discomfort of the unknown
and be materialized into my inner landscapes.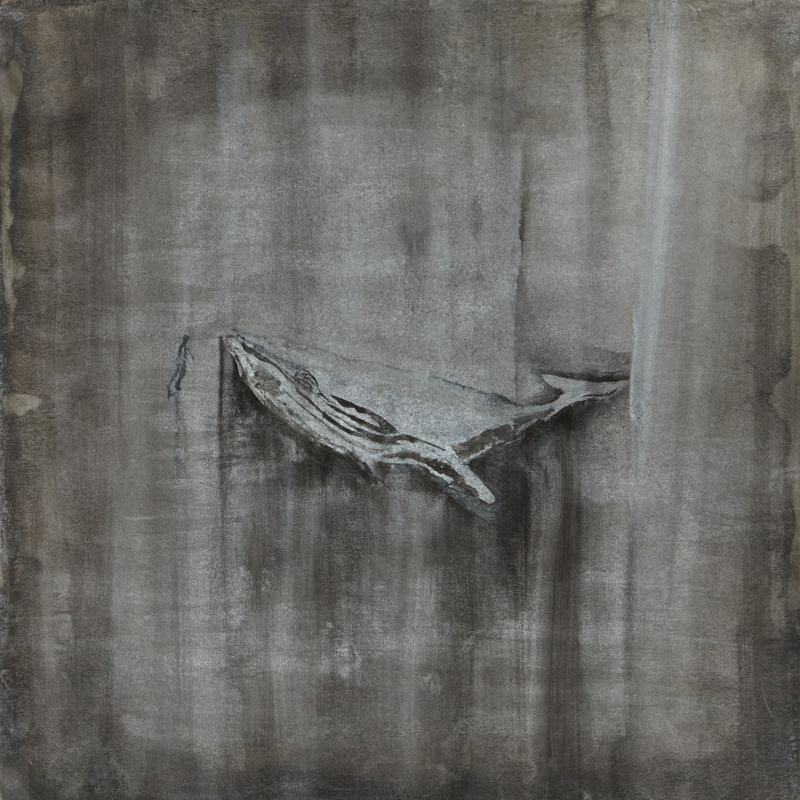 March 2021
In our contemporary Western vision, silence is perceived as an absence, a lack of sound and activity, a negative state associated with solitude. However, I do not experience it this way when meditating in silence, observing nature or creating art. Silence feels rich and active.
Once again, I am displeased with the absence of this aspect in my two precedent series. I feel they perpetuate the perception of silence as emptiness. I seek to transmit the qualities of vitality and wholeness of my experience in a burst of colour and texture.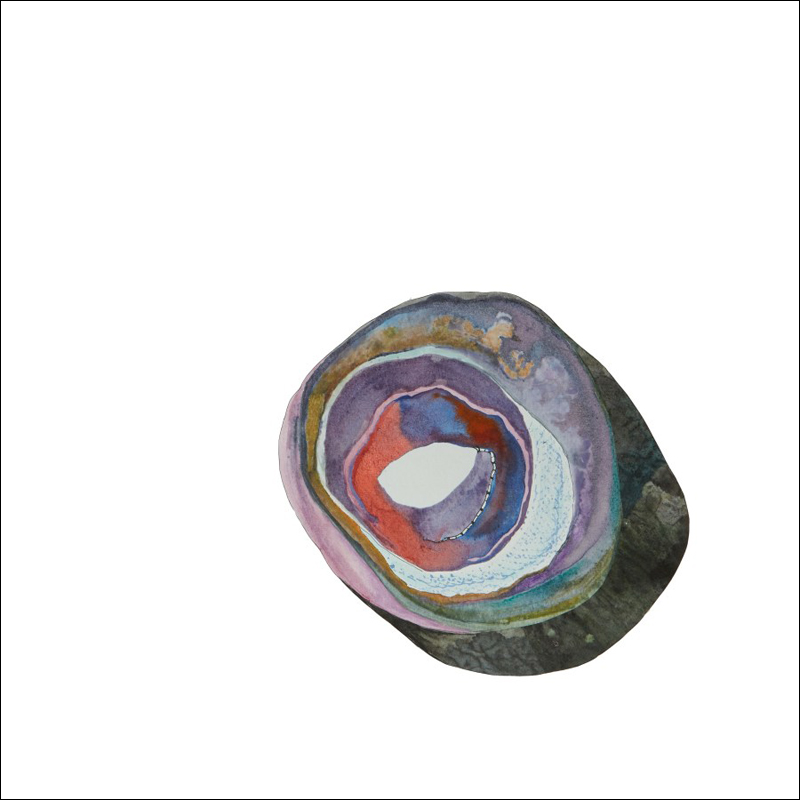 Can my cultural predetermination be transformed? Can my vision be trained to perceive silence in a new way? I recognize the difficulty is owing to the difference in perception, between the experience of inner silence and the experience of silence by an exterior observer. I try negotiating these two perceptions in a new series.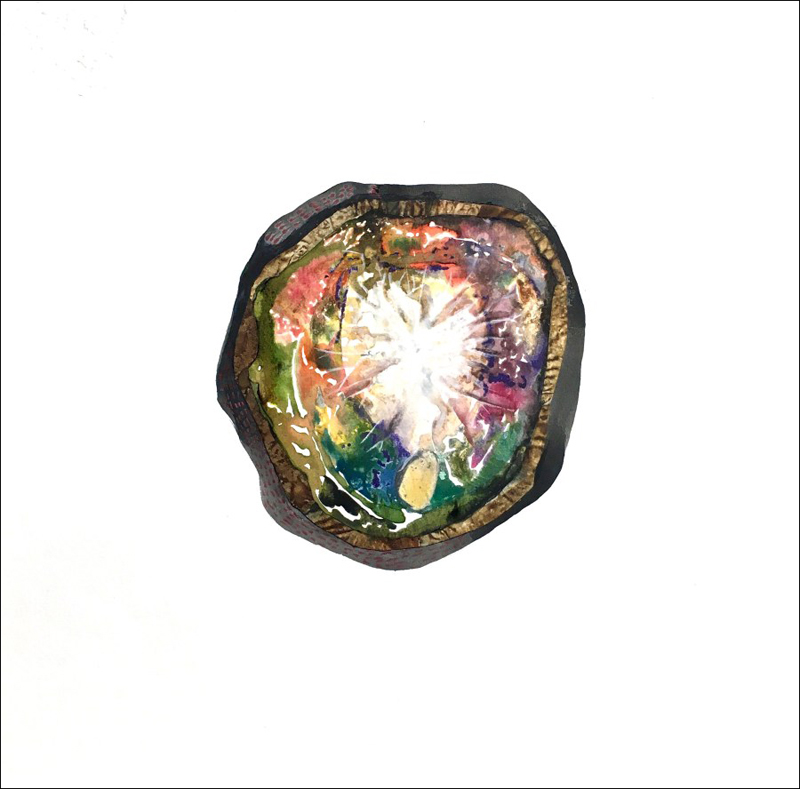 March 2021
My different kinds of silence …
The heavy silence of the Sinai desert, calling for deep observation.
Hot, void silence, disturbed by a rare sound of a lizard escaping the heat.
The soft silence of the Himalayas, absorbed by endless snow.
A glacial-wind sound decorated by a low range whisper of an underground stream,
heard from beneath a thick layer of translucid ice.
The spacious silence of the underwater.
A metallic, sharp silence of diving where all impressions are always new.
The resilient warm silence of India after yoga and meditation.
The humid, holy silence of the Ganges at night and the dry silence of a Saturday morning in Jerusalem.
The complete silence of a child, reading a book in a treehouse.
The silence of deep attention, forgetting oneself and re-finding.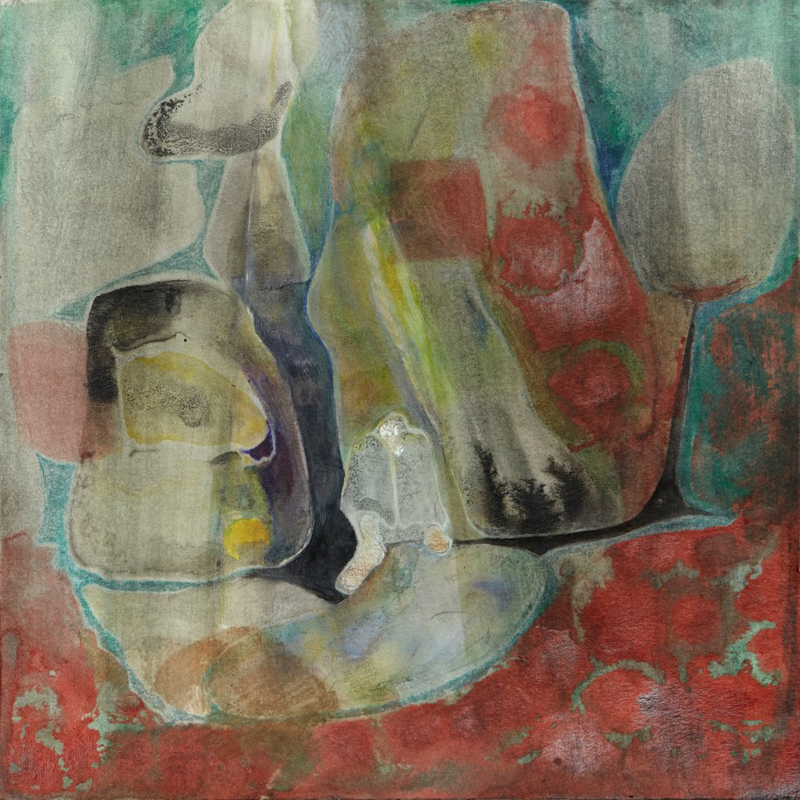 One of my favourite manifestations of silence is John Cage's composition 4'33". Three years before his death, Cage told an interviewer:
No day goes by without my making use of that piece in my life and in my work. I listen to it every day … the important thing about having done it, is that it leads out of the world of art into the whole of life.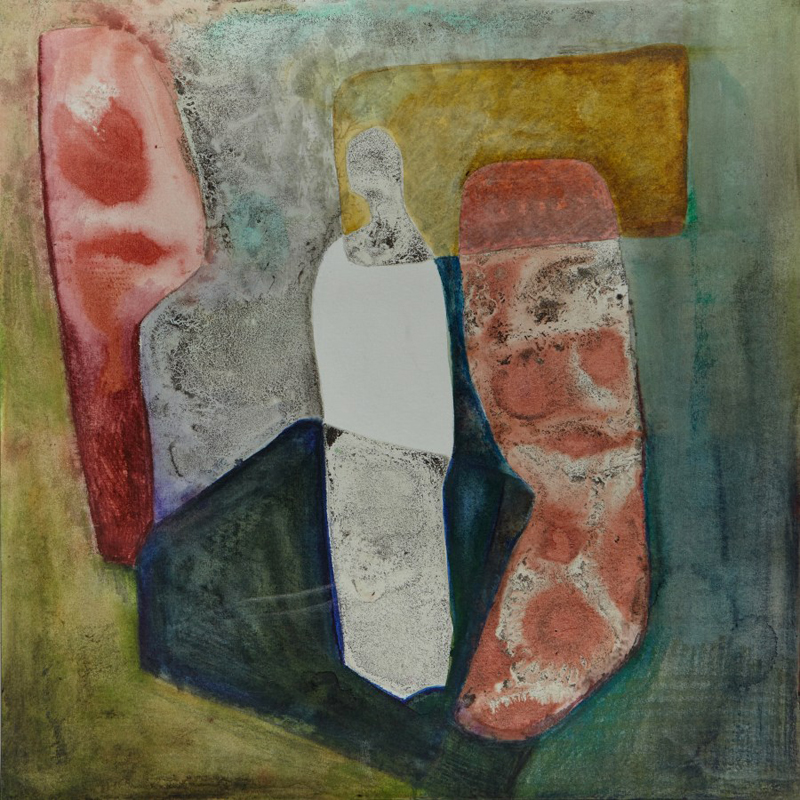 March 2021
I am returning to the mountains, once more "opening up to silence". Photography was the introductory tool, followed by a series of paintings. Symbolically, I close the circle in the same way and yet I am not in the same place.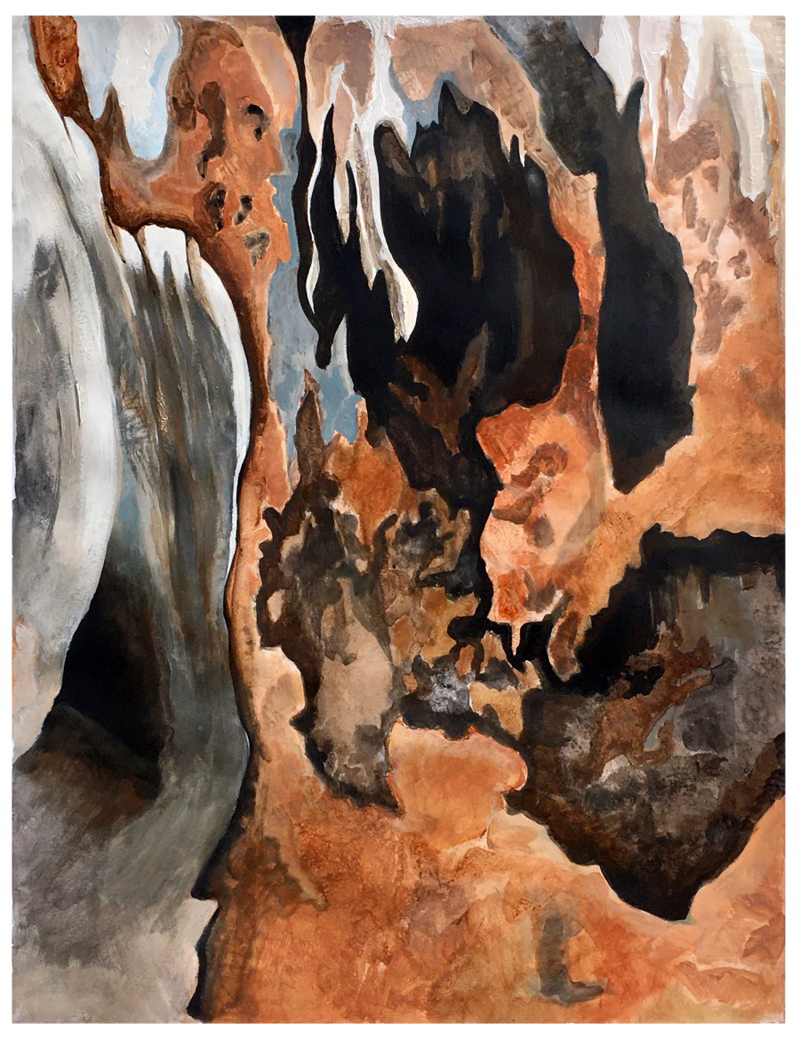 April 2021
Inside,
Silence is palpable
like earth
Active,
in endless patterns.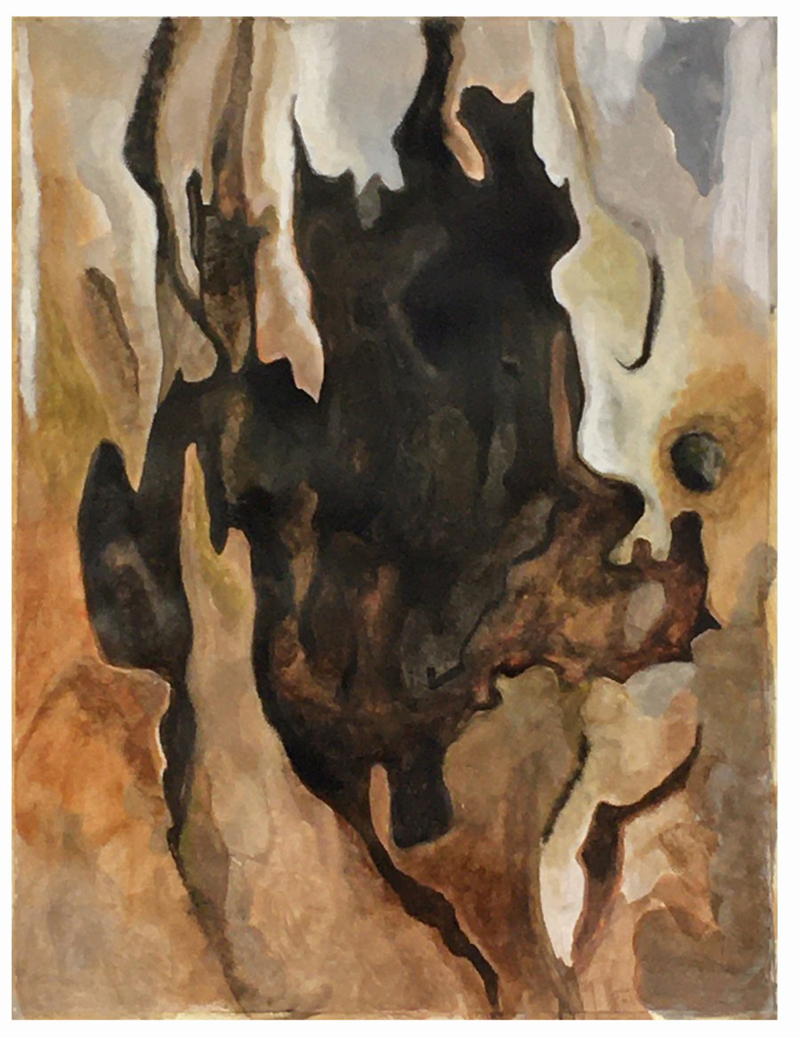 Tears
Sentiments
Despair
How I love this silence that makes me grieve
I listen to this amorphous mute space, so blissful
I'm afraid of my love of this muteness
which occasionally separates me from the humble earthy love
I transcribe, I betray her
I draw, I betray her
I engrave, I betray her
all forms betray her
I do not accept my partiality
Oh, misery
Occasionally,
I stretch out my hand for a tiny silence to germ and permeate my life
What hope, says Jean,
Me,
I'm frightened of death.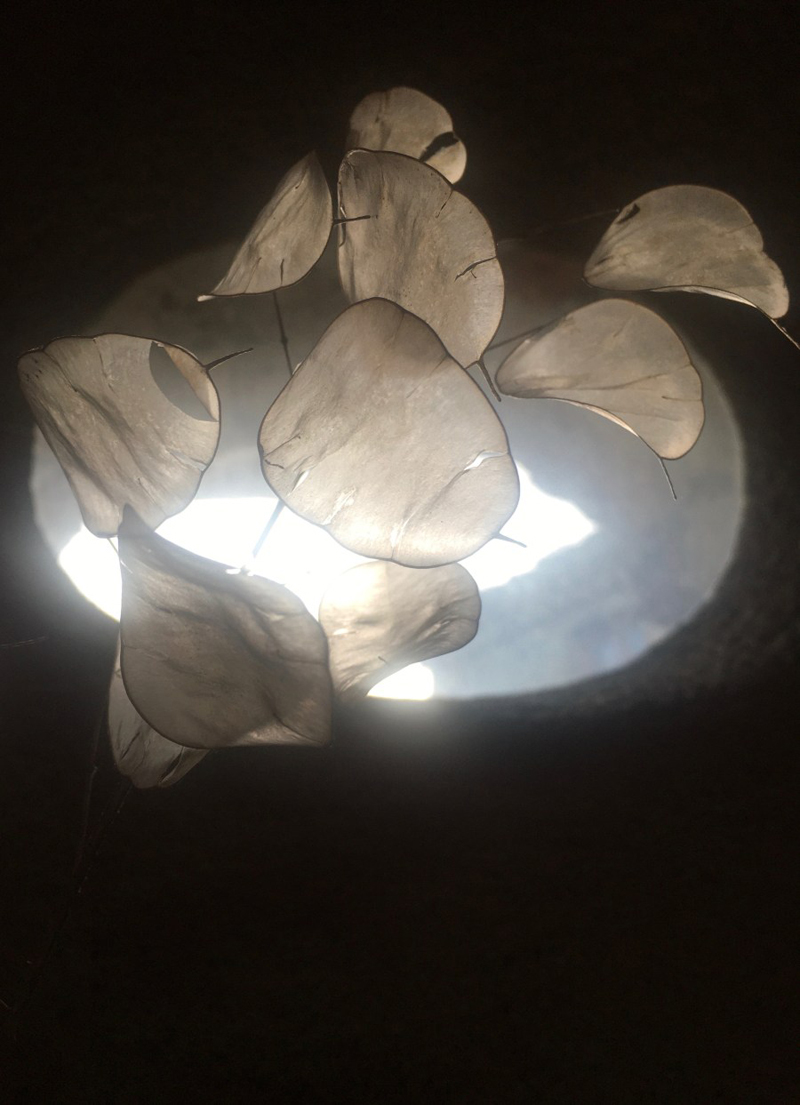 April 2021
Communicating visually those instances of rich silence is a challenge. I need to materialize the inner space in a way it would emanate from the visual and be clear to the observer, which relates directly to the cultural and spiritual perception of silence by the observer. To overcome this paradox, I need to observe my own silence practice and stay as uncorrupted as possible.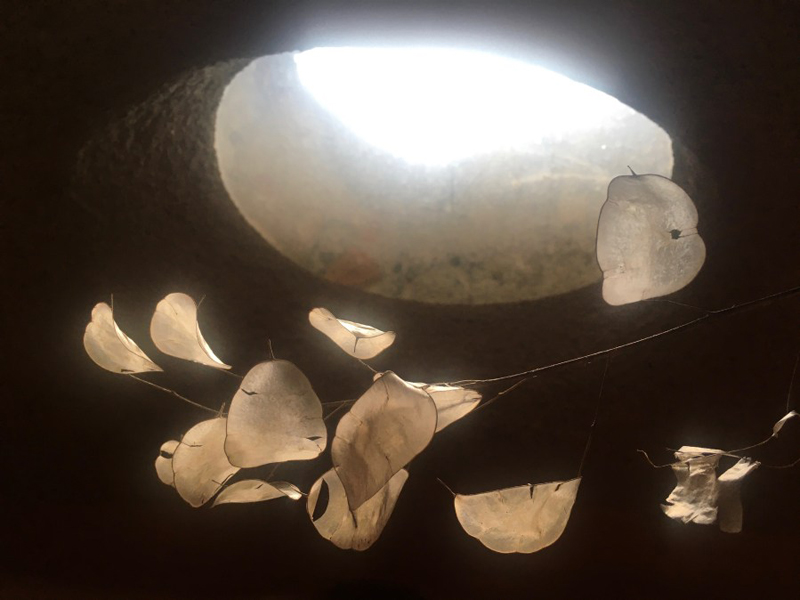 To stay in front of the unknown, my mind must be profoundly silent. This is a silence that is not obtained by suppressing or by sacrifice. I do not make the silence. It appears when the mind sees that by itself, alone, it cannot be in contact with something it cannot measure, something higher. Then the mind no longer seeks, it does not try to become.
—Madame Jeanne de Salzmann, The Reality of Being: The Fourth Way of Gurdjieff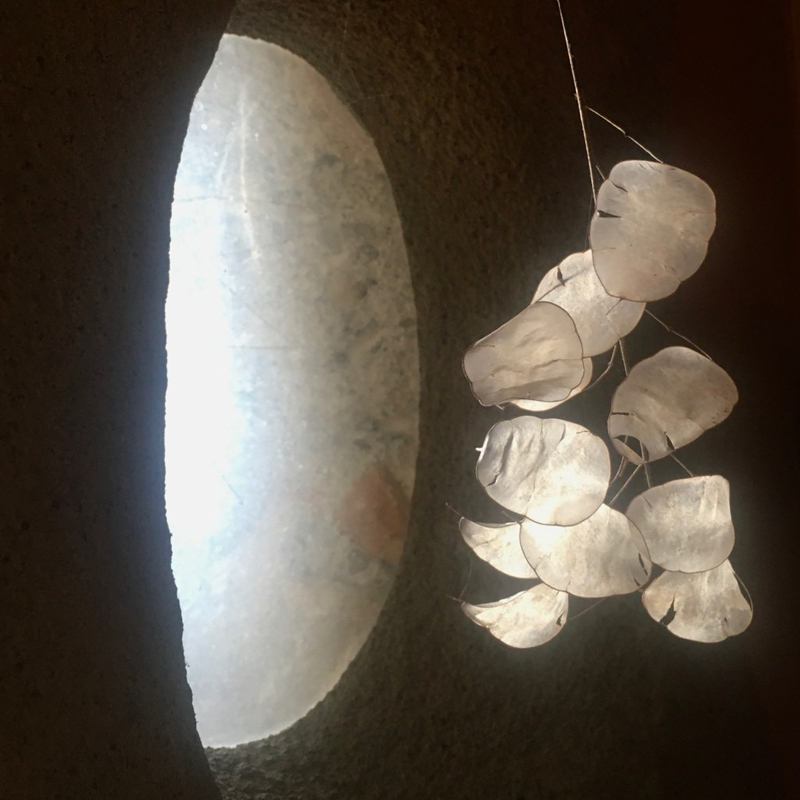 Closing a year of experimentation, a "Journey into Silence", exploring how to 'Visualize the Invisible', the paradox remains. Testifying about silence is still not experiencing it, describing a mute experience disrupts it and remains a challenge. A challenge not only for the frail, transient and staggering nature of silence but also owing to the need of keeping its beauty sacred and pure. A challenge I am willing to continue and take, being more immune to the uneasiness of facing the unknown.
Post Notes